Bobby Mahoney and The Seventh Son harken back to '70s hard rock on their future-embracing "Roaring Twenties."
— —
What often gets left out of romantic ruminations on the 1920s is that the Roaring Twenties were reactionary to the terrible consequences of the First World War  Often referred to as "The Great War," it's still regarded as one of the grisliest periods of history.  With just two years until we're in this century's '20s, New Jersey's Bobby Mahoney with his band The Seventh Son is putting his money on a rebirth in the 2020's in his aptly titled "Roaring Twenties," which we're excited to premiere today.
"Roaring Twenties" – Bobby Mahoney and The Seventh Son
---
The East Brunswick band share similar DNA to their Jersey brethren like The Gaslight Anthem or Titus Andronicus, a punk voracity with a fondness for the past.  Besides the titular nostalgia for the era of the Lost Generation, Bobby Mahoney and the Seventh Son have a definite affinity for '70s hard rock.  "Roaring Twenties" has the same DNA as a song like "Shooting Star" by Bad Company or "More Than a Feeling" by Boston.  Since this is a Jersey band, a little Springsteen does shine through, like the straight-out-of "Born in the USA" drums that kick off the song.  It takes all the sweet elements of those songs and knows when to ramp up the pace.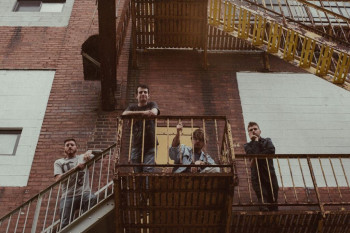 Mahoney doesn't fall into the typical traps of nostalgia on "Roaring Twenties." He romanticizes that time period really in title only.  He's not writing a song that wishes he could've been a young adult in the '20s; he's aiming at the next decade being a great one.  Mahoney had this to say of the song:
"I've always been a Gatsby fan, and a fan of the roaring twenties, flapper culture. The song is about hoping that tomorrow can be better than today, or yesterday. People romanticize that time period, and I know a lot of people in my generation are banking on the 2020s to be awesome because the last few years haven't been so hot. Many of us are deep in college debt, or looking for jobs, or struggling in some other way and we just need to stay positive and work hard towards making tomorrow better. It's also a song about learning from the past- we all could be doing better with that."
While pessimism is certainly the easiest path to fall down, Mahoney figures it's easiest to toast to the future and remain optimistic than just mull over the failings of the past.  Still, Mahoney knows that some of the melancholy of nostalgia will creep through, but he's still giving a blessing at the end to serve as the positive hope.  He sings:
And some days, your green light reminds you and makes you sick
Prohibition of your love, yeah, Mick, it's a bitch
And some days, your green light reminds you and makes you sick
Prohibition of your love, may your twenties be rich
With the Gatsby reference and the title, it's hard not to think of authors like Fitzgerald or Hemingway who defined literature in the '20s.  A college professor of mine once told a story about Hemingway's epigraph for The Sun Also Rises.  The epigraph reads "You are all a lost generation," which is a quote from Gertrude Stein.  The words "lost generation" have become synonymous with the artists of that period.  My professor, a world-renowned Hemingway scholar, spoke about how the quote is often misinterpreted.  He would say, "Every generation's lost.  They were just trying to be found."  Going through Bobby Mahoney and the Seventh Son's discography to their newest EP (out March 23) and "Roaring Twenties," specifically, it seems like they're also speaking for a generation trying to be found.
— — — —
? © Dieter Unrath
:: Bobby Mahoney and the Seventh Son ::