Scottish band Dancing on Tables' emotional new indie pop anthem "Not to Need You" captures the acts of letting go and redefining yourself.
"Not to Need You" – Dancing on Tables
---
After ground-breaking breakups with partners or friendships, there comes this phase of redefining yourself in your new life: Stepping your feet on unknown territory, discovering the new and exciting whilst letting go of what once had been. The transition from being used to someone to that someone not being there anymore can be difficult, and everything might feel uncertain. Atwood Magazine is very proud to be premiering the music video for "Not to Need You" by the Scottish band Dancing on Tables, who are putting their focus on exactly this topic.
Is this all I am?
I feel deflated
With my feet in the sand
I feel myself sinking
You threw the lifeline
I caught the rope
But you let it go
A five-piece indie pop band from Dunfermline, Scotland, Dancing on Tables is Robbie McSkimming (lead vocals, keyboard ), Callum Thomas (lead vocals, guitar), Hamish Finlayson (guitar), Gregor Stobie (bass, backing vocals) and Reece Dobbin (drums). Previously described by Atwood Magazine's Mitch Mosk as a multimodal talent "as good at emoting high highs as they are at unearthing those low lows," Dancing on Tables have been releasing a steady, consistent stream of music ever since they debuted in 2016. Just as Atwood premiered the band's "raw, visceral acoustic ballad" "Black" at the top of 2020, so too are we excited to share "Not to Need You" today.
The band's first release of 2020, "Not to Need You" was written with award-winning songwriter Liz Rose, who discovered Dancing on Tables and subsequently invited them over to write a song. The process of creating that song simply began with Liz Rose asking the band what they wanted to write about; what followed felt more like a therapy session to the band, they said, as they talked about all the difficulties in life they had to face after failed friendships or relationships.
The song seems to start off with the question, "Is this all I am?" After having been with someone for a long time, the change of being part of a team to being a solo player can be hard – feeling empty, feeling like half of you is missing. In this verse, singer Robbie McSkimming's voice is in focus, with minimal musical support in the background. The video is set in a big room, which is certainly way too large for only the band, showing the feeling of emptiness in a visual way. Later on, this feeling gets even deeper:
I don't know where I stand
I can't find my direction
You held all the plans
Left me lost in the question
You were the map
Leading me home
I can't get there alone
After something that we are used to has slipped away, this world suddenly starts to feel immensely big and endless. A million different pathways you've never known they existed have opened themselves to you from one moment to another. A significant other or a friend that felt like a home, a guiding system to you is now gone. Now you have so many options, but don't know where to go. You start to doubt yourself, but there is a light at the end of the tunnel – a light full of hope, like the green light that shows you a future brighter than ever before:
I'm not afraid of falling
Nowhere to go but down
Everything looks better
When you're laying on the ground
It's like I 've never seen
The world like this before
Best part of starting over
Is not to need you anymore
Starting over could mean that you might fall, but being scared of falling over won't make it any easier. Even though letting go is very hard, starting over can be a very good feeling. It means you can build up a new life that is entirely yours, without any co-dependency from someone else or the constant anxiety of being left alone. After your whole life circumstances have completely changed in the glimpse of an eye, you tend to see the world with different eyes, as Dancing on Tables' lyrics tease on. The wisdom comes to you like a lighting bold: It is true, the best part of starting over, is that you don't need the person you used to depend on anymore. In the last verse, Dancing on Tables' narrator is finally liberated from their past:
All I ever was
Feels like a stranger
I still know how to love
This time I'll be braver
I'm more than you said
I still hear the sound
But it's fading now
Speaking to Atwood Magazine, Robbie McSkimming explains, "We wanted a song that would encapsulate the pain and hurt that people go through in life, but ultimately show that there is always a light at the end of the tunnel for people in all situations Although the track focuses on someone reflecting on ending a reliance on someone else, we wanted the track to apply to all scenarios where someone faces an uphill battle, and for "the best part of starting over, is not to need you anymore" to give people hope that things will always get better."
Dancing on Tables certainly followed through with their goal on "Not to Need You." The light at the end of the tunnel is now brighter than ever before. The bad memories start to fade, making room for something new: Something bigger and better. The room does not feel uncomfortably empty anymore; it feels ready to be filled with new inspiration and identity. Now, in the music video, the singer starts to walk around in this large space of a room, exploring, instead of feeling intimidated by it. Now is the time to start over – a new chapter of fearlessness.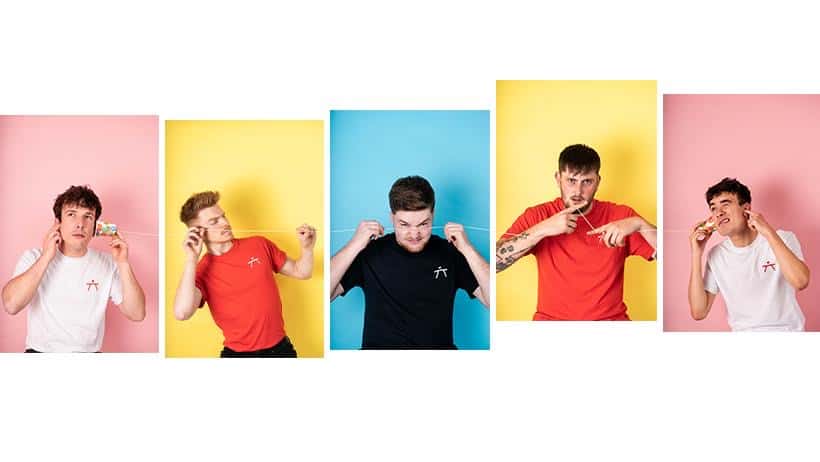 Together for a long time, Dancing on Tables' bandmates used to play together at friends' parties or school assemblies; after a rapid career jump, they recently had the incredible opportunity to support one of the biggest British bands, Catfish and the Bottlemen, on their shows in Scotland. They have also played well-known festivals including Latitude, The Great Escape, and Dot to Dot, and Varity Magazine hailed them as one of the top "10 Brits to Watch" in 2018.
"Not to Need You" accompanies a very well-produced video directed and filmed by Sean De Francesco, expressing the emotional side of the song in a visual way. When they wrote the track with the songwriter Liz Rose, who has worked with artist like Taylor Swift in the past, Dancing on Tables were exploring their melancholic side. "Not to Need You" is an indie pop anthem expressing true emotions and giving everyone the feeling that there will be light and a brighter future at the end of the tunnel, even though it might not seem like that at the moment.
Stream "Not to Need You" exclusively on Atwood Magazine!
— —
"Not to Need You" – Dancing on Tables
— — — —
? © 2020
:: Stream Dancing on Tables ::
---