Through gorgeous synth arrangements, honey-sweet vocals, and award-winning directing, Posh Hammer's "It Was Once Summer" showcases the missed opportunities of needlessly waiting with an unmatched beauty.
— —
Patience can be a virtue, but so can action.  Whether it be self-doubt or trying to find the right moment, opportunities can come and go with little to show for it. To wait and hope for the best has its applications and benefits, but as Posh Hammer's "It Was Once Summer" breaks down, it can also lead to missing moments and experiences that could uplift for a lifetime.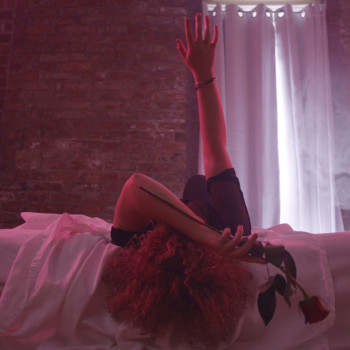 Atwood Magazine is proud to be premiering the music video for Posh Hammer's single "It Was Once Summer" off of their upcoming EP – Dancing In Places – releasing October 19. Iranian-American brother-sister synth-pop duo Posh Hammer create glistening tracks that upend what pop music can be. With Navied Setayesh on productions and Tasnim on vocals, the two work in sync expertly to create gorgeous soundscapes that aim to deliver more than just catchy melodies.
I'll wait as all the backgrounds fade away
And you'll wait as all of the nights turn into day
I'll spend most of my time dancing alone
And you'll spend most of your time on your own
The track begins with a slow buildup of synth-laced percussion beats with the sweet vocals of Tasnim following close behind. From the start, the listener can see a perfect visual of the protagonist waiting for someone special. With the premise established, the story continues on with thoughts of reassurance popping in as if trying to persuade themselves that everything will be fine. After all, it's only love.
We both know it's only love – so i don't say a word
There's too much to stand above – it all falls unheard
It once was summer – and we were young
It once was summer – and it had just begun
As the track continues, more reassurance that all is well is still being told with lines like "we'll wait 'cause time can only pass us by / until we can say what we both meant to imply." Towards the track's close, our protagonist is no longer wishing to wait and is simply tired of the opportunities passing her by. The listener can hear a tonal shift from Tasnim, adding more weight behind the words, which aids in creating an experience that is full of immense captivation.
The talent that these two possess fortunately do not stop here. Aural and visual blend together in a gorgeous fashion with the accompanying video. However, the video does not standalone but is actually a continuation in a series. With their Dancing In Place EP, they aimed to create something different. The story is of two love-torn celebrities who attempt to navigate the world of social media and satisfying their fan base while trying to keep their romance from fading. With this digital heavy world, it's hard to see at times the pressure social media puts on all of us, especially those in the limelight.
I'm tired of waiting, as it all fades out of view
It once was summer, and it returns me to you
It's a time where actions of any caliber are recorded, shared, and commented on by the world. There is a desire to be in the know of certain individual's lives and they often have to deliver. With each new post or photo uploaded, it's as if they gain one piece of themselves but lose one, too. With the idea firmly in place, the duo begin their journey of showcasing this story with "An Introduction."
---
The beginnings of the story shows two individuals setting their eyes on each other with an almost instant attraction. They laugh, they explore, and they indulge in the sweetness of the night with a euphoric melody surrounding it all. With its sequel, "After We Dance," a display of "what-ifs" takes center stage.
---
With a shimmering color pallet on full display, a tone of fantastical dreams is created. Rich in electronic-laced horns, the track and video make for an anthem that will surely get one moving. Things take a turn with part three, "To Kill Time." Almost obsessive, our celebrity protagonist falls into a trap of classic social media stalking while she waits for the moment this mysterious man of the night before will sweep her off her feet. Unfortunately, she might be kept waiting.
---
And then occurs part four, to which the duo had this to say to Atwood Magazine: "'It Once Was Summer' is about looking back at the opportunities the characters missed. Tasnim's character visits the locations of "An Introduction" trying to run into the man she met in the first video. My first day directing we shot all the exteriors for this project. We had a few technical mishaps and ended up pulling an all-nighter. We were rushing against the sunrise to finish some of these shots. "
---
Their efforts are worthy of praise. The video is dripping in style, each shot serving a purpose with the neon color scheme serving as a dazzling backdrop. Each movement and each scene correspond perfectly with the lyrics, bringing them to life and providing viewers and listeners and new experience on the track, one that accentuates the already existing glamour it possesses.
Posh Hammer has shown a fiery vigor with their work and the results are breathtaking. "It Was Once Summer" is an anthem of taking control and no longer wasting time. Their melding of synth-pop and rich lyrics create a space in which hope lives and one where the tenacity and power of youth shine brilliantly. With their talent for story-telling and of creating catchy soundscapes, Posh Hammer is a duo to be on the lookout for.
The band's Dancing In Place EP is out October 19, 2018.
— —
— — — —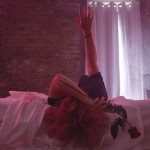 ? © Gaither Sandlin
:: Stream Posh Hammer ::