Every other week, Anthony Kozlowski pens the Atwood Magazine column Tunes & Tumblers, pairing new and classic albums with cocktail recipes. He quickly found however that drinking alone is a sad business. So he invited his friends Pedro Isaac Chairez and Ryan James into a recording booth to aid in mixing delicious drinks and to discuss the music that they all love. Strap on your headphones and enjoy a cold one on us. 
 
Chandler Juliet belts out an ode to loving communication on "Love Language." This week, the Tunes & Tumblers gang sits down with her to celebrate how we come together, and toast the vibe with rose-dressed cocktails.
   
Maybe your partner is an astute gift-giver who always has an eye out for something that you'd love, from a quirky coffee table book to a cocktail shaker shaped like your favorite animal. Maybe you make their bed after they head off to work and leave a hand-written note on their pillow. Maybe instead you feel most loved when you spend an evening with them under a couple Snuggies, browsing the latest Hulu offerings.
We all have our own way of expressing and receiving affection. Sometimes though, something gets lost in translation. We don't show our love the way someone will best receive it. Our actions leave each other wanting. For Chandler Juliet, the chasm between demonstrating and feeling love can only be crossed when we know ourselves and how we communicate.
What is your love language?
You've probably heard the term bouncing around your News Feed on the pages of wellness Influencers many a time. The basic idea coined by author Gary Chapman is that everyone shows their affection through one of five methods: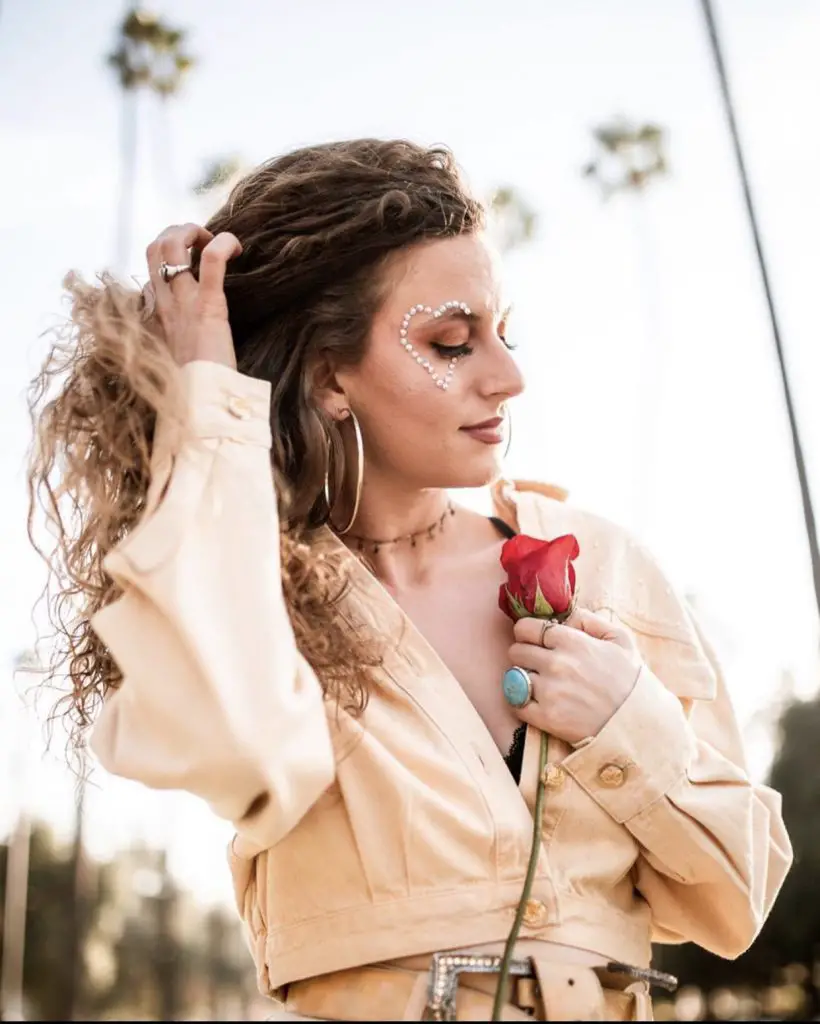 Quality Time Spent
Words of Affirmation
Acts of Service
Physical Touch
Receiving Gifts
Of course no one fits neatly into any of these boxes, but they act as a guideline to plot the way we experience love. Need more quality time when a loved one incessantly lavishes gifts on you? They might not be speaking your language. Chandler herself can relate:
In the past I had partners who would just be like 'Here, I got you something, so I'm done.' No, that's not how that works.
If we don't learn to speak our partner's love language, we end up talking past one another.
Continuing the effervescent blossoming of her music that began with last Fall's "Take It or Leave It", Chandler takes this heart, mapping out a blissful mantra of connection. "Love Language" is the next step on her journey of self-discovery.
My love language is your time and attention
Won't you give some of it to me?
This week she blesses the Tunes & Tumblers studio with a bit of her own time and attention. Over rose-tinted Juliets fit for Spring's early arrival (if you live in Los Angeles at least), we get acquainted with ourselves. Learning to love is not only opening our hearts and embracing sincerity. It's recognizing how we feel it.
THE SONG
"Love Language"
by Chandler Juliet
---
'Love Language' has been in the tank for a while. After her first EP, the rich, vulnerable, and artfully stripped Elements, the sun warms on Chandler Juliet's new music. Blooming from the soft introspection of her early work, she imbues both "Take It or Leave It" and now "Love Language" with an increasing sense of fun. "With Elements, I felt like these emotions were weighing down on me," she explains. "I had to go to my guitar and get in my room for five days to lay it out. But [Love Language] is different. It makes me feel really flirty and playful." Here she steps boldly from the churning depths and into a season of euphoria and self-worth.
Buoyant pop production and swooning vocal harmonies shine on her new single. Only half a listen fixes the hook to your mind, encouraging a chorus of thousands to assert their needs by the final bars.
Talk to me, talk to me
We don't need a translation
When you spend your time with me
You're speaking my love language.
---
With swooping synths and an invigorating beat, Chandler floats through her love lesson. Instead of dwelling on how things fall apart, she offers an elegant and upbeat solution. When we communicate our needs, the means by which we feel valued, we allow ourselves to be seen. It seems a little obvious at first glance — be honest about what you want and you'll get it — but, a) sincerity is scary, and b) some of us don't even know what we need to begin with. Like learning any vocal dialect, if we don't study and practice our love language, we won't know how it works (English class is important, kids).
But any good study session, especially such a reflective one, needs hydration. Pedro has just the thing to kick-start Chandler's season of love and the budding of spring, roses and all. Please learn your language responsibly.
THE DRINK
Juliet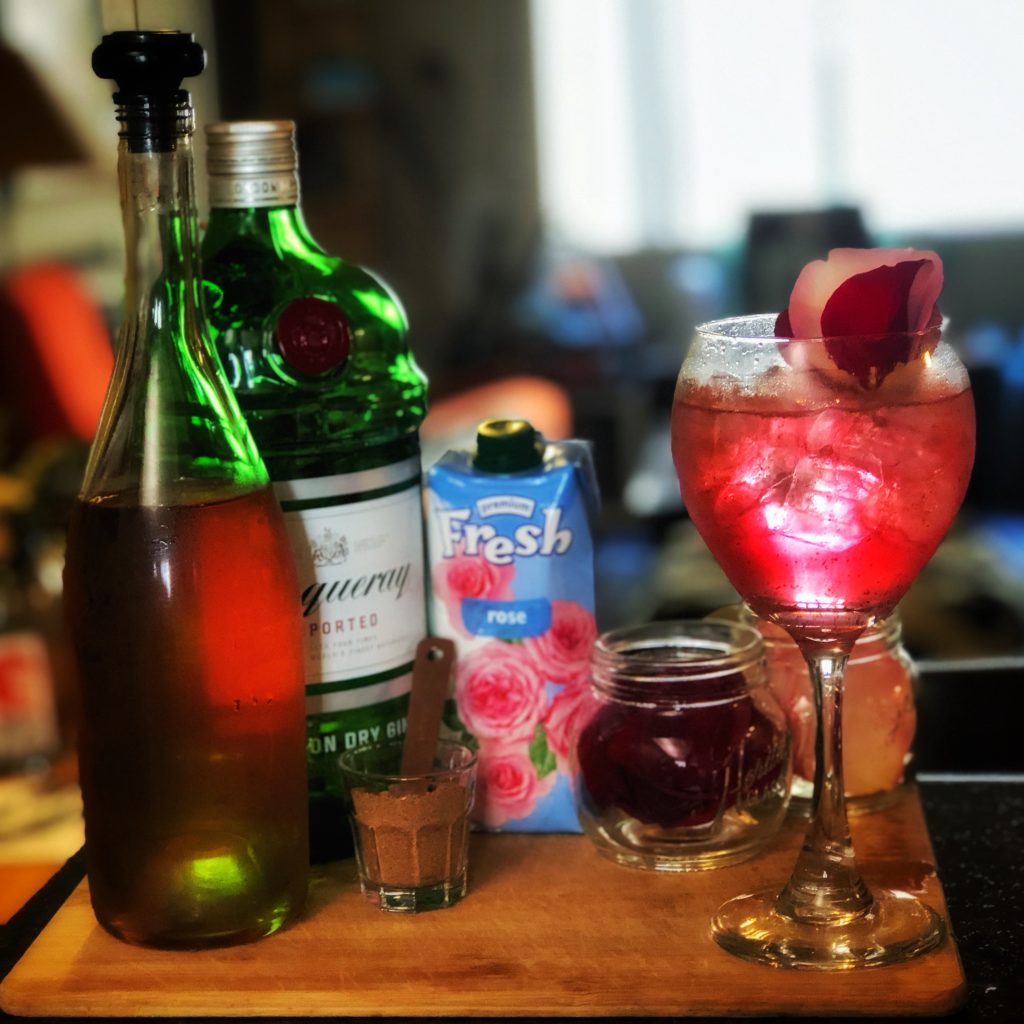 2 oz Gin
1 oz Rosé
3 oz Sweetened Rose Drink
Nutmeg to Taste
Splash of Tonic
Rose Petals for Garnish
Instructions
Dry shake gin, rosé, rose drink, and nutmeg
Pour over ice.
Add a splash of tonic on top and garnish with rose petals.
Cheers, Lovelies!
Chandler crafts "Love Language" as an open letter to anyone looking to connect, reaching through the speakers in a fun, accessible way. The Juliet, our take on a floral, rejuvenating gin and tonic, hews close to its namesake. Splashes of rosé and its botanical aroma evoke a sense of opening up. The rigid cold of winter and walls of our emotional fortresses crack under blinding sun.
Though Pedro sourced this week's brunch time wine from his brother's personal stash, any dry variety will compliment the Juliet's blush complexion. Do your best to avoid any overly sweet variety as the tonic and rose drink already pack a saccharine punch.
If you raised an eyebrow at the mention of "rose drink," don't worry. We did too. But the rose is a primary symbol of love and Pedro knew he couldn't pass up the opportunity to incorporate what is essentially rose juice into today's mixture when he laid eyes on it in a North Hollywood Russian Market. We didn't know roses could be juiced, let alone how much they could brighten this drink.
An aromatic dash of nutmeg adds a dimension of spice and playfulness. It's sweet, but also tart and flirty, fiery and assertive.
Topped with an array of multicolored rose petals, the Juliet looks exactly how "Love Language" feels. It awakens a yearning for connection, an olfactory invitation to come out of your shell and feel the love. At first, it's only a seedling, but soon sprouts with a little care and curiosity.
Cheers to speaking your language.
THE SHOW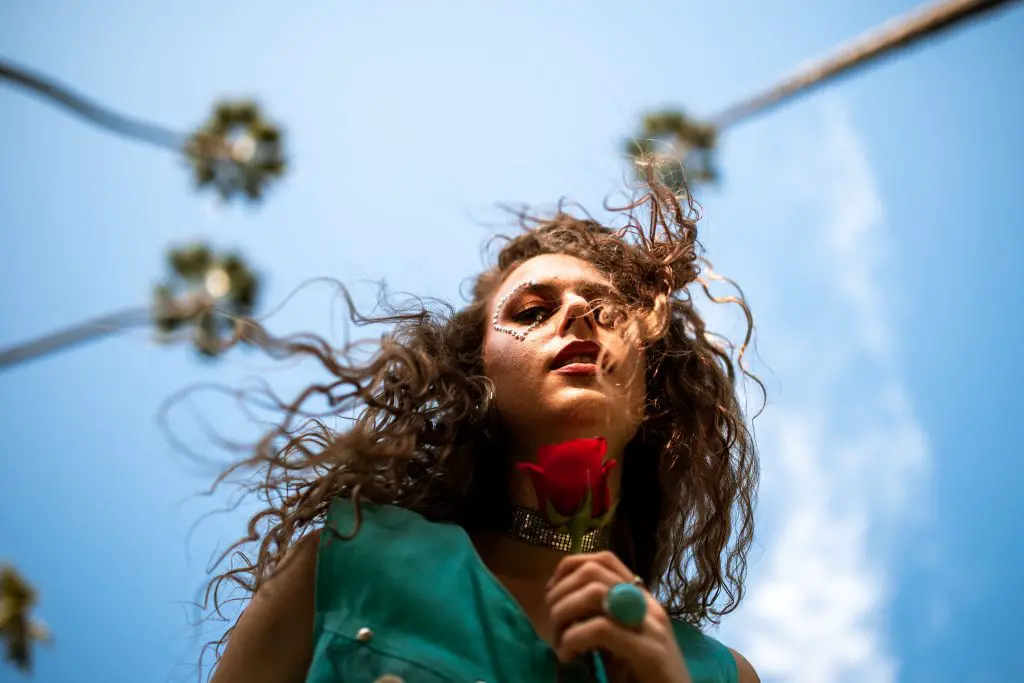 If this week's episode is any indication, the Juliets did their job. Only one of these vivacious beverages sent the whole gang down a rabbit hole of our feels.
Apart from discussing Chandler's stunning evolution as an artist, we dive into our own methods of connecting and all our misadventures along the way. We discover that the four of us speak different love languages altogether. Chandler and Pedro enjoy quality time spent with a partner, while Ryan excels at giving thoughtful gifts. Mine on the other hand will remain an Easter egg for listeners. Tune in to enter Love Language 101. There will be a quiz.
Note: If you point blindly at my body of work for Atwood Magazine, you'll more than likely stumbler across an indictment of our increasingly isolating modern world. Social media and 24/7 networking may be the central anxiety of many young artists (me included), but it's not the bane of humanity many decry it as. We're two decades into the millennium now. The ubiquity of WiFi connections, swipe apps, and screens every conceivable size are no longer seen as crutches. They're a fact of life, extensions of the way people have interacted for generations. Staying mindful and open to receiving affection (and giving it in return) isn't a uniquely modern struggle. The obstacles just look a little shinier.
"Love Language" is a mantra for any age. Chandler's joy shines through in every glittering moment of its electropop sugar. "Every time I listen to it, I get happy," she beams. "I feel like I've finally reached a level of something I haven't done before in my music. It's authentic, it's real, and it pushes the envelope for me as an artist." Her effervescent affirmations announce a new season of her work, a bright and bewitching one. At Tunes & Tumblers, our love language is dancing it out along with her.
Tunes & Tumblers 204:
Chandler Juliet and a Juliet (feat. Chandler Juliet)
---
Catch up on Tunes & Tumblers wherever you listen to your podcasts!
If you want to add any of the music discussed to your library, check out the full episode playlist below:
Have your own idea for a Tunes & Tumblers pairing? Let us know in the comments, or hit us up on Twitter.
 © Pedro Isaac & Ana Karotkaya
:: Stream Chandler Juliet ::