Every other week, Anthony Kozlowski pens the Atwood Magazine column Tunes & Tumblers, pairing new and classic albums with cocktail recipes. He quickly found however that drinking alone is a sad business. So he invited his friends into a recording booth to aid in mixing delicious drinks and to discuss the music that they all love. Strap on your headphones and enjoy a cold one on us. 
 
It's break-up songs, horses, and guillotines with Carter Vail on a new episode of our Tunes & Tumblers podcast! Tune in to get all the details on an interstellar whiskey cocktail and the rundown on his latest song, "ALWAYS THINKING ABOUT YOU."
   
words by Anthony Kozlowski
This week, the podcast regulars sip on their Interstellar Experience while chatting with Carter Vail. Listen to them talk about his latest single, "ALWAYS THINKING ABOUT YOU," his family's history with guillotines, whether or not horses are too big, and so much more while sipping on some chilled-out summer whiskey.
Check out our newest episode of Tunes & Tumblers on Spotify and Apple Podcasts. Cheers!
Wanna drink with us? Then you've gotta do it responsibly. Here's Kaitlyn's recipe for a "Interstellar Experience"!
•• ••
Interstellar Experience
Banana Syrup
3 Ripe Bananas
1/3 Cup Water
1 Cup Sugar
Simmer broken up bananas, water and sugar in saucepan for 10 to 15 minutes
Remove from heat and let cool
Strain into clean glass jar and store in refrigerator.
Cocktail
2oz Rye Whiskey
3/4oz Banana Syrup
Walnut bitters
Coconut lime ice tennis ball
Ground Sichuan peppercorns
Freeze 2 parts coconut milk and 1 part lime juice with 1/4 tsp lime zest and edible glitter in tennis ball ice mold
Coat rim of lowball glass with Sichuan peppercorns
Place tennis ball ice in glass and chill
Shake whiskey, banana syrup, and ice
Strain into glass and add a couple dashes of bitters
Enjoy the rim garnish first for an interstellar experience
Have your own idea for a Tunes & Tumblers pairing? Let us know in the comments, or hit us up on Twitter.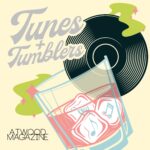 © Kaylyn Wiggenhauser
design by Kaylyn Wiggenhauser
---