TikTok phenomenon Calica joins forces with mastermind Daniel Loumpouridis, concocting the ultimate infectious indie hit in "Don't."
"Don't" – Calica, Daniel Loumpouridis
---
What do you get when a talented TikTok sensation partners with a prolific musician/writer/producer?
You get a masterful offering oozing with originality: Calica and Daniel Loumpouridis' synth-infused, indie pop pleasure "Don't" is a colorful, catchy creation. Lyrically diving headfirst into setting clear boundaries in order to maintain healthy relationships, this tranquil, atmospheric track soars to a whole new dimension. The track is taken off the pair's new EP Lens, released January 22 via Sonder House.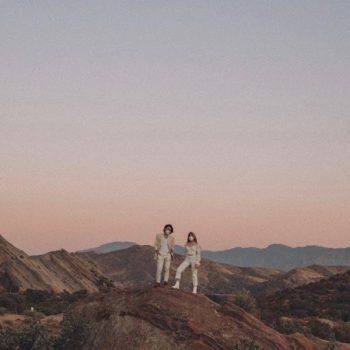 Singer Calica – whose debut single "Give & Take" premiered on Atwood Magazine back in December 2018 – has developed her own distinct style of transformative synth-pop. In our introduction, we praised CALICA (real name Sofia Carrillo) for having an ear for enchantment and a magical voice to match: "... She dwells in deep grooves and poignant melodies in her debut, singing atop shimmering synth pads and pulsing electric guitars that help bolster and propel her words to greater heights."
When she began posting on TikTok, it was not long before she gained major popularity and an already burgeoning fanbase grew exponentially. Not only does Calica showcase her own work on the platform, but she also takes famous songs and flips them on their head. It is this kind of imaginative creativity that has her followers hooked. Her inspired uniqueness combined with Loumpouridis' astonishing artistry is the perfect recipe for a supreme team.
Atwood Magazine had the pleasure of talking to the pair – discussing their new single, establishing boundaries, and more.
A CONVERSATION WITH CALICA AND DANIEL LOUMPOURIDIS

Atwood Magazine: The two of you have teamed up for your single "Don't." How did this incredible collaboration come to life and what was your experience like working together?
Daniel: Well, Sofia and I met in college, but it wasn't until we both moved out to LA that we started working together. When we were in school together I always admired her vocal and melodic sensibilities and was eager to make something happen when we both had time out here.
Calica: It was incredibly smooth from the beginning. Our stylistic tendencies felt really complementary and there was never a time when we lacked direction or even questioned what we were doing.
The release showcases a melancholy, synth driven sound. What inspired the song's irresistible vibes?
Calica: I was listening to a lot of Tame Impala at the time, and since at this point we were pretty far along in our EP process we both felt like the project needed a more upbeat song.
Daniel: All the synths are analog, meaning nothing came out of my computer.  Because all the sounds are being played in real time the audience gets a real sense of how "alive" everything feels when they listen to it. The guitar work is definitely reminiscent of Kevin Parker's Currents, but we wanted to take it in a more four-on-the-floor dance direction than what we were hearing on that record.
The offering narrates the ability to create healthy boundaries, which is so important when it comes to your well-being and mental health. How did you develop this concept for the track?
Calica: Both of us were coming out of pretty toxic relationships at the time, and we found that we were struggling with the idea of creating boundaries both for ourselves and for our exes at the time. Self love and self awareness are running themes throughout the EP, and "Don't" is a great example of how we wanted to turn the idea of moving forward from an unhealthy relationship into a catchy pop song.
On the topic of healthy boundaries, what advice can you give to others on maintaining safe boundaries in your life?
Daniel: I would say the most important thing for me was realizing that love doesn't have to be hard. It doesn't have to be "I'll stick through this no matter what because our love is the most important thing." That genuinely is not the case, even though that's what we're conditioned to believe "true love" is. Similarly, codependency and love are not equivalent, and sometimes it takes a while to realize which one you really have. Really, at the end of the day, if you're not happy then something's not right — regardless of whether or not you love that person.
I understand, Calica, that you have acquired a large following on TikTok through displaying your emotive indie pop style. What would you attribute your success to and how does it feel having a powerful voice on such a popular platform?
Calica: A lot of my success came because the situation in early quarantine allowed for me to reach a wider and more willing audience. Everyone was so receptive to my musical style and it was incredibly encouraging. It's a bit daunting at times to have a loud megaphone on such a popular platform, but it's really inspiring me to be more vocal about causes I care about and bring them to the attention of my followers. That has been wildly rewarding.
On TikTok one of the things you are most recognized for is taking a well-known song and switching up its genre. Where did this idea stem from and how has it helped you creatively?
Calica: Originally I started to take songs I love and turn them into productions that were more in my musical lane. After that seemed to catch on, I started to experiment with imitating the vocal and production styles of artists I admire like Lorde and Lana Del Rey and I could not have been having more fun with it. It's really helped me hone in on my own style, and learn tricks and techniques from my favourite artists that I will then use in my own music.
Calica, your single "Little Girl" went viral on the app after posting your father's reaction to the song. What was it like having something so personal to you, gain the amount of attention it did from fans and media?
Calica: It was probably the coolest thing to happen in my career so far. It was incredibly touching to hear from people who connected with the song and shared stories about their own families. I'm so glad that people were able to recognize themselves in our story, and it made both my dad and I feel so connected to the world.
Daniel, a huge accomplishment of yours was co-writing and co-producing Louis The Child's breakout single, "It's Strange (ft. K.Flay)". How did that milestone catapult your career?
Daniel: It's honestly the gift that keeps on giving. Even five years after its release it'ss still getting placements in TV shows and commercials. It's so gratifying when something connects with a worldwide audience like that. It's given me the means to move to LA and produce for a living full time, which is not something I will ever take for granted. I couldn't be more grateful for the success of that song.
I understand you work as a musician, writer, producer and musical director. How do you balance those multiple roles and what drew you to learning so many facets of the industry?
Daniel: To me, they're all connected. When I work with an artist I try to keep all those hats on at the same time and do my best to serve their vision. Writing, producing, and playing various instruments— they're all just tools in my toolbox that will help me get the artist to where they want to go.
Finally, what musicians and artists are you both currently listening to that you can recommend to our readers?
Calica: I've been listening to a lot of Tommy Newport and Polo & Pan. I'm also always on some old Lily Allen.
Daniel: I think Kali Uchis' new album, Sin Miedo is a work of genius. Blew my mind the first time I heard it, and blew my mind the last time I heard it (which was most likely yesterday.) Also Angel Olsen's Whole New Mess and Phoebe Bridgers Punisher have been carrying me through the quarantine slog. All three of those records get a 10/10 in my book.
— — — —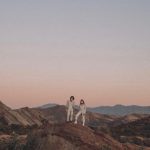 ? © Maxine Bowen 
:: Stream Calica ::