A true force of nature, Brooklyn's dreamy goddess Quelle Rox talks to Atwood Magazine about her upcoming debut EP 'Lilac Rush,' music, aliens, and flowers.
Stream: "Lilac Rush" Storybook – Quelle Rox
---
This is a "welcome to my dreamworld" made with love all from my bedroom in Brooklyn. It's about taking those unfavorable experiences or feelings of loneliness, heartbreak, anxiety, etc and turning them into a whimsical, colorful, space-y experience. Transforming yourself into a flower goddess or an alien queen or whatever you want to be in your own dreamworld.
For those of you who don't know her yet, you'd better hurry up. Quelle Rox is a true force of nature, and she's set to dominate the music scene with her upcoming debut EP Lilac Rush, due to come out on April 23rd. It's a heavenly record, transcending all dimensions with its dreamy, nostalgic vibe. Her voice is angelic yet sensual, an unattainable goddess giving us the precious gift of her art.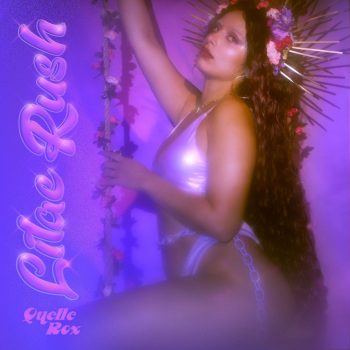 This mystical journey begins with "Let's Take a Trip," a chill invitation to join a trip that is, in fact, quite unique. "Liquor Rain" follows, a nostalgic track that we'd define as very close to the typical synths of the Eighties. It ends in such a masterful and fascinating way that it does make us dream, until the very last second of the song.
Perhaps this is the track that best shows Quelle Rox's potential and talent.
"No Surprises" is a more rhythmic track, which on first listen immediately takes us on holiday, wherever we are. "Waves" comes straight out of disco and retro pop, in a deliciously powerful track – despite Rox's graceful vocals. 
The artist's followers have also already had the pleasure of listening to "Space Parade," one of the most chill tracks on the record, which offers a glimpse into how well Quelle Rox's voice fits with Spanish-language singing; after all, we shouldn't forget her Cuban and Puerto Rican origins. 
Se volvió viejo, muy viejo
Damos la misma vuelta
Pero brillas oro como el sol
Te dije que yo era suficiente
Se volvió viejo, muy viejo
Damos la misma vuelta
Pero eres frío, y yo sin sentir
I saw space and fell in love
Vi el espacio, y me enamoré
Es la media noche en mis ojos, arriba de ti
Tuve mi space parade
Tuve mi space parade
Y esas luzes brillaban
Donde tu luz antes me cegaba
And then there's "What Could Have Been," the most melancholic and relaxing track you'll ever listen to in your life. It's pure nostalgia, matching exactly that sense of lack and emptiness you get when you ask yourself "What could have been?" about a relationship that has passed but never completely ended.
The EP closes with "Cosmic Gloom," one of the very first singles released by Quelle Rox. A rediscovery which allows us to see the progressive change of the artist over time, but also to note that two years ago she was already creating real works of art. Accompanying the album is a visual storybook, a rather peculiar but fascinating video, which introduces you more and more into Rox's world – without ever letting you leave.
We wouldn't want to tell you more about this magical EP, because Quelle Rox's music is beyond any kind of description.
Let yourself be carried away by her music to understand what we mean because there are very few artists of this kind around. And while you're at it, don't miss our interview with Quelle Rox, who graced us with her thoughts on her music, on Lilac Rush and important issues that are never talked about enough.

Lilac Rush is independently out April 23, 2021.
— —
A CONVERSATION WITH QUELLE ROX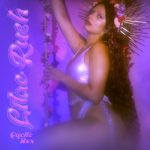 Atwood Magazine: HOW WOULD YOU DESCRIBE THE CREATION OF YOUR EP?
Quelle Rox: I would say I created the EP throughout a long time span. I started creating in college and kept doing it, and releasing singles, kind of spread out a long timeframe. But, I do think that all the songs have a theme going on, that rings true in all the tracks. To be honest, now that I have a puppy I'm happy, but before I was really heartbroken all the time, going through dating shitty people, life and loneliness in New York City, anxiety, so much of that.
I just wanted to take my music – and I had to, I had no choice but to use this therapy. But I also think the core essence is taking all those feelings and then turning them into a colorful and whimsical experience, to create what I wanted my own personal life; a dream world that you can escape to, so it's kind of a welcome to my dream world.
"LET'S TAKE A TRIP" WITH YOUR MUSIC: WHAT KIND OF PLACE YOU WANT THE LISTENERS TO GO TO WITH YOUR MUSIC?
Quelle Rox: When people ask me about what the tracks mean to me, I try to say it but in a very ambiguous way in that I'm not imparting too much of my own experiences into the significance of the tracks and the whole journey – which is what I want the tracklisting to be. I wanted the listener to have their own experience and just escape to their own dreamy place, whatever that means to them. For me, I think my music can be listened to hanging out, even in your room, chilling. Just be in a chill place, just going on whatever dreamy journey they want to.
YOU SAID THAT YOUR MUSIC IS "SOUNDTRACKS CATERED TO DREAMY, NOSTALGIC MEMORIES OF THE PAST WITH A BAD BITCH TWIST." SO, WHAT'S THE MOST "BAD BITCH VIBES" SONG AND WHICH ONE THE DREAMIEST? OR DO YOU THINK THAT THE WHOLE EP IS A MIXTURE OF BOTH?
Quelle Rox: I would say the most bad bitch song is definitely "Waves". A lot of my songs are deep-rooted, heartbreak and sadness, right? But this song was having a different outlook, I'm just like "If you don't want me, fine." Kind of not giving a shit about anyone who doesn't prioritize you, especially for a long time, and maybe doubting your words and then just reclaiming it. I'm that bitch! (laughs) I think that the main lyrics are what makes it the most "bad bitch" song, what makes it special to me is the lyric that goes like "I don't need a man to make my money or make me smile". That's just what it is, just like Cher said, "I am my own rich man".
Also in terms of "I don't need a man to make me smile", so many times people on the street in New York would always say "smile!" and I'm sure that a lot of women have experienced that. I think that's an atrocity of a statement and we're not accepting that, not today! So that's what that means to me and I would label it as the "bad bitch" one. Nostalgic one, definitely "What Could Have Been". It's like "damn, we could have had something" you know, but now we'll never know.
Just looking back at those moments and understanding that you're never going to figure that out, that you're never going to know what you could've had with that person or moment. I think that sometimes, when you know what could have been, you get closure from the situation, and when you did have an opportunity to experience that, you don't get closure. And then you have someone like me, making a whole EP about it to get closure! (laughs)
AND WHAT IF YOU HAD TO MATCH EVERY TRACK WITH A VIBE?
Quelle Rox: To be honest, a lot of them have similar atmospheres. It really is like you could be chilling at home, put this on a road trip or something. I think my songs are super versatile for any moment, and I do think that they should be listened in order, at least the first time, to really get that experience. I don't know how to answer that question, just all the atmospheres (laughs). Just wherever you want to be, listen to it and hopefully enjoy it!
I NOTICED THAT YOU ALSO EDITED SOME VIDEO CLIPS FOR YOUR MUSIC VIDEOS, AND YOUR PECULIAR SENSE OF FASHION (I SAW YOUR DEPOP ACCOUNT TOO). HAVE YOU EVER CONSIDERED A JOB THAT DOESN'T INVOLVE MUSIC? LIKE IN FASHION OR CINEMATOGRAPHIC INDUSTRY?
Quelle Rox: First and foremost, I'll definitely always going to do music, I live and breathe music and I will never steer away from that. But, I do want to incorporate different artistry into the music. So, that's why during quarantine I started – I didn't know anything about editing videos, I still don't, but I just opened iMovie and started putting together retro videos like cartoon images. I think that I would dabble in video edits more, for sure. As far as the fashion, to be honest I started a Depop account to fund my music video – it's not out yet. So, I do like fashion but, in all honesty, it was to fund my music video. (laughs) So I'm keeping it because music is so expensive, I'll keep selling clothes – shoutout to my Depop!
SPEAKING OF YOUR AESTHETIC, DO YOU HAVE ANY INFLUENCE? OR DID YOU JUST ALWAYS KNOW IT REPRESENTS YOU?
Quelle Rox: I know it may sound super cliché, but I always like to do whatever comes from the heart. Sometimes people say like "I love your brand, your aesthetic" and I didn't really know I was cultivating that, I was doing what speaks to me – it is this dreamland, I am very whimsical. Everyone, since I was a kid, said "you live in your own world!" and I do, I live in my own world. So, the aesthetic is just me putting that out there and just doing what speaks to me, which is the dreaminess and a lot of pastels. It definitely fluctuates, whatever feels right at the moment.
As for the influence, I'm just influenced by myself! And I'm probably influenced by my environment a lot, too. I moved here from Florida, I live in Brooklyn now, and I think that there is so much culture and diversity – just so much beauty here in New York. That's definitely inspiring, just walking on the streets of Brooklyn inspires me.
Stream: "No Surprises" – Quelle Rox
DO YOU FEEL MORE COMFORTABLE SINGING IN SPANISH OR ENGLISH? HOW MUCH OF YOUR CULTURE DO YOU THINK YOU BRING INTO YOUR MUSIC?
Quelle Rox: I definitely feel comfortable on both. Lyrically, I think I probably write better in English, because my vocabulary maybe is better, but I like singing in both. I probably feel more at home singing in Spanish, because I grew up speaking it. I grew up in Miami with a lot of Hispanic friends and family, and so I think it was long overdue that I started incorporating Spanish into my music. My initial songs just didn't have that, then I was like "no, I really want to bring my culture because my culture has made me who I am". My mom is Puerto Rican and my dad is Cuban, and she would always play El Gran Combo, which is a Puerto Rican group, Gloria Estefan, Mark Anthony.
So, I grew up listening to a lot of that music and it's so beautiful, it represents me so I wanted to make sure that as a creator, as a songwriter, I am now doing the same. Hopefully, maybe other Latinos can listen to my music and be like "Oooh, I can do that too!" or just connect with me on a deeper level, because it speaks of them. So, after this EP, my next EP will be bilingual for sure, and maybe even fully Spanish – who knows, we'll see! I want to do a full Spanish album so I can collaborate with Bad Bunny, that's the goal! (laughs)
THINK ABOUT LIKE YOUR WHOLE MUSICAL CAREER UNTIL NOW. WHAT'S THE THING THAT YOU ARE MOST PROUD OF?
Quelle Rox: I am proud of a lot of things, when I started I knew that I wanted this to be big. I still want this to be even bigger, and I know that it will be. But, I had no idea what I was doing, I didn't even know how to put out music, how to produce. I'm proud of myself for really sticking to it and watching those tutorials, teaching myself how to produce and really trying not knowing a lot about what to do and how to do it, and just working hard. People say that when you want to achieve something you just have to believe in yourself and work hard at it, and it's true! I do think that hard work really pays off.
For me, the most thing I'm proud of is numbers. They say numbers don't matter but – I'm sorry! I think last year I got like 70,000 monthly listeners and that was huge for me! Yeah, I went down since then, but it feels good because I'm making music so people can connect with it, just seeing this makes me so happy. When people write to me and say that a song spoke to them, it helped them through a difficult time, it just warms my heart. I think that's one of the things that really does keep me going, people enjoying the music. That's the thing I'm most proud of, for sure.
WHAT'S THE FIRST EMOTION YOU FEEL WHEN YOU THINK ABOUT YOUR MUSIC?
Quelle Rox: I would say honesty, growth, heartbreak. It's me documenting a time where I was really heartbroken, and I say growth because I had to close that chapter because of the music and also my personal life. Through the music, I started healing myself and learning from those experiences that made me feel really bad. I say honesty because everything is true, I don't write anything – even in terms of incorporating sounds, I don't include any sound that doesn't speak to me. It's very true to myself and documenting this experience. I think everyone can relate, I was just being sad and heartbroken.
THE STORYBOOK: HOW WAS IT BORN? WHAT WOULD YOU LIKE TO COMMUNICATE ABOUT YOURSELF WITH IT?
Quelle Rox: I think it's the most depiction of my art, my sound, my aesthetic, all meshed into that film. I wanted to do something different, this EP means a lot to me so I didn't want to do just one video. Like I said earlier in this interview, I wanted to welcome everyone to my dream world, bring people along sonically but also immerse them on a visual level. In terms of creating it, I will say basically what my director (Kelli McGuire) said – she's phenomenal! Basically, I wanted to do this and I wanted to bring Kelli along the ride because she's amazing. I told her there were three things I knew for sure that I wanted: retro, floral, and space vibes. She came up with the storyline of me going on this retro sci-fi trip, I needed this void and floral fest.
Kelli said she was inspired by Alexander McQueen's runways. I feel it has a lot of female energy in it as well, there's this beautiful alien queen – played by my friend Lexi (https://www.instagram.com/lostboyys/), she did an amazing job – and at the end of this heartbreak and sadness and self-discovery, I emerge at the end as a flower goddess. I think that we are all goddesses. It's the same thing I said, taking back the pain into a whimsical and colorful experience. I'm very proud of that, I cannot wait for it to be out, it's really special so I hope people watch it.
YOU SUPPORT LOTS OF VALID CAUSES, SUCH AS BLACK LIVES MATTER. I WAS WONDERING, DO YOU THINK THAT MUSIC CAN BE A FORM OF ACTIVISM?
Quelle Rox: I do think that any art form can be a form of activism and I genuinely do believe that all of us, especially artists, have a duty to bring that at the forefront their art to talk about these issues. I see a lot of people having this conversation, but then the conversation kind of dwindles online and it really does need to keep momentum because things need to change, they still haven't.
I'm a firm believer in equality, and it's so sad seeing everything that's going on. I do think that you could either use art as a medium to invoke change, but also just using your platform and your voice is equally or as effective. I hope to be more vocal, at least. A lot of times people underestimate the power of their voice – and even myself, sometimes you think like "oh, you don't have a platform yet", but even if you influence one person it goes a long way.
I do think it's really important to talk about these issues in any way that feels right to you. Everyone has their own part in these type of situations and just figuring out what that part is to you – whether it's donating or protesting or making art that talks about these issues –, it should be done. And it needs to continue to be done, now and forever. I think that a lot of people need to understand it's not politics; call it whatever you want, but at the end of the day it is human rights and it deserves to be in any space. It's not taboo to bring it up at work, it's not taboo to bring it up in a music conversation. This conversation about human rights and equality needs to be in every space.
THINK OF THE FIRST TIME YOU WILL BE ABLE TO PLAY LIVE AGAIN, WHEN ALL OF THIS IS OVER. HOW DO YOU WANT IT TO BE?
Quelle Rox: First, I want to say that I want to get more women and Hispanic people in my band – I'm working on it! And also people from all walks of life. I want people who bring diversity to the band and their own unique perspectives so, I definitely will be working on that and will show up in that way. But I also am super excited because I have to work on my tracklisting! Before, when I was performing live, I didn't have that much music out, so I was just working with what I had. Now I have so much content to pull from, so it's gonna be really exciting and it's going to be a long show – so, everyone get ready!
I cannot wait, I hope it happens soon because I definitely miss live. Sometimes I actually enjoy attending shows more than playing, since when you're performing you have so much to prepare. It's so nice to be just an observer so yeah, I hope one day we can get back to that soon because that just really brings joy in our lives, in everyone's lives so, we're hopin'!,
WHAT'S YOUR DREAM CONCERT? ONE TO ATTEND AND ONE YOU'D LIKE TO PERFORM.
Quelle Rox: I've seen Bad Bunny before but I was supposed to actually see him in Puerto Rico, which would've been amazing 'cause he's from Puerto Rico, I am Puerto Rican, he was performing there and I was going to travel to Puerto Rico and see him. I think it was like last summer, it was the height of Coronavirus, so it got cancelled. I'm hoping that it happens again, so I can go to my homeland and see Bad Bunny, 'cause I've seen him before in New York and he's phenomenal! About my dream concert, I played in small venues in Brooklyn but I would love to play in a big arena like Backlay Center or Madison Square Garden. I would love to do a big ass show, I was going to say "opening for somebody", but no. It's going to be my headline show!
WHAT DO YOU THINK WILL BE IN YOUR MUSICAL FUTURE, AFTER THE EP?
Quelle Rox: In my future, I want to be able to sustain myself musically and not have to have a day job, I want music to be my sole career and be able to succeed. By succeeding I mean being able to give back to my family and give back to causes that really speak to me. One of these is "Love Of All Dogs Rescue", and that's where I rescued my dog. They rescue dogs in Puerto Rico and they're so underfunded, they really need help.
So yeah, I just want to be in a position where I can help my family and the causes that speak to me. I want to be financially secure with my music, maybe also signing a record deal or something like that – or maybe staying independent, who knows! We'll see, but there are definitely options that I'm thinking about as I continue to grow with my artistry. Stay tuned! (laughs)
— —
Stream: "Miss Ya Body" – Quelle Rox
— — — —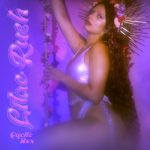 © Kelli McGuire 
:: Quelle Rox ::
---