Timothy Heller discusses her fierce sophomore single "See Ya!", a massive fuck you anthem full of tension and unleashed energy.
— —
Call me crazy one more time, I'll show you what it means.
Timothy Heller has had one hell of a year, and she's finally letting it out in song: Independently out now, the ex-Dresses singer/songwriter's fierce sophomore single "See Ya!" is a massive fuck you anthem full of tension and unleashed energy.
Did you really think we'd make up
act like everythings fine?
No, I don't want to be friends
I always could tell when you lied
What goes on in your brain
Is some really twisted shit
You just can't seem to get happy
And you'll have to live with it
Did you really think we'd make up
act like everything's fine?
We've been longtime fans of Timothy Heller here at Atwood Magazine, starting with her tenure in Seattle indie pop duo Dresses: Their 2013 debut album Sun Shy remains a personal favorite, a refreshing burst of life resonating with enough warmth, depth, and human spirit to uplift even the darkest of days.
Following Dresses' breakup, Heller premiered her long-awaited solo debut "Sleep" on Atwood Magazine last October. Returning to music with an old song she felt comfortable and familiar with, Heller asserted her effortlessly emotive voice through tense lyrics full of conflicting emotion. "Soft and subtle, seductive and dynamic, "Sleep" is the important first step at the very beginning of a brand new journey," we wrote at the time.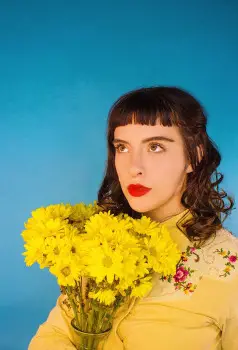 Are you really that surprised
That I never want to see you again
No I don't care if you cry
I'm never gonna see you again
When Heller accused Melanie Martinez of sexual assault last December, her online identity became instantly associated with the alt-pop artist. In naming Timothy Heller one of our "Artists to Watch in 2018," Atwood Magazine received considerable spam mail and hateful messages that had nothing to do with Heller's talent or artistry. A tremendously emotive singer/songwriter with the uncanny ability to evoke nuanced, intimate emotions through vulnerable lyrics and breathtaking vocals, Timothy Heller remains a favorite.
Coming at the tail end of what has been an unexpectedly tumultuous year for the emerging artist, "See Ya!" feels like a breath of fresh air. A self-assertive indie pop anthem exploding with dark, pent-up feelings, "See Ya!" is an emphatic reclamation of individuality. While it has nothing to do with Martinez, the track nevertheless feels like an appropriate response, or pushback, to Heller's public turbulence and turmoil – a conflict we hope resolves in such a way that she can continue making music, unencumbered by her relationships with or to other artists. Art deserves to be heard.
Money isn't all you took
it's not all you stole from me
You took my heart my soul
you made me think I was so mean
You were laughing then
but are you laughing now
Pulling tricks you thought I'd take
but now I'll take you down
I can promise you that
it's gonna be worse than it sounds
Atwood Magazine caught up with Timothy Heller this week to discuss her whirlwind year, "See Ya!", songwriting, and what's to come. Slowly but surely, Timothy Heller is reclaiming her voice and taking control of the narrative. In doing so, she's developing an artistic identity that is wholly her own, and totally unique. We couldn't be more excited for what the future has in store for her, and in the meantime, we'll be blasting "See Ya!"
This is an experience I had to live through, and I deserve to write a song about it.
Stream: "See Ya!" – Timothy Heller
"SEE YA!" – TIMOTHY HELLER
Atwood Magazine: Oh gosh Timothy, where do we begin?!
Timothy Heller: Haha, well… I'm trying to be fairly vague about the meaning of "See Ya!" but I've still been saying it's about "my previous experience in the music industry and the people who tried to take advantage of me." It's also been kind of annoying because some people are assuming this is about the story I came out with last year, and I'm trying to be as obvious as possible that this is about different people who've hurt me. But some people are just going to believe what they want to believe.
I'm glad you said all that, because as much as I wanted to dance carefully around this subject, I also hope to discuss it head-on!
Timothy Heller: Exactly! I'm down with outing how shitty people were to me; I just don't want to give them any actual grounds to come after me. They can threaten me all they want, but I know that I haven't named them or any actual numbers so they can deal with it! This is an experience I had to live through, and I deserve to write a song about it.
"See Ya!" feels like it's a long time coming. Did you always know this would be your sophomore single?
Timothy Heller: Nope, not at all! I actually had a completely different song lined up to be the single. I was working on the cover art and everything. (My producer) Mikey had the instrumental for "See Ya!" written for a long time, and I was always saying I liked it and wanted to write about it.
It was really a true moment of writing about my emotions as a release. Everything I mention in the lyrics has been a long time coming, but I'm only just dealing with them and realizing how fucked up the situation was. So I wrote 90% of the song one night, and even then I was totally doubting myself – which now I realize is my inner monologue of those exact people making me feel like I'm not good enough.
So I didn't even show the song to Mikey for probably a month, and I was like, "It's dumb, I'm gonna write something else!" and then I just couldn't get what I had already written out of my head, and ended up showing him one night and he was like, What the hell? This is great! So when I learned to actually accept that I had written something really good, I wrote the last verse and we recorded most of it in one night!
You really thought this would work
you thought your plan was bulletproof
Learn the business
plan your future with a narcissistic fool
Call me crazy one more time
I'll show you what it means
You'll never use this shit against me
cuz my hands are clean
I really wonder how you feel
knowing what you two did to me
Everything I mention in the lyrics has been a long time coming, but I'm only just dealing with them and realizing how f**ked up the situation was.
I like the outpouring of emotion that climaxes in the chorus: When you sing directly to that significant other, it feels so intensely personal, like we're seeing behind the curtain!
Timothy Heller: Yeah, the chorus is really about how long I was roped in to working with people that didn't care about me just so they could make money off of me. Even when things were "good," I was just being completely fooled by this facade of "friendship" when it turns out they were completely taking advantage of me the entire time. I literally did have to deal with them acting surprised that I didn't want to be a part of this anymore.
What I think is so great about this song is its universal appeal. Sure, it's you telling your story - but that's not all it is. And I think that's the point of art.
Timothy Heller: Totally! I knew it was gonna be a "fuck you" anthem for a lot of people.
And to be honest, you've had a tough year!
Timothy Heller: AGREED
This feels like what I wanted to hear from you, if that's appropriate to say? The post-Dresses you, solo and unleashed.
Timothy Heller: It's a way more honest and open song than "Sleep." That one, like I said (in our last interview), was me easing back into releasing things and using an old song that I was proud of to do that.
How does your individual songwriting process contrast from you experience songwriting with Dresses?
Timothy Heller: It's so much more relaxing! I'm being way more patient and kind to myself about it. I'm getting criticism for releasing music really slowly, but it's because I'm literally traumatized from my last experience… I'm getting back into the groove of things, but I'm noticing improvement and my confidence growing every day.
That's good to hear! I feel like there's a slight sound emerging between "Sleep" and "See Ya!" but at the same time I also feel like it might be premature to jump to judgment. What's enticing you musically at the moment?
Timothy Heller: The only thing I'm focusing on sound-wise is to not limit myself to anything in particular. I was pressured a lot to stick to one specific sound, and in doing that it totally held me back in my writing. I think what's going to end up tying my songs together is my voice, my writing style, and Mikey's producing. Other than that, I'm really just trying to write what comes naturally!
Who are your top artists at the moment? What's influencing you and exciting you?
Timothy Heller: Artists I'm excited about and inspired by are Miya Folick, Madge, Soccer Mommy, Lykke Li (HER NEW ALBUM!), and Maggie Rogers!
Ooh, I'm a fan of a number of those names! I guess lastly, for listeners who hear your song and are going through pain of their own, what do you hope they gain from your music?
Timothy Heller: I hope they gain some bravery and hope that they can get through this too, and make it on their own without shitty people gaslighting them and/or holding them back!
Stream: "See Ya!" – Timothy Heller
— —
— — — —
photo © Nas Nixx
:: Stream Timothy Heller ::