With emotive tones and personable lyricism, Melbourne-based Quivers channel the life experience in full with latest single "Videostores."
"Videostores" – Quivers
---
Yearning for the past while also longing for the future; two powerful feelings that are seldom mutually exclusive. Peering into yesteryear can provide one with an assortment of emotions that range from the good and bad, but the same can be said by looking forward, especially if there is someone to join in on the adventure. Quivers encapsulates the ephemerality of life's moments on "Videostores," diving into nostalgia and excitement as they plan the next steps of the journey, hand-in-hand with the people they love, and Atwood Magazine is proud to be premiering it today!
The Melbourne-based band Quivers are an amalgamation of a few styles. Their subtle rock tendencies and folk-influenced lyrics blend together in a gorgeous fashion, resulting in a sound that is emotively moving and brimming with hope. With "Videostores," the band doubles down on this sound, crafting a song that provides listeners with a window into their own lives, allowing them to peer into what has already been and what might be next.
Goodbye horses, goodbye video stores
Goodbye payphones
No one uses them anymore
I would call you, but I wouldn't get through
I lost myself for a while
Then I lost myself in you
The song opens gently, the drums and guitar building gradually into something a little more vivid. As the vocals enter, the speed begins to increase in pace, becoming more pronounced. It cuts itself short, however—an almost finished build-up that waits for the perfect moment to fully unleash itself. With the instrumentation becoming more alive, a dreamscape appears that acts as the perfect image into one's own life. The beauty that surrounds this track is immeasurable, each word sung and note hit acting as a weight on listeners' hearts that, despite the heaviness, elicits nothing but smiles.
Everybody's moving to the coast
Even the houses are giving up their ghosts
You put your feet on the dashboard, then you say
What if all the feelings have use-by dates?
How will I know if you will ever love me?
(If you will ever love me)
"It's a strange time in history now that you can be nostalgic for horses as well as payphones and videostores," explains the band to Atwood. "You can long for everything from before while also longing for whatever might come next. This song is for when you realize you're in deep with someone but are pretending you aren't. The fear of falling for someone paired with the relief of giving in.
Now you know the future starts slow
Moving through molasses as you're walking me home
Now you know the future starts so slow
Moving through molasses as you're walking me home
That perfect moment makes itself known after the second chorus finishes. The onrush of instrumentation is a bustling anthem of nostalgia, and listeners need only to close their eyes to be carried off to someplace sincere and marvelous. As the drums and guitar coalesce with the vocals near the song's end, both strengthen in volume—an outpour of emotion that showcases the openness and honesty of the band as they lay it out for all to see. It builds and builds into an absolutely stunning crescendo, and then it subsides; the final seconds a silent and placid moment of reflection. One would be hard-pressed not to be left speechless.
There's a ring around the moon so I know we'll be alright
We watched the roman candles as they sputtered back to life
We went driving 'til we ran out of things to say
I was scared of the silence but you were never afraid
You said even if your aim it is true
You're gonna hurt people, and they'll hurt you too
And it's a dark, dark magic that we're even here at all
So I'm gonna find my phone and give you a call
The past and the future are interesting concepts, and Quivers dove into them with grace. "Videostores" presents the nostalgia that exists for the far off memories and the thrill for what's to come, and they do so in a moving fashion that not only allows listeners to look into their own lives, but the band's as well. A beautiful song that will provide warmth to all who listen.
Stream "Videostores" – Quivers
— —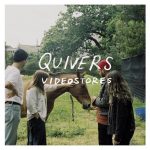 ? © Carlos Cruz Sol
:: Stream Quivers ::
---