At first glance, what is most intriguing about the newest album from London based 3-piece, Troyka, is its name: Ornithophobia. The name evokes the memory of Charlie Parker's "Ornithology," a song first performed by Parker's own Septet way back in 1946. It is tempting to assume that Ornithophobia is engaging directly with Bird's now famous jazz standard, that buried in Troyka's album is a dose of artistic rebellion. However, the band itself has made clear that there is no such connection to be drawn. Guitarist Chris Montague has stated in an interview that the album's name is not a reference to Parker, but rather inspired by the time he developed a fear of birds after discovering a dead seagull on the beach as a child.
And this album, at turns playful and fraught with jarring electronic tones, seems to riff on childhood as a source of musical strangeness and energy. More than a few times throughout the opening song, "Arcades," we feel yanked back and forth between a wild garage band jam session and the whimsical soundscape of an old video game.
Listen: Ornithophobia [album teaser] – Troyka
Though relatively new to the jazz scene, Troyka's standing as one of the best jazz groups around has never been questioned. Their popularity among audiences and critics throughout the world has risen sharply in a short amount of time. Troyka released their first, eponymously titled album in 2009 to great acclaim, even cracking Jazzwise's Top Ten Albums of the Year. The band up followed their debut in 2012 with Moxxy, an album which prompted Time Out to declare the band one of the top 10 live acts in London.
Ornithophobia maintains the experimental zeal of Troyka's earlier albums. Yet it goes further in its willingness to interweave a variety of avant-garde musical styles – including post-dance and trip-hop – into its meshwork of melodies and tonal play. The second to last song on the album, "Troyka Smash" manifests this interweaving of styles. With a strong, often polyrhythmic, percussive backbone, the song meanders through electronic dance sequences, rock-guitar reverberations and trip beats leading up to an end that breaks off without warning. The album concludes with  "Seahouses," a calm and minimalist track populated with soft organ melodies, a soothing conclusion to a wonderfully chaotic third album.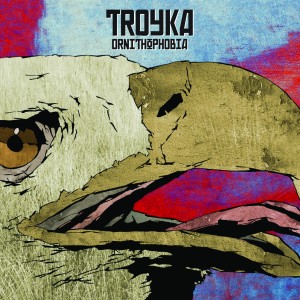 Like Troyka on Facebook / Follow Troyka on Twitter
Learn more about Troyka at www.troyka.co.uk