After two years, BROCKHAMPTON collaborator and singer/songwriter Ryan Beatty returns with "Ribbons," a tender piano ballad about fleeting, potent clarity off his new album, 'Calico.'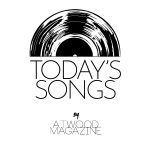 Stream: "Ribbons" – Ryan Beatty
---
The world has not heard from LA-based indie pop star Ryan Beatty since his feature on Kevin Abstract's "SIERRA NIGHTS" in 2021. On March 10, Beatty cleared his Instagram feed — which had remained untouched since his social media hiatus in 2020 — to post a blue-tinged photo of himself holding a hammer near a plate labeled "NOT LOSING IT." A week later on March 17, he released via Elektra US / Atlantic Records UK "Ribbons," the lead single to his recently-released third album, Calico.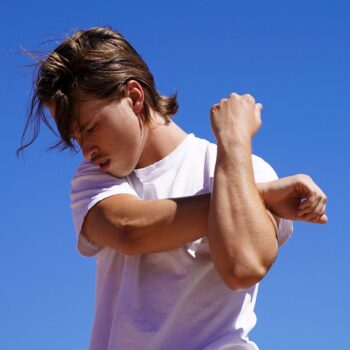 On "Ribbons," Beatty faces sobering moments of realization head-on. The opening track to Calico, the song sees Beatty reflect from afar on an all-nighter over a soft piano track that builds into a grand mix of strings, percussion, and keys. It is a stunning immersion into the sonic world Beatty sets out to build in the rest of the album.
It took all of California
To remind you why you came
Monterey to Camarillo
Camarillo to L.A
Driving with the headlights off
Ribbons running down your face
'Cause you've never known love like that
So you dance the night away
The track opens with Beatty's dry, gentle vocals reminiscing over the muted pulse of chords. There is an air of contemplation that floats throughout the entire track, making each line feel careful and deliberate. "And the night bleeds into Sunday morning," Beatty sings, close to microphone as though he is speaking into your ear. "And it feels like it's going your way. Then all the lights in the bar turn on, and you remember why you came." Recalling purpose finds recurrence in "Ribbons," arriving over the course of long drives or in sudden shifts of energy.
In the second verse, after the sun rises on Beatty's night, a faint pizzicato filters in as his vocals slip further into the mix. Time seems to expand from a single night into years, the strings taking over the instrumental as he ends the verse with the song's thesis: "It's brave to be nothing to no one at all." The line resonates in the context of Beatty's career, as his withdrawal from social media removed him from the public eye. "Ribbons" is his way of declaring courage and providing reasons for his hiatus.
It's out of my hands
What can I tеll you?
I'm not losing it
I'm just having a laugh
Counting my paces
I'm making faces
At the one who stares at me
At the end of the glass
In a poem posted on his Instagram prior to the announcement of Calico, Beatty writes of a night that "became a morning under the southern sun" and spiraled into "a perfect carnage of my feelings for you." "Ribbons" is only the starting point of the emotional journey laid out in the poem, and listeners can expect the rest of the album to be just as cathartic and poignant. The song is, on all fronts, a flawless reintroduction from Ryan Beatty.
Calico is out now on all streaming platforms.
— —
Stream: "Ribbons" – Ryan Beatty
— — — —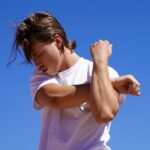 © Lucas Creighton
:: Today's Song(s) ::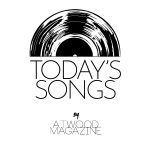 ---
:: Stream Ryan Beatty ::