Impassioned and intimate, Rory D'Lasnow's "Power of My Love" roars with energy as the New Jersey singer/songwriter reckons through grief and loss, weaving a heartfelt and poignant tribute to loved ones come and gone.
Stream: "Power of My Love" – Rory D'Lasnow
---
Anthemic like a great '80s power ballad and tender like a stripped, '90s pop-punk acoustic, Rory D'Lasnow's third single of the year is a feverish, raw overhaul of electrifying sound and deep, evocative feeling. Impassioned and intimate, "Power of My Love" roars with energy as the New Jersey singer/songwriter reckons through grief and loss, weaving a heartfelt and poignant tribute to loved ones come and gone.
It's a heart-wrenching and all-too relatable anthem – a commemoration, a memorial, and an honorific all at once.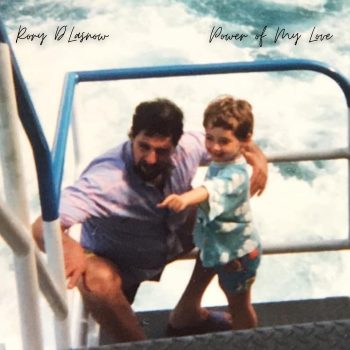 Hanging on by the skin of my teeth
Weary-eyed and weak on my feet
You can't try to tear my ground away
Bigger now than we ever before
Broken hearts giving way to open doors
Building bridges to carry on your name
Cause you have gone away from here
But you are still my own
Nobody can take that from me
My heart is still your home
Independently released May 21, "Power of My Love" arrives this spring to shine a spirited, persevering light in the darkness. Coming on the heels of Rory D'Lasnow's previous 2021 singles "Forgotten" and "I Won't Do Anything," "Power of My Love" finds the pop/rock singer/songwriter – who just so happens to play guitar upside-down (let's call it a quirk?) – searching for meaning in the often-murky depths of existence, life, and time.
Fired-up and full of heart, D'Lasnow honors his late father and a friend, bringing their memories with him into the present and future with his radiant vocals, dynamic guitars, and cinematic, catchy melodies.
He rises in an exultant chorus full of charged emotion:
And I have come this far
And when the times get tough
I keep you in my heart
When I feel like giving up
When doubt tries to tell me
Enough is enough
Well you've never witnessed the power of my love
"The song was written in about an hour," D'Lasnow recalls. "I had just attended a memorial in remembrance of my friend's cousin who was tragically killed in a terrorist attack in New York City. The young man, Darren Drake, had been a passionate advocate for kids aspiring to vocational careers and his family started the Darren Drake Foundation in his honor. I was so moved by the impact this man had made on his community, that I came home and wrote this song in one piece."
"I had been planning to release the song on the 21st of May when my father became more gravely ill," the artist continues. "After a long battle with a variety of persistent ailments, he passed away on the 8th. I had contemplated postponing the song's release, but quickly resolved to share it with the world in his honor as he was the one who handed me my first guitar, taught me my first chords, and was my biggest supporter when I chose to pursue a career in music. There seemed to be no more fitting tribute to him than to champion a message of perseverance in the face of adversity. Grieving is a universal experience and I wanted to remember my dad, much like Darren's loved ones remembered him, by telling the story of love overcoming profound loss with a jubilant, defiant rejection of discouragement and doubt."
Even in some of our darkest moments – love truly does conquer all.
You'll never hear me say that things are fair
Taken when I was scared and unprepared
How can I ever reconcile the truths
A heavy weight that I never thought I'd know
Never thought this is how our lives would go
Losing someone beside me since my youth
But I won't be made stagnant
Or held frozen by my tears
I will keep your memory close
So you can never disappear
Death is and will always be an end, but we can always find ways of keeping our loved ones' memories alive. Loss still stings like nothing else in this world, but "Power of My Love" is a testament to our ability to carry on in a meaningful, substantial way. It's a testament, yes, to the power of love – but also, more plainly, to the staying power of life itself.
D'Lasnow's third EP, Songs From An Empty Room, (recorded with Hidden In Plain View guitarist/producer Rob Freeman and Grammy nominated mastering engineer Mike Kalajian) is set to release late this year.
And I have come this far
And when the times get tough
I keep you in my heart
When I feel like giving up
When doubt tries to tell me
Enough is enough
Well you've never witnessed the power of my love
— —
Stream: "Power of My Love" – Rory D'Lasnow
— — — —
? © David Ross Lawn
:: Stream Rory D'Lasnow ::
---