British singer/songwriter Rose Gray dives into the creation of her debut EP and its visuals, the power of honesty in music, and turning music into therapy.
— —
In Rose Gray's debut single, she talked about people's eternal search for the "Good Life." Lyrics referenced a "modern day hippie, hair's all messy, in [their] ex's baggy tee," "waiting tables for [their] money," while Gray offered heartfelt and warm words to the song's subject: "Give like you got nothing to borrow," "live, live, live that good life." The video for the song, made entirely by Gray, featured her friends and family  in an intimate and warm setting, sharing stories we never get to hear but guiding us through the wide spectrum of human emotion.
In her sophomore single "Blue," Gray taps into one of the most complex and difficult situations: Caring for someone you love andwanting to help them, but not being able to do so. In order to re-create the strong bonds of friendship she sings about, Gray drove out to her hometown and filmed scenes that brought her childhood back to life, interweaving them with snapshots of Gray's present-day reality. By the end of the video, you feel like you've had as much access to Gray's life as the friend she's depicted with.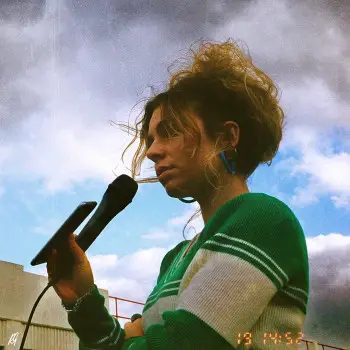 This feeling of intimacy and honesty is at the crux of Rose Gray's music. Through her smokey vocals and beautifully transparent lyrics, Gray invites you to take a peek into her own life while also creating something that can be highly applicable to your own. Her music envelops you in a familiar, comfortable hug, as cozy and introspective as drinking warm tea by a fireplace during the early hours of the morning. She has no problem baring it all right from the start of her career, and by doing so creates a unique bond between listener and artist.
2019 is about to be a huge year for Rose Gray, with her debut single "Good Life" released in January and her debut EP, Blue, Lately set for release in March. Gray's debut headline show is also set for the end of March, and these are certainly only a few of the great things she's set to accomplish this year.
Atwood Magazine talked to the British singer/songwriter to dive into the creation of her debut EP and its visuals, the power of honesty in music, and turning music into therapy.
A CONVERSATION WITH ROSE GRAY
Atwood Magazine: You come from a very artistic family, and both of your parents are actors. How did this upbringing influence your goals and dreams when growing up? And when did you know that music was your art of choice?
Rose Gray: I think I was taught that making music was really normal. My Pop has such great musical taste, so I grew up listening to such eclectic music but I think it must have formed my little brain… I've always just loved music. I also wanted to be an actress quite a lot when I was younger, even though my parents warned me about the acting career (laughs). I think just growing up creatives, like they're not just actors, they make films, I think I just copied them a little bit (laughs). Probably thought it was normal to be inclined that way.
How did you make the decision to pursue a career in music?
Rose Gray: I've always sort of sung, and when I got to 15 or 16 I was thinking "Oh, I think I actually might do this", I'm 23 now so I've been making music for a long time. It actually started to click two years ago, when I knew what I wanted to say and had had enough experience that I could write about myself and stop writing about little characters and stuff.
Can you talk me through your EP and the story you're presenting to us in your debut project?
Rose Gray: It's called Blue, Lately. I wrote it over the last six months, they're all just really honest and are little poems that started on my phone. I was working with Frank Colucci, who's a drummer, musician, and producer. I brought all my songs in to him, half-finished, or finished, or poetry, and we sort of formed the EP together. It felt just really natural, it was the first time I was like "This is really me", all the words and what I'm singing about. "Blue" is about my best mate, and they're all just really close to my heart.
Do you have a few words to describe the Rose Gray that the world will get to know through your music?
Rose Gray: I think my style is very conversational, I'm real, and it doesn't glamourise anything, it's just really honest. I love soul music, I think it's really soulful, but musically I think it's a real mix of everything I grew up on. Portishead are a real influence musically. It's sort of out there, there's a string section, there's a mix of hip hop beats… The EP is like my head, I think. I'm really read to bring it out, honestly, it's a great feeling.
The lyric, "In this age of socials, egos flyin' round, you need a bulletproof vest out here now" in "Good Life." Can you talk a little bit more about it? It seems like a very pointed reflection and critique of our generation.
Rose Gray: I'm really feeling it right now. Social media, I love it and hate it all at once (laughs). And I sort of noticed it's so bad. Even me and my mates just talk about it, I am a little bit scared of what's happening with our heads because of social media (laughs). But yeah, that lyric is about our poor egos who are having to continuously battle comparing ourselves to other people.
Watch: "Good Life" – Rose Gray
It's important to be aware, though. If you're not aware of its impact then you're a slave to it.
Rose Gray: Yeah, I'm more worried for my little brother who's 10 years old and he's obsessed with his phone.
The "Good Life" video is very beautiful and intimate, how did you come up with it?
Rose Gray: It actually happened by accident. I'm really into film and cinema and always loved the idea of making a visual but never thought I'd be able to do it. I started doing this film with my friends when they came out to my house, I had a tripod and I filmed them. I'm really inspired by Andy Warhol, his screen tests, and I just said to a few of my mates like "Can I have a chat with you? Literally don't pose, just be really natural". I patched in my friends, then I brought in my family, and I was actually making that little clip for "Good Life", but really organically it formed into a whole video. I just really wanted to make it work, and I taught myself to edit. It was really nice to do something that's really different to my music.
You worked with your boyfriend, Harris Dickinson, on your video for "Blue." What was that experience like and how did you come up with the video's concept?
Rose Gray: My boyfriend's an actor, and he's done some directing, I had the idea for the music video and a few people coming onboard to make it and I was like "Do you know what, I think I'm actually going to make it myself". The narrative's there, it's kind of literally what the song is about, growing up. Honestly, when I watched it I was like "Oh my gosh that's literally myself" like that little girl. All the references to the 2000s, 2005, 2006, singing karaoke… So I had the idea and we spent the weekend in Walthamstow, northeast London, and literally just shot everything, sunrise, sunset, did it all within two days. It was really lovely to work with my boyfriend and to see my little idea come to life. It's not meant to feel like a music video video, it's still got the visual of the home style video. I'm really proud of it, I like it.
Watch: "Blue" – Rose Gray
On "Sad of Lately" you sing, "We all want a good life." What does living the good life mean to you?
Rose Gray: Honestly, I think I have it sometimes but I've noticed it in a few people. Good life for me means like inner beauty. I've seen that in some of my mates, and that's originally what I wrote "Good Life" about. I can't even explain it, some people have this beautiful energy and I hope I have that one day (laughs).
The production on "Why do You Have to Go Away" is different and livelier than all other songs, why did you make this decision?
Rose Gray: "Why do You Have to Go Away", out of all the tracks, it's basically all live instruments, the drums and keys were recorded live. It's a bit of a mix of a few things, it's a bit old school, it's got that kind of Frank Ocean kind of vibe. I felt a real connection to that song and I think it's one of those songs that you can have on and it'll grow on you.
Your lyrics are very honest and open, does it scare you to let people in to so much of your life and soul right from the start?
Rose Gray: I know (laughs). You know what, I was thinking that the other day. It doesn't scare me, I think that's the kind of artist I am, I am so honest, I'm so emotional and I wear my heart on my sleeve. Being honest, I think it's just like, I've made a lot of music and I wanted to make sure my EP is fully a representation of me and really authentic. It is scary a little bit, opening my heart out to the world, but I wouldn't want it any other way. A little bit like Lily Allen, she was really honest, and I feel like that's quite like me.
I feel like the more honest you are, the more people will want to reach out to you and listen to your music and connect with you.
Rose Gray: I hope so. I grew up, and I still love her to this day, on Amy Winehouse. Her lyricism to me, is so honest, heartbreakingly honest, and that's kind of what I aspire to. You listen to her music and you feel her pain, and you feel her beauty, you feel everything. Because she believes it, when she's singing it she believes it, she's there, so one day that's what I aspire to. Make music that really makes you feel.
Your music kind of reminded me of Amy Winehouse.
Rose Gray: Wow, thank you. She's the queen. I don't think anyone will ever come to her level.
What inspires you the most when you're writing?
Rose Gray: A lot of the stuff that I write is I think it in my head then I have to write it down on my phone. It's generally just human feelings. A lot of my music is obviously like I'm feeling a bit shit, or feeling a bit sad, or missing someone, or writing about someone I love that I'm worried about. I think it's just human instinct, it's sort of my therapy writing it down, getting it out of my head.
Is there anything you think you'd never write about?
Rose Gray: I don't think so!
Your debut headline show is soon, what can your fans expect from it?
Rose Gray: So I've actually just formed my band and we just had our first meeting. My live show is not slow, but mid-tempo, and we're putting a bit of a pace behind it. I think it's going to be very honest and raw but you can have a little dance as well (laughs).
If you could write with any artist, dead or alive, who would it be?
Rose Gray: Oh my gosh. That is really hard. I think I would love to write with Nas and André 3000. I think Mark Ronson, I think he's making some amazing music.
— —
? © Harris Dickinson
:: Stream Rose Gray ::