Nashville artist-to-watch Sinclair discusses her intimate "Pop! Champagne" video, touring with Kacey Musgraves, her musical growth, and her upcoming debut album!
— —
It's been eight long years since Sinclair left her home in Madrid, New York to pursue a new life in Nashville. After coming out to her family, the daughter of an evangelical pastor and one of nine siblings uprooted herself in hope of a better place. In Nashville, she found a more open and accepting community; one in which she could be herself and thrive, while throwing herself fully into her music.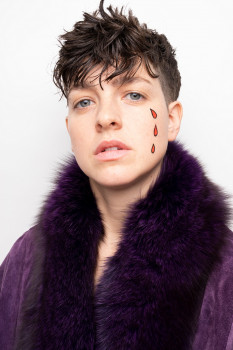 Like a shooting star, Sinclair rose to early prominence in Nashville's bustling pop community. Having already toured with the likes of Ingrid Michaelson and Graham Colton, the young artist released her debut EP Sweet Talk with Drive Music in late 2014. "It's easy to fall for indie/pop artist Sinclair," I wrote at the time. "[She] exudes a cool balance of uninhibited, starry-eyed dreaming and worldly experience… Sinclair isn't afraid of her past; in fact, she draws her strength from overcoming her obstacles, which is a praiseworthy feat for anyone. Not many people can go ahead and write a fantastic EP out of hardship."
The life of an independent artist requires time and patience: Following her debut release, Sinclair spent the next few years balancing work with her solo efforts, developing her music slowly and methodically. The wait finally ended in 2017 when she could commit herself to her music full-time, and in 2018 Sinclair embarked on a 50-date tour with Daughtry. In that time she released her infectious single "Pop! Champagne," followed late last fall by her sophomore EP Invisible, which finds the maturing musician stripping some of the electronic glitz and glam off her pop sound in the creation of a glowing collection of raw, expressive vulnerability.
2019 finds a happily married, professionally independent Sinclair on tour with Grammy Award-winning singer/songwriter Kacey Musgraves and working toward her own forthcoming debut solo album. "Pop! Champagne" remains one of Sinclair's most influential and popular songs to date, and between that and her two EPs, she has a formidable arsenal of catchy "bangers" and intimate "bops" to choose from. The artist has come a long distance in eight years' time, and yet it feels like her story is only just beginning.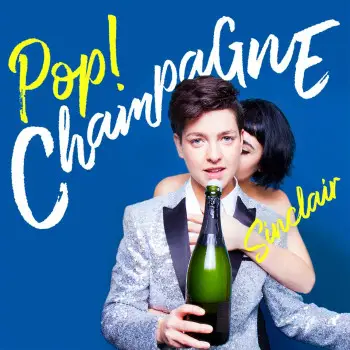 Let's turn this life from
every day to paradise
Can't resist, it's how we're made
Love is a game, come on let's play
Atwood Magazine is proud to be premiering the music video for Sinclair's "Pop! Champagne," an indulgent celebration of love that basks in a moment of togetherness and connection. A funky, heartfelt euphoria built off intimacy's tantalizing heat, "Pop! Champagne" expresses the overwhelming concoction of love, lust, wanting, knowing, vulnerability, and more that accompanies being with your "one and only." It's sexual and deeply emotional – more about internal discovery than physical exploration – but the song's beauty is that it works on multiple levels, so it can mean something different to each listener.
Pop! Champagne, let me make your day
Yeah we're naked as the mornin',
but it's afternoon
(Baby never gonna)
Stop for air, let me take you there
Yeah, we'll both be breathin'
heavy when I'm done with you
Imma show you how to do you
Imma show you how to do you
Make you do things you
didn't think you would do
Baby imma show you how to do you
Sinclair recently finished a two-night stint with Kacey Musgraves in Austin, playing to Texan crowds rife with SXSW transplants. She plays Musgraves' Knoxville show next Tuesday 3/19, and Birmingham on 3/21.
2019 promises to be a big year for Sinclair, and she's just getting started. "I've really come into my own," she tells Atwood Magazine. "These past four and a half years have helped me find my style, my sound, and be more confident in my skin overall." Get to know the talented musician through our interview below, and stream Sinclair's "Pop! Champagne" music video exclusively on Atwood Magazine!
Lost in your curves, you know
I could die here in your world
When the lightnin' hits that place
When I'm locked in your embrace
It's written in our DNA
We hit replay
Stream: "Pop! Champagne" – Sinclair
A CONVERSATION WITH SINCLAIR
Atwood Magazine: Hey Sinclair! Last year saw the release of your first EP, Invisible, in 4 years. You released a few songs over that time, but it feels like you were doing more growing than anything during this interlude. What were you up to during this span of time?
Sinclair: During this time I was trying to sort through being a producer, songwriter, musician for other artists, etc… But in the last two years I've made a very big commitment to my own music. I don't do anything other than Sinclair, and damn it's paying off! I was on a 50-date tour last year with Daughtry, I recorded Invisible in London with producer Sacha Skarbek, and this year am working on my first full length record. It's been freeing to create free of a label or publishing. I can do whatever I want, and as long as my fans support me I can keep growing and taking on more territory as I go.
How does the Invisible EP stack up with your repertoire? What does it mean to you?
Sinclair: The Invisible EP is a more stripped production of songs than my first EP. Sonically this EP focuses a bit more on my voice which was really good for me. Letting it into the universe forced me to be more vulnerable that way. The song "Invisible" shows another side of me from the lyric & attitude… It's something I wrote thinking about coming into my own after leaving home in 2011. I think I was reflecting and seeing that I'm finally in a place my parents couldn't hurt me via disapproval.
Where do you feel you find yourself today, and do you feel that you could have made the songs you're making today five years ago? What's special for you about your latest music?
Sinclair: I couldn't have made the same music at all. Love this question… The pace we wrote and recorded at, required a lot of decisiveness & truthfulness… I've always had the time to second guess every little thing. This was a collection of songs I wanted to feel more raw, and as an artist I had to respect that that means less touching up and less overthinking.
This was a collection of songs I wanted to feel more raw, and as an artist I had to respect that that means less touching up and less overthinking.
This feels like a perfect transition into "Pop! Champagne" and this new music video. How does this visual reflect the song for you?
Sinclair: For this song and performance video, it needed to feel like a cozy Berlin bar, because that's the kind of place that feels like anything goes — champagne & rock n' roll can be in perfect harmony 😉 This song is a joining of footloose and carefree and sexy-chic.
At the same time, this video feels like it's also very much a standalone piece. Can you talk about what you love in this visual, and how it presents Sinclair, revitalized and badass as ever, in 2019?
Sinclair: I like that it takes your through the process of me building the song out… Really shows you just how simplistic it is, but how much it's all in my blood! My favorite thing is the love that my small power team put in. Borrowed some gear from Alex, my bass player. My friend Christina let us take over her living room and use her aesthetic and move things around! (What an angel) The videographer, Joey, was pretty impressive. We shot this VERY quickly and last minute. He just understood the energy that the video needed! My wife styled everything and nailed it. I trust her more than anyone to get the aesthetic I want. From the bolo to the snake skin pants, the paint on my face, putting the gold head with the headphones in the setting… You get it.
"Pop! Champagne" is your second most popular song; to what do you attribute this success?
Sinclair: I think it's important to note that I released this song completely independent, that makes me feel extra proud. We submitted, like everyone, for a few different playlists, "Pop! Champagne" got quite a few Spotify curated lists. To add to that, it was put in the series Clique… Kacey Musgraves posted it on Insta, fast forward a bit and I'm on tour with her! So really – it was a combo of organic shares and some favor! 🙂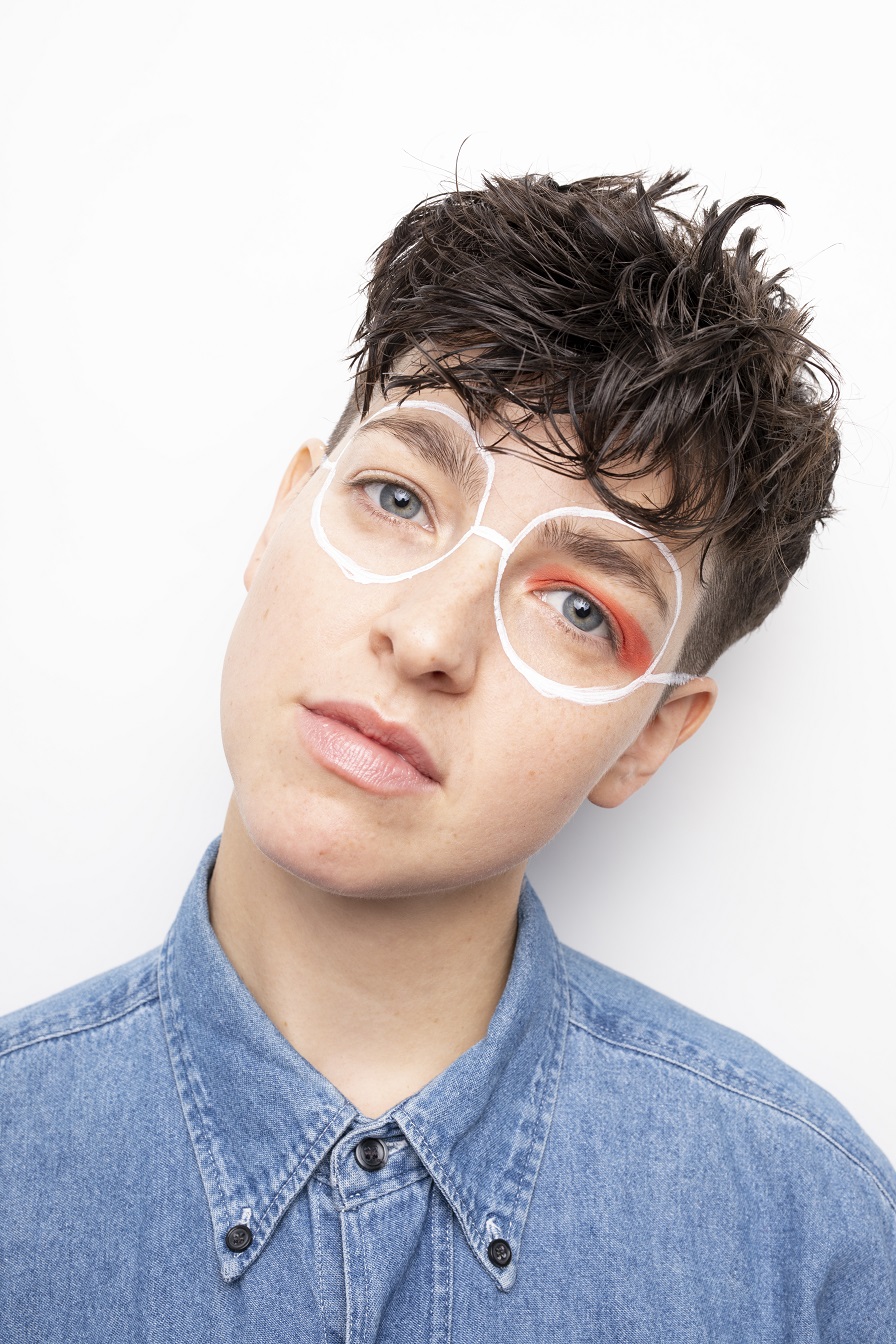 Lastly! You're on tour with Grammy winner (and fellow incredible talent) Kacey Musgraves. What are you bringing to this tour; how has it felt for you so far?
Sinclair: Bringing a BOMB band. Four players behind (or by my side, I should really say) I can't tell you how amped I've been about this run. We just started last week, and it's by far the best I've ever played and that's exciting just to know that I'm experiencing that beautiful thing of growth and progress. We're always our own worst critics, and I always want more from myself and my players, but this is the tops so far. I can't wait to see what's next with that in mind!
How does touring with Musgraves stack up with previous tour experiences, and how has life on the road this go-around been for you personally?
Sinclair: Honestly, I think Kacey is special. She's a pioneer artist I think. That makes the whole vibe of her crew and audience SO genuine. They genuinely support and love her art, and they've given me that same love and respect. Love the tone that she's set, and that I'm lucky enough to be experiencing that.
Looking ahead, what are you most excited about or anticipating for Sinclair's music in 2019?
Sinclair: Definitely stay tuned in, because in April I'm releasing something that's got me nervous and fired up — it's edgy and bold! Honestly though, this is the proudest I've felt. I'm in the midst of recording my first full length. It's called Ok Preacher's Kid – the first chapter to release is "Berlin." (I'm obsessed with creating in Berlin if you haven't gathered, haha!) The music continues to follow a more "world" heartbeat. My classical guitar makes it into every recording. It touches on some '90s feelings, I'm a '90s baby and proud! It takes my love of the Police, Sade, Michael Jackson and melds them with more contemporary urban/Latin references.
— — — —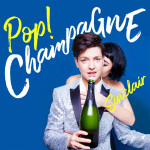 ? © Tobias Ortmann 
art direction © Natalie Rose Sinclair

:: Stream Sinclair ::