Glamorous guitar melodies collide with punk rock infused vocals to make Surf Curse's "Disco" one of the strongest contenders for 2019's best dance anthem.
Listen: "Disco" – Surf Curse
---
Imagine this: a dancefloor adorned with the faints shimmers of light, a heart beating so fast it feels as if it will leap from one's chest, and a love so strong that the world itself has been paused. Naturally, the only thing to do in this situation is relinquish one's self to the whims of the heart, grab their loved one, and dance without a bother in the world. Although, this scenario doesn't need to be imagined, instead, Surf Curse has brought it to life with "Disco," a track that possesses an unstoppable groove in which both feet and heads will bop incessantly, creating nothing but smiles and euphoria along the way.
LA-based indie rock duo Surf Curse (comprised of Nick Rattigan and Jacob Rubeck) has returned after two years of silence with "Disco," a song that emboldens the punk tendencies of past albums while adding new flair in the shape of flashy guitar melodies that one would be hard-pressed not to move uncontrollably to. It doesn't take long for the track to infect the mind with its addicting rhythm. A few strokes of the guitar are met with a burst of percussion and then the stage is set; they've snagged the listener and don't intend to release them until the journey is over.
I can't help it with you
Stubborn hearted blue
Lights come into the room
When disco plays our tune
Rattigan's signature punk attitude is at full force as he begins to sing of this tale of two star-crossed lovers sharing an intimate moment fueled by the insatiable need to dance. "Cause there's nothing like it, not like the way you move," he chats as abrupt guitar strums surround the vocals, adding this slick as oil segment that will have listeners singing along instantly. The bustling instrumentation only grows from there, creating this interminable joy-inducing rhythm that will have one hitting "replay" until their fingertips are sore from all the clicking.
Cause there's nothing like it not like the way you move
I can try but I can't hide it from you
Cause I can't wait for you
I can't wait for you
Towards the final chorus, as the bellows of "I can't wait for you" come to end, a crescendo of instruments begins, surrounding listeners with bombastic percussion and enthusiastic guitar for one last hoorah before the night ends. And though the track might be over, the party certainly isn't. Rattigan takes this dance anthem and translates it into a visual format, almost as if the picture inside his mind has been perfectly recreated.
Admire all of you
But fire burns me too
Can't stop that disco getting through
Can't stop that disco wanting you
Two seemingly in love individuals have just returned from a night out, only to have the real excitement start in their living room. The music pours in and the dance commences: it's now an evening of raw emotion, stellar grooves, and intimate eye contact. In an instant, the once simple living room has now morphed into their own dimly lit dance hall.
Watch "Disco" – Surf Curse
---
Eyes are locked, their bodies in-sync, and stillness surrounds them. The world is theirs, and as they finish their waltz of love, viewers and listeners alike are simply left breathless. A track of infinite replayability paired with a video teaming with life, charm, and unabashed allure: it's almost unfair that such a perfect coupling even exists.
Cause there's nothing like it locking my eyes with you
I can't fight it splitting my mind in two
Cause I can't wait for you
I can't wait for you
I can't wait for you
I can't wait for you
With only one single out, Surf Curse is already showing listeners and fans that 2019 will be their biggest, boldest year to date. Even with their stronger productions and fuller sounds, their indie rock vibe is still alive and kicking with "Disco," combining old and new to showcase a gorgeous musical evolution. So dim the lights, kick off the shoes, and lose yourself, because this is one disco groove you can't afford to miss.
Expect to see the new album, Heaven Surrounds You, on September 13 via Danger Collective Records.
— —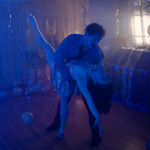 ? © Matthew James-Wilson
:: Today's Song(s) ::
:: Stream Surf Curse ::