In their new single "Telepathetic", Sløtface are doing what they do naturally: Making playfully aggressive music that pushes you forward through everyday life.
Listen: "Telepathetic" – Sløtface 

---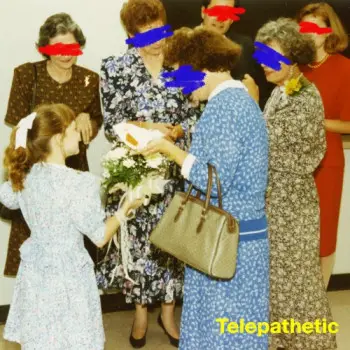 Do you ever go through periods when it will sudden dawn on you how much time has gone by and how little you've accomplished? In your head you had all these ideas of things to achieve but you never really acted upon them, instead being swept along by comfortable monotonies. It's as though, by constantly thinking about things and fantasising about things, you assumed they would just happen and that other people knew what was going on in your head and would make things easier for you (for example, offer you a job or invite you to something fun). When reality does hit you, it's like an energised punch. It shakes you up, stresses you out, makes you think 'wow, I'm so pathetic.'
Writing from experience here.
The Norwegian four-piece Sløtface have a way of making not very fun things seem fun, whether it be boring house parties ("Bad Party"), body image expectations ("Magazines"), or fighting patriarchy in the music industry ("Nancy Drew"). Their latest single "Telepathetic", released June 7, takes self-inflicted unproductiveness and turns it into a subject of sing-song and vigour.
Begging for something exciting to happen
Begging for something for a shot in the dark
Begging for something exciting to happen
You've been praying for that spark
Thinking, if you think hard you'll make it happen
Telepathetic, telepathetic
Thinking, if you think hard you'll make it happen
Telepathetic, telepathetic
It commences with an infectious guitar riff that feels part chant part frantically running around in circles, before making way for the buzz of bass and hyperactivity of drum beats. Vocalist Haley Shea sets the scene of everyday life, doing so with her usual merge of friendliness and gritted teeth, while the pace builds up throughout.
"The song is about the feeling, usually when you're growing up, or working a job you don't like, or other halfway points where it just feels like everything good is happening in other places from where you are," Shea states in the press release. "It's about how ineffectual it is to wait around and hope for things to happen, about how you have to make things happen, but also about the silly fear that if you dream about something it might not happen." 
Although focusing on a lack of accomplishment and the impression of being stranded as an outsider ('feels like you're stuck/ Like everything good is somewhere else/ Hoping for some drama/ Desperate for new blood'), the song was written in a super quick and productive way. As guitarist Tor-Arne Vikingstad adds, "It was written in approximately two hours, at 11 in the evening, after a full day of recording. Most of us don't remember any of it because we were so tired."
Feels like you're waiting
For every week to end
Just trying to get to the weekend
Trying to get some time to rest your head
Got up so early
The alarm rings
You only dreamt you got out of bed
Now you're waiting for the caffeine to kick in
"Telepathetic" is Sløtface's first new material since their 2017 debut album Try Not To Freak Out. Like their previous music, it's uncomplicated and uptempo- encouraging you to jump, dance, and sing rather than cry and wallow in self-pity. The build up in the song is like the build up of time and how this corresponds with a greater urge to take action. It's essentially a wake-up call to those in a similar situation and, because it's delivered with a lack of seriousness, it most likely works. As Sløtface continue to prove, projecting a message is best done with immediacy and that sense of fun.
— —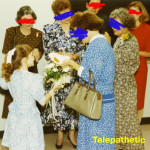 ? © Jonathan Vivaas Kise 
:: Today's Song(s) ::
:: Stream SLØTFACE ::