The pop music industry gets a bad rep. Negative connotations abound: Superficiality, fleeting successes, and most of all, a lack of work ethic possessed by the "minimally talented" artists who find their temporary thrones awaiting them at the top of the charts until the next pretty face or Twitter trend comes along and decimates their fifteen minutes of fame.
Listen: "Sick Fool" – James Quick
---
Many argue that the pop artists who do tend to see a more permanent home in the spotlight owe all of their success to their team of songwriters, producers, engineers, managers, publicists, and the colossal financial backing and influence of the notorious major record labels. In the ever-evolving music industry, it is becoming increasingly important for artists to become self-sufficient no matter what genre they call home. San Francisco native James Quick is one of these artists.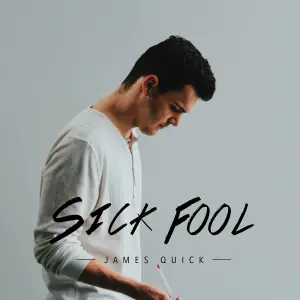 For his newest single "Sick Fool" (Off Topic Entertainment), Quick takes on various roles to ensure its success. With a rasp in his vocals similar to Mike Posner, heartfelt songs like those of Ed Sheeran, and soulful vibes reminiscent of a young John Mayer, Quick is capable of providing a sense of warmth through his music that feels personal and intimate to anyone who listens. This intimacy is most significantly heard in "Sick Fool," where he sings about his struggles with who he wants to be and how he will stop at nothing to get there. An artist who is adamant to release only music that he has personally written, Quick sings:
So I will search so deep in me to try to find the secrets lying in the words behind the beat
And I will tear myself apart if that's the love behind a song that gets you through your misery
Cuz I would risk it all to see the spotlight
He makes himself vulnerable and sings about everything that goes hand in hand with being an artist: stress, anxiety, expectations, shortcomings. Yet through all of this, Quick is able to see past these day-to-day worries and distractions in order to keep his focus on the bigger picture. He is aware of the consequences of a career in music and how it can change a person, yet he remains grounded in who he is.
And I'll be good but I have heard
That it's a sin that teaches more than proverbs
And I'll be good but I still ask myself
If I imagine riches and the rest well that could hurt
Seeing past the superficialities of stardom, Quick works hard doing what he loves. Currently a sophomore Music Industry Studies major at Loyola University New Orleans, he has learned what goes on behind-the-scenes of the budding careers of superstar artists today. Quick not only wrote and recorded "Sick Fool," but also spent laborious hours in the studio perfecting the final master recording with the help of Off Topic producer and president, Randall Swain.
An artist who runs his own social media accounts and makes his own creative decisions, James Quick has developed his very own "brand" for himself as the new kind of pop artist. His previous single, "Meeting Skylar" — in which he played just as active a role in the creative control of the final product — saw enormous success. Such success landed him an opening spot on Aaron Carter's New Orleans tour stop at The Willow, where he serenaded what seemed to be a crowd of local fans and fellow Loyola and Tulane University students who came to support one of their favorite local acts.
The concert was a collision of generations in the most nostalgic of ways. It was the comeback tour of a former teenage heartthrob, enhanced by the ushering in of a new one: The new pop artist who writes his own songs, who makes his own decisions, and whose music is so timeless that a comeback tour will never be necessary.
As artists like James Quick set the new standard, it begs the question to artists hungry for the spotlight: How far are they willing to go for a lasting career in music?