Heartache and closure coalesce in Quarry's "Time's Up," a sleek and polished pop song full of deep grooves and raw, heated emotion.
for fans of The Weeknd, Prince, Justin Timberlake, Ruel
Stream: "Time's Up" – Quarry
---
It's not often that you come across a "feelgood breakup song," but that's exactly what you get in Quarry's intoxicating new single.
In point of fact, it's refreshing to hear a new take on an all-too familiar feeling. Heartache and closure coalesce in "Time's Up," a sleek and polished pop song full of deep grooves and raw, heated emotion. Yes, Quarry is saying goodbye – he's closing a chapter, and he's not looking back.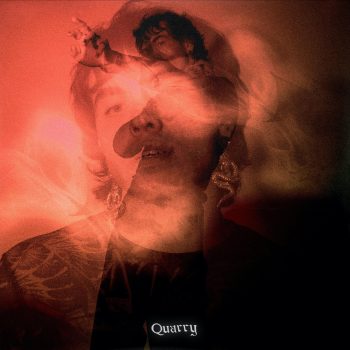 At first it was a good time yeah
now you're messing me up
I try not to think twice
But sometimes it's too much
I fall away
And get hauled away
Need to sit back down
Turn this all around
And try not to think too much
But you aint even listening…
Released September 11 via The Other Songs / Epic Records Germany, "Time's Up" is the latest in a long string of song release for fast-rising artist Quarry. Hailing from "a small village on the outskirts of Tring" in the UK, Quarry is the artist moniker for Ash Carvell – who quite literally works at a sand quarry outside of neighboring Dunstable (hence his name, which he cites as the inspiration for his art).
Since introducing his project last year, Quarry has enjoyed a meteoric rise. The songs off his debut EP Q1 (March 6, 2020 via The Other Songs) have together garnered well over a million global streams, with runaway hits like "No_Ordinary_Love_s1e2" and "White Wishy Washy World" accentuating the artist's dynamic vocal range alongside provocative instrumental arrangement and cool production.
Co-written and produced by Andrew Wells of MGMT, "Time's Up" follows Quarry's soul-soaked summer single, "Angels & Kings" – a fervent and intimate upheaval in its own right. In contrast, "Time's Up" is a cinematic release of these kinds of emotions – a letting go that sees the artist soar high and free.
And i don't really care no more
But a part of me does so sure
And that's the part of me that's fucked up
I fall away
And get hauled away
Need to sit back down
Turn this all around
And try not to think too much
It's a little bit of Gallant and Moses Sumney, speckled with the likes of Ruel and The Weeknd: An immersive, effervescent R&B indulgence whose buoyant energy makes for an endlessly exciting listen.
Now time's up
Remind me every day that
We broke up
We need to find a way back
It don't work
You just feel worse
I found love but it don't work
Guess I don't want you back
Yes I don't want you… Back
"'Time's Up' is about feeling like you're being pulled in two directions," Quarry tells Atwood Magazine. "Wanting someone to be in your life, but knowing deep down that they're bad for you, and that the distance is for the best. It's about having to consciously come to terms with the dissonance between your actions, what you want for your life, and the things you're willing to compromise to make a person comfortable. Compromise between people is inevitable, but at what point do you stop being yourself? At what point does giving someone the benefit of the doubt turn into simply being a lie that you tell yourself to keep the hope of an imagined outcome alive? You can't be selfless towards a person without being selfish, otherwise you're depriving them of the real you."
This song is about recognising that you can never be more to someone than what you already are.
"Time's Up" is an utterly tantalizing acceptance: One that reckons with the meaning of "goodbye," but knows that it is nevertheless for the best. While we could spend our nights wallowing in despair and tending to a broken heart, we could also be spending it dancing our hearts out and seizing the moment.
That's the magic of "Time's Up," and the magic that has made Quarry such an alluring, enticing up-and-comer. The possibilities seem endless for Ash Carvell's promising young artistry; we predict he'll be breaking up with those sand quarries and delving fully into his fledgling music career in no time.
— —
Stream: "Time's Up" – Quarry
— — — —
? © Chrisia Borda
:: Stream Quarry ::
---