Jazzy, warm, and full of love and sadness, Wyvern Lingo's wintry new single "Snow II" is a mesmerizing lullabye and a haunting dream.
❄ ❄
Darkness falls
The sky is white
Street lights
Inside the candle burns
Of all his troubles I learn
Did you hear it might snow tonight he said
Wouldn't that be a welcome respite
His eyes meet mine
I try to stop myself from crying
Listen: "Snow II" – Wyvern Lingo
---
Atwood Magazine is proud to be premiering "Snow II," the latest single from County Wicklow, Ireland trio Wyvern Lingo (out 24 November, 2017 via Rubyworks). Consisting of Caoimhe Barry, Karen Cowley, and Saoirse Duane, Wyvern Lingo blend a beautiful mix of R&B, folk and pop influence into their vibing music. Their intense vocal harmonies are reminiscent of UK trio The Staves, but their intimate songwriting and taste for deep melodies lend them a unique character that is entirely their own.
Just in time for winter to truly set in, "Snow II" is movingly dark. We feel the melancholy in Caoimhe Barry's voice as she paints the scene: "Darkness falls, the sky is white, street lights, inside the candle burns, of all his troubles I learn…" She projects her emotions effortlessly, and every new vocal inflection sends shivers down the spine.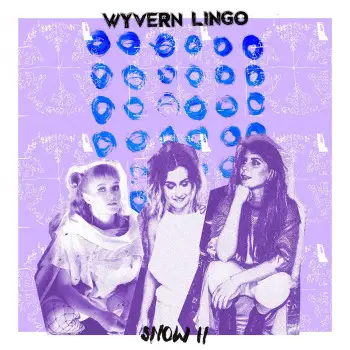 And I know my love grows
Like the silence of snow
The night comes so soon
I always sleep the day away
I don't leave my room
I'm safe within my womb
And all I want is to hold his face in my hands
On the pillow his head lands
And I have to understand
"Snow II is partly written as a response to Simon and Garfunkel's 'I Am A Rock'. It's from the perspective of the person trying to reach an ex-lover who is in that dark place, cutting themselves off from the world," explains Caoimhe Barry, who sings lead. "It's about wanting to comfort them, but you can't speak to them or hold them like you might have when you were in a relationship, and how sad and confusing that is."
Produced and mixed by James Kelly (WIFE, Zola Jesus) and Neil Comber (M.I.A., Crystal Fighters) respectively, "Snow II" is brooding and delicate, overflowing with complex, stirring emotions that Wyvern Lingo capture only too perfectly. We hear the breath of every instrument like an audible silence as the trio build to their intimate climax: "And I know my love grows, like the silence of snow," they sing together in a dazzling release of tension. Surrounding their voices, we feel the beat of the bass synth, the warble of the keys, and the heat of the guitar. In their words, we feel a hazy cloud of pain and doubt, love and longing. Everything comes together so smoothly.
It's a paralyzing sensation – to feel so far away from someone so close to you. How do you connect to a person who no longer wants to connect with you? How do you stop the urge to help – to be there for that person? "Snow II" presents a familiar situation with a heavy heart: There are no answers here, only questions whispered into the midnight winds.
An incredibly promising artist to watch this coming year, Wyvern Lingo's forthcoming debut album is out February 2018. While we wait for winter to thaw and the cold to pass, we can find warmth in the soft, dreamy depths of "Snow II."
❄ ❄ ❄ ❄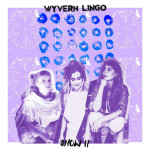 photo © Ruthless Imagery
:: Listen to Wyvern Lingo ::
---