A dash of funk and layered electronic beats help make S P A C E's debut single "Fucking Great" a slick and sexy dance anthem that one would be hard-pressed not to groove to.
— —
It's almost euphoric in a way when one loses themselves to the music, dancing and moving through the night without a care in the world. However, time won't wait for anyone, and those grooves will eventually stop floating around. These moments, unfettered from doubt or judgment, need to be seized.
Swirling hair and hips
Red lips
Burned into my mind
I can't speak to you
No I can't speak to you
S P A C E embody this idea with their first single, "Fucking Great," with absolute perfection, and we at Atwood Magazine are proud to be premiering it today.
"Fucking Great" – S P A C E
[soundcloud url="https://api.soundcloud.com/tracks/464213916?secret_token=s-Uq8Fe" params="color=#0c040c&auto_play=false&hide_related=true&show_comments=false&show_user=true&show_reposts=false&show_teaser=false&visual=true" width="100%" height="300″ iframe="true" /]
---
L.A. based electronic duo S P A C E is comprised of Greg Tuzin and Bryan Neff, two artists with backgrounds in art, design, film, and photography. With those influences in mind, the duo set out to make a track that weaves together electronic melodies and vibrant soundscapes that will get one moving without hesitation. The result is their unique future indie rock sound, making "Fucking Great" a notable and catchy as hell foray into the music scene.
Tight jeans and tennis shoes
You move in such a way
That I can't speak to you
No I can't speak to you
The track begins with splices of a female choir that has a great tinge of soul attached to it. A funky guitar melody soon follows, and with these two pieces in place, the theme of the track is firmly established. As the track progresses, a slick bass riff joins the mix adding an additional layer to fall in love. The reverb-laced vocals soon begin, allowing for a seamless blend that flows with utter ease. With all of the components established, the story begins to unfold.
I lean against a wall
Try and look cool
But you'll never dance with me
No you'll never dance with me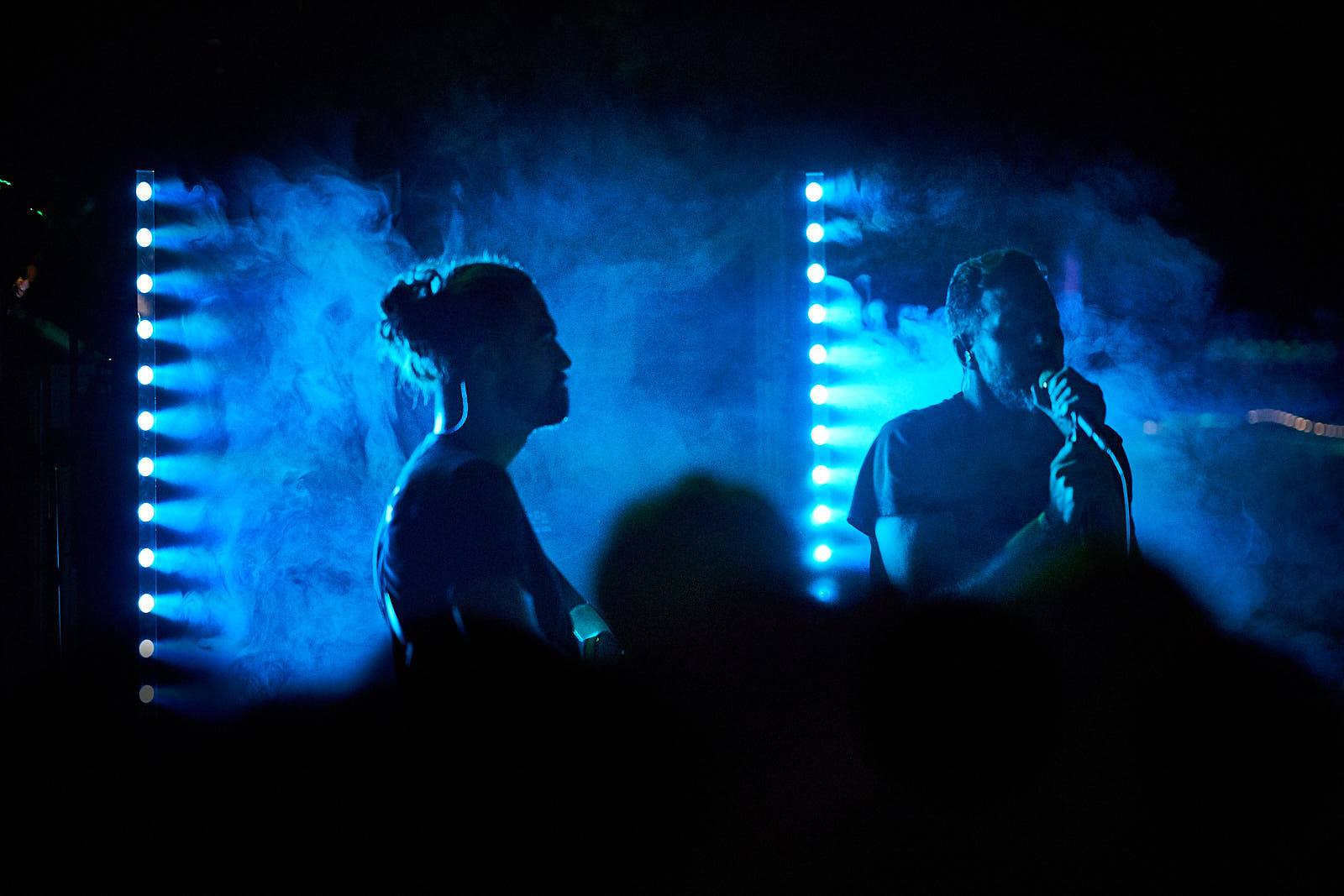 "The lyrics were born at a DJ gig in Tijuana," says Tuzin to Atwood Magazine. "All the women at the club wore jeans and tennis shoes, not dresses and heels. They were there to dance not be seen. There's something so sexy and intimidating about giving in to the music and dancing like no one's watching." The lyrics reflect the origin as the listener is able to see and visualize a lone woman lost in her groove.
If I wanna to dance
I have to go to you
Go to you
The protagonist sees this, but if he wants to experience and join in on the ineffable elation that is occurring, he'll need to head her way and seize it. With a swarm of bass, guitar riffs, and dashes of EDM, the track uproars with one last hoorah. Towards the track's close, the grooving and moving was a success, and as the protagonist puts it, he feels "fucking great."
I can't feel my heart when I'm near you
But I feel great
I feel fucking great
Just dance with me
With their mélange of various musical stylings, S P A C E have crafted a piece of music that will elevate a party into a night of pure bliss while also serving as a track that can be explored and experienced while simply enjoying the night sky on one's own. The duo has made a lasting mark with their first venture into the scene, showing their talent and creativity through a style that is all their own. No matter where they head or what they create in the future, there will be one certainty: It'll be fucking great.
https://www.youtube.com/watch?v=yyQMDVAKYvc&feature=youtu.be
— —
— — — —
? © Robiee Ziegler

:: Stream S P A C E ::
[soundcloud url="https://api.soundcloud.com/users/206559043″ params="color=#ff5500&auto_play=false&hide_related=false&show_comments=true&show_user=true&show_reposts=false&show_teaser=true&visual=true" width="100%" height="300″ iframe="true" /]