Atwood Magazine had the pleasure of chatting with Slothrust's Leah Wellbaum, discussing their latest album, 'Parallel Timeline,' vans on fire, and optical illusions.
•• •• •• ••
W e live in a world full of illusions. Reality is deceptive, sometimes we delude ourselves into getting our hopes up. Many artists have tried painting incredibly realistic landscapes to add space to a room (in an illusory way, of course) – ever heard of trompe-l'œil? Even science, however objective we consider it to be, sometimes seems to deceive us, when we stare at optical illusions that make us doubt our own ability to perceive the world around us. Even thinking that a dress is blue and black instead of yellow and gold (only to find out that neither option is correct) can be enough to stop believing in anything.
There are some people, however, who do not let this veil of Maya stop them and therefore want to dig even deeper, or rather try to understand reality through illusions. Among these individuals, we can find Leah Wellbaum and the Slothrust project, ready to make their comeback into the music scene with their latest album Parallel Timeline. It's a record that was born in an illusory world, in which every certainty has collapsed, yet it makes illusions one of its central themes. We can already see it from the cover, a whimsical and very colorful rainbow with inverted colors that, thanks to an optical illusion (explained to us by Leah in our interview) can go back to having normal colors.
Parallel Timeline is a mysterious, hypnotic record about spirituality and desire for freedom.
Quite an accomplishment for the band, which has been in the music industry for 10 years now. To celebrate the release of the album they're also going with Manchester Orchestra and Foxing on The Million Masks of God Tour. It's a real breath of fresh air for Slothrust, which previously made live shows a central point for the creation of the albums themselves.
I have really missed the unique energetic exchange that happens when you perform in front of an audience. The lack of it has left a void in me and we couldn't be more excited to hit the road again with our friends in Manchester Orchestra. In its own way, touring has always felt like home and we are stoked for this epic return.
Atwood Magazine had the pleasure of chatting with Leah and talking about Parallel Timeline, vans on fire, and optical illusions, of course. Check our interview out below, and don't forget to stream the album!
Listen: 'monochrome blue' – Modernlove.
A CONVERSATION WITH SLOTHRUST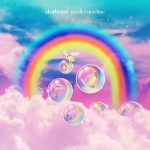 Atwood Magazine: YOU SAID YOU OFTEN NOTICE THE THEMES GOING ON AN ALBUM AFTER THE RECORD'S BEEN COMPLETED. SO, WHAT DID YOU NOTICE AFTER 'PARALLEL TIMELINE' WAS DONE?
Leah Wellbaum: Yeah, I write lots of music, lyrics, and poetry and I won't necessarily know in that moment what that material is about. It will take some serious reflection after some time has passed for me to look back at that and trying to understand what I was trying to express through those words. I would say on Parallel Timeline some themes I didn't realize I was writing about were non-duality, denial, and the desire to heal. Also, spirituality and trying to understand what it really means to be alive right now in this reality.
WOULD YOU SAY THAT THIS RECORD WAS MORE OF A WAY TO ESCAPE THE REALITY WE'RE LIVING IN OR A WAY TO TRY GETTING TO KNOW IT BETTER/CREATING A BOND WITH IT?
Wellbaum: I would say it was actually neither of those things, it was more of a deep questioning of reality and trying to understand what actually is real and what is an illusion, if you will. I got really interested in hypnotism during quarantine, I started researching different types of it. I've just been thinking a lot about the fact we're all hypnotized in many ways. I started wondering about what the consequence would be of undoing those things – and if that's even possible.
I HAVE TO SAY THAT I ABSOLUTELY LOVE THE AESTHETIC PART OF THIS RECORD. RAINBOWS, LOTS OF COLOURS, SENSE OF ABSURD. IS THERE ANYTHING (ARTISTS, MOVIES, ETC.) THAT INSPIRED YOU?
Wellbaum: Optical illusion and things that make you blink and look at them again to see if you are understanding what you think you saw. There's actually an optical illusion that occurs if you stare at our album cover for like thirty seconds or so and then you look at a blank white space, you blink and your eyes (your brain, really) inverts the colors of the inverted rainbow to be a regular rainbow. You can test it too, I guess! If I were to cite an influence of part of why I've been attracted to rainbows for so long it would be The Wizard of Oz.
Watch: "Once More For The Ocean" – Slothrust
FRUIT IS ALSO A BIG PART OF THE AESTHETIC OF 'PARALLEL TIMELINE'. WHAT IF YOU HAD TO ASSOCIATE THE SONGS ON THE RECORD
WITH FRUIT?
Wellbaum: I actually have a monthly column for this publication called Talkhouse, and what I do for that column is to pair each astrological sign with a piece of fruit. So, I'll tell you what I picked so far for that; for Gemini, I picked passionfruit, for Cancer blueberries, for Leo I picked strawberry, and for Virgo I picked orange. It's interesting because I think that you could make relationships between fruit and anything, really, and I also think that different people are gonna perceive different fruit as being connected to different things. It really disconnects to this central theme of the record of everyone's perception being different and that it's impossible to have objective truth. But, if I had to pair one song with a piece of fruit I would say that I would pick grapes and I would pair with strange astrology.
IN THIS PERIOD, LOTS OF ARTISTS HAVE TRIED GET IN TOUCH WITH THEIR DEEPEST AND FOUND IT IN NATURE, IN BEING WITH A SPECIAL SOMEONE, ETC. WOULD YOU SAY YOU ALSO HAD THIS SELF-DISCOVERY EXPERIENCE? WHERE DID YOU FIND YOUR TRUE SELF?
Wellbaum: I think that my whole life has been that, in many ways. The space within music that I have found that the most has been improvisation. Improvisation is amazing because it really leans into this idea of nonattachment and being open to whatever presents in the moment and then being able to let it go and move on to the next moment.
SO, TOUR IS HERE! BROOK SALLISON IS PLAYING BASS FOR YOU ON ALL UPCOMING DATES, HOW WAS WORKING WITH HIM?
Wellbaum: Working with Brook has been really awesome so far! He's a super talented musician and is someone who has a strong work ethic. He's a great player, he's got a good ear. Also, he has a groovy vibe, and it immediately clicked the second we started playing with him, all the materials came together. We had a bunch of rehearsals last month and it's been really fun so far working with him, we're looking forward to actually being on stage and performing together.
SPEAKING OF CONCERTS, WHAT'S ONE SONG THAT YOU'RE EXCITED TO PLAY? HOW ABOUT ONE THAT WILL MAKE YOU AND THE AUDIENCE EMOTIONAL?
Wellbaum: There are lots of songs I'm excited to play live, but I definitely can't wait to play "Waiting" a lot, I think that will be a really fun one to do even though it's short. One that feels more emotional for me – and that I'm curious about how it will feel to play live is "King Arthur's Seat".
Watch: "Strange Astrology" – Slothrust
AND WHAT IF YOU HAD TO CREATE YOUR DREAM SETLIST?
Wellbaum: Well, our perfect setlist would be a combination of both our old and new material because Parallel Timeline is a 10 track album. When we're doing support slots in opening for bands (like we're opening for Manchester Orchestra now) our set is going to be pretty short – that's how it works, we get to play only half an hour or so. But, when we play in headlining shows we have one or two hours of music ready to go. It will definitely be a combination of Parallel Timeline and also our previous records as well.
SO, YOU'VE BEEN IN THE INDUSTRY FOR ALMOST 10 YEARS. IS THERE ANY PROJECT INCOMING FOR THIS SPECIAL ANNIVERSARY?
Wellbaum: Yeah, we're talking about possibly doing a 10-year anniversary release for that record because we never made a vinyl, we only made it to cd – we didn't have anyone working with us, you know, it was totally self-released in 2012. So, now that we have a team, we're finally talking about doing a 10-year release of that and pressing it on vinyl, to see how it goes.
WHAT DO YOU THINK IS THE MOST ICONIC MOMENT IN THE BAND'S STORY?
Wellbaum: Something that sticks out in my mind is that in the earlier days we were on tour with a band called The Fall of Troy. It was a really long and challenging tour – still amazing, though, for sure. We were on our way home from the tour, we had another tour starting up a couple of weeks later, but our van caught on fire on the highway and we had to jump out of the van. Cops came quickly and got everything together, but it was definitely scary and we were stuck in the state of Missouri for a little bit. It's not a moment I'd love to relive, that's for sure!
'THE NEXT CURSE' IS BOTH THE TITLE OF A SONG ON 'PARALLEL TIMELINE' AND A LYRIC IN 'ONCE MORE FOR THE OCEAN'. IS THERE A REASON FOR THAT?
Wellbaum: I love writing lyrics that call back other songs and other lyrics. I'm glad you noticed that, the lyric in the ocean is "the next curse is on you" and "The next curse" has to do with climate change. So the way that it impacts the ocean is quite profound, I felt it was a way to foreshadow what was to come on the record.
Watch: "Cranium" – Slothrust
HOW WOULD YOU DESCRIBE HOW YOUR SOUND EVOLVED WITH 'PARALLEL TIMELINE'?
Wellbaum: Something interesting about this record is that we never performed any of the songs live before. In the past, we would get to know live material by performing it to a live audience. We would sometimes change arrangements after that or just see how it felt energetically to be with that song, and at the same time, we would do that before recording. So, what's really different about this album is we've never performed these songs live before! I've done some acoustic versions of them live on live streams and stuff but in terms of actual full-band arrangements of this material we're doing it for the first time on September 18th.
HOW DO YOU FEEL ABOUT THAT? ARE YOU NERVOUS, EXCITED, CURIOUS EVEN?
Wellbaum: I feel all those things, I mostly feel excited, ready to see what happens I'm definitely curious and excited. You know, when it comes down to it's all an adventure – I'm just ready to dive into it and see what happens.
HOW DID YOU KNOW YOU WERE CREATING AN ALBUM INSTEAD OF A SMALLER PROJECT?
Wellbaum: So actually, it all started with the songs "Waiting" and "Courtesy". I made demos of those two pieces and submitted them to our label, thinking that we would do an ep featuring those two songs. I would just give a couple more songs to do that, but the label really liked them and really wanted to give them a bigger moment. Also, for a band like us who is relatively traditional and generally releases full-length records, the songs would be better served if they became a collection for a full album. So, that's the direction we went with this.
— — — —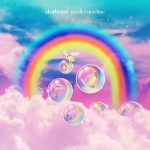 © Lindsey Byrnes
:: Stream Slothrust ::