Despite their recent turn to the alt-rock darkside, things are looking bright for Edinburgh-based four-piece Swim School.
Stream: 'making sense of it all' – Swim School
---
Before the pandemic, the momentum building around Scotland's Swim School was certainly not to be sniffed at.
Since the restrictions lifted and their debut EP making sense of it all (August 20, 2021) was released into the world, the excitement surrounding the rip-roaring band rocketed. "I think we're just a bit taken aback by everything, it's been slightly overwhelming. It feels like it all happened at once, but we're loving it and not complaining at all", explains vocalist and guitarist Alice Johnson.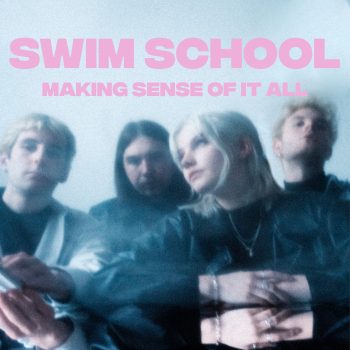 The band, which formed in late 2018, consists of Johnson, guitarist Lewis Bunting, bassist Matt Mitchell and drummer Billy McMahon. By early 2020 and prior to being forced to stop in their tracks by the global pandemic, the four-piece had built a small cult following and enjoyed modest success with soft indie singles 'Sway', 'Take You There' and 'How It Should Be'. But, when lockdown gave them the chance to reconsider, their return was harder hitting than anyone could have anticipated. Johnson reveals, "At the start of lockdown we had so much free time, which we'd never had before and we just took advantage of it to write a body of work that we loved." She continues, "Don't get me wrong, some of the tunes we wrote were awful, but we gave ourselves that opportunity to just go mental and experiment with our sound. With that, we thought we might as well come back with something big and something we've never done before. So, that's what we did."
Disrupting the Swim School status quo, the band released 'See Red' in August. The pounding track proved to be the quartet's heaviest offering to date and allowed them to reintroduce themselves: "We'd always wanted to go a bit heavier, but for our first four singles, we didn't feel like we could." While the new EP shines Swim School in a meatier light, a sonic shift can be daunting when fans are eagerly awaiting a release, "We were very, very nervous to release the song", Johnson admits, "But we've always said that if you don't take a risk, nothing different is going to happen. The safe option would've been to release 'Outside' or 'Anyway' because they're happier tunes, but we decided to go with the biggest, darkest, heaviest one and come back with a bang." Agreeing, Bunting adds, "We always wanted to be a more grungy band, this feels more natural."
---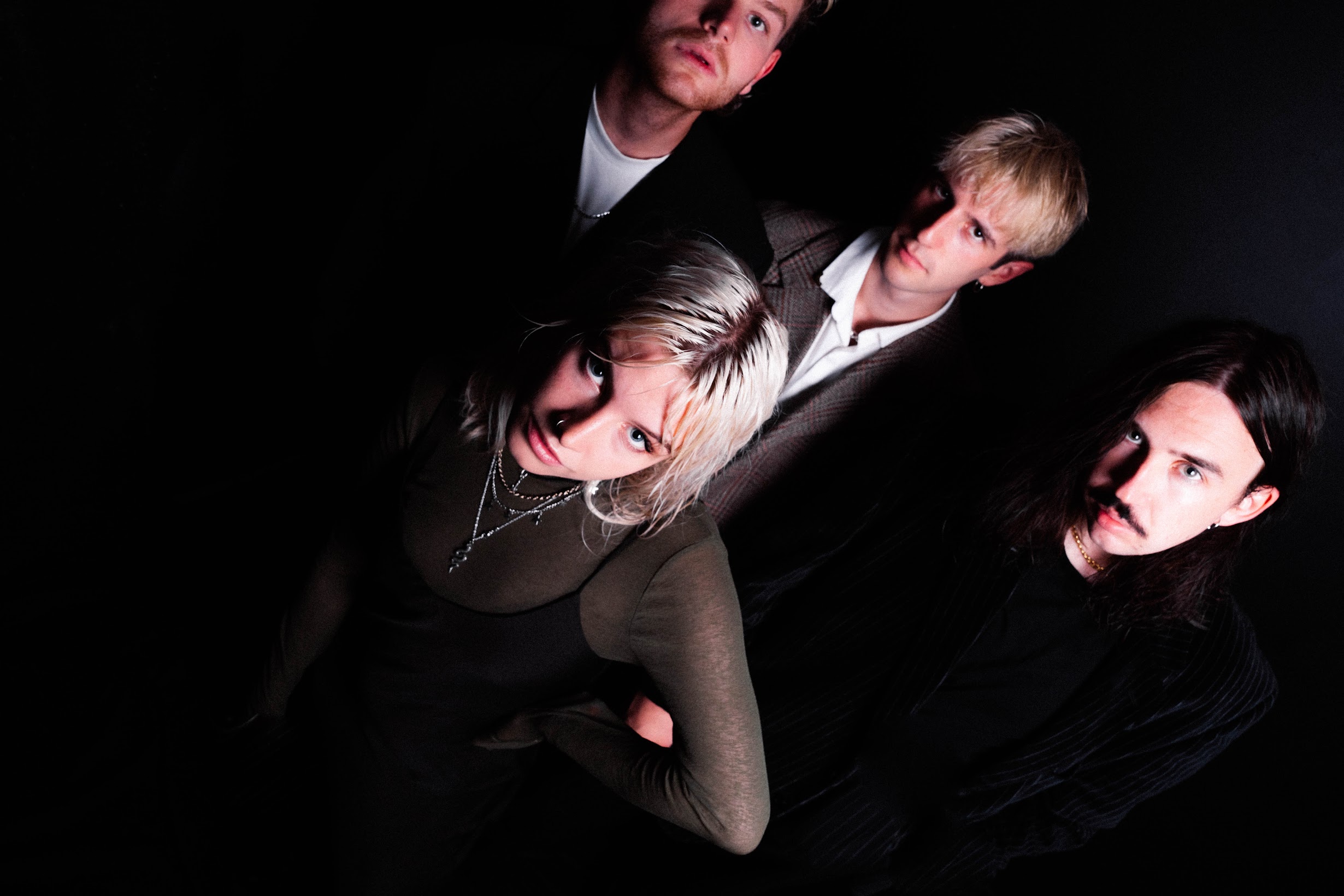 So, what was it that drove Swim School to make the leap and embrace a darker soundscape? A new drummer.
"Having a new drummer in the band definitely helped things creatively. It helped us get a little bit heavier", says Bunting. "He's very, very heavy as a drummer, so I think we just naturally had to turn our amps up", laughs Johnson, "That emphasized our heavier side and made us rethink everything." And, not only has the musical shift added a new dimension to Swim School's sound, but the band are also feeling more at home in their own skin than ever, "We're just so much more confident than we've ever been because we're a band that thrive live and we write songs for live. It feels better to play heavier tunes live", Johnson explains before Bunting expands, "It engages the crowd a lot more and there's so much more adrenaline." And, they're completely right, since unveiling their new sound and playing some killer sets at All Points East and TRNSMT, the band discovered that not only do they flourish during live sets, that's where their fans thrive too: "We experienced our first mosh pit recently. Before, our crowds had been a little bit standstill and static. So, I think that's why the last year has felt so special, because everyone has been absolutely going for it", Johnson recounts.
But, Swim School's triumphant return isn't just about their new, intoxicating sound. The band have also taken the opportunity to discuss mental health through music. "We've always said that music was the one thing that introduced us to mental health because, when we were in school, it was never taught as a subject or talked about. Music can feel like the one thing that connects you to those emotions and makes you feel like you're not the only one feeling it. Music has always been there for us in terms of mental health, so we felt like we owed something to that", Johnson reveals. Themes of toxic relationships, struggling to open up and dealing with loss drive the emotionally-charged EP. But, Swim School aren't the type of band to go into details about the exact inspiration behind their lyrics, "As a songwriter I try to be as vague as possible, I draw the outline and then the listeners can fill in the spaces", Johnson says. She continues, "It's hard though because you don't want to be too personal, but you also don't want to be too shut off in a way that people listening can't relate. I think the difference between a good songwriter and a bad songwriter is, a good songwriter can release a tune and you have no idea what it's about, but you can still relate to it." It's with that careful balance that Swim School have built and preserved such an engaged fan base.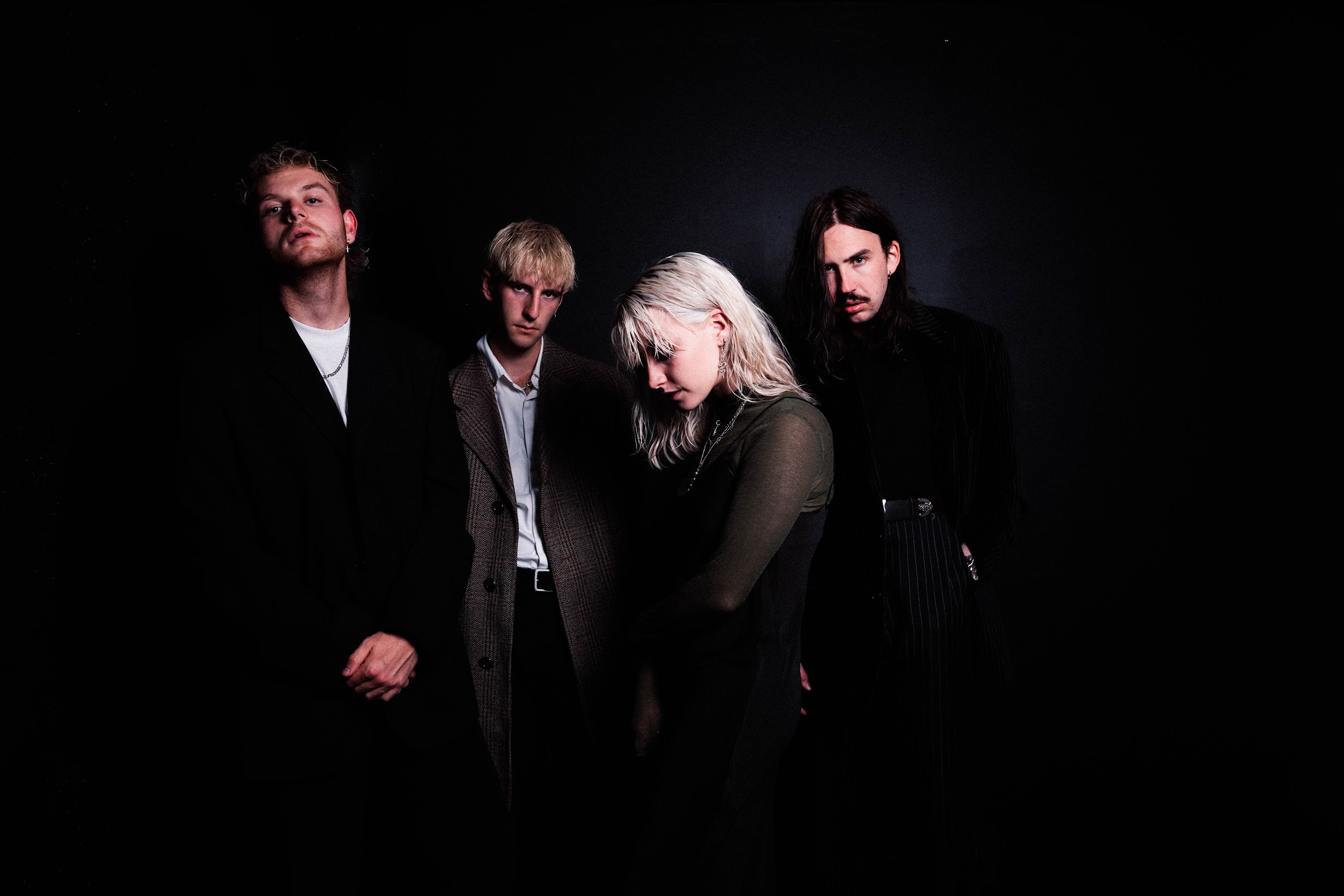 Swim School's making sense of it all is the first extended project from the band, and something they have great pride in – but since its release, they've started questioning who it really belongs to: "It's so weird, when it's unreleased you feel like it's yours. Then, as soon as it goes out to the public, it's like it belongs to them. It's just a very weird relationship", Johnson contemplates. "Before we released the EP, I listened to it so much and loved it. But, since it went out to the world, I literally haven't listened to it at all", she explains.
And it's not just it's possession that they feel has shifted since the release: over time, the songs discover new meanings. "With live shows coming back, I've realised that what I think about when singing a song depends on what's happened that day", Johnson says. " 'See Red' is our big angry one, so it really depends on who's pissed me off. Whoever that is is who I'll be thinking of during the song. There was one gig in particular and the sound guy was really pissing me off, I just didn't like him at all. Then, when I played 'See Red', I've never played it so passionately because I was thinking about him the whole time. I was like, 'this is for you!'. So, that's the only way my relationship to my lyrics changes." Take note: If you ever upset Swim School, they might just be singing about you.
With a new demanding sound and enviable early success, Swim School's post-lockdown re-entry onto the music scene has been entirely revelatory. And so, what's left to ask is, what's next? "Good support slots are definitely what we'd like to be doing, and probably what you'll see us on for six months or so", Bunting explains. "A headline tour would be really cool, but I don't think that will be until late next year. We want our first tour to be very intimate and sweaty, we'd like busy shows. We'd love to just sell out our first ever UK tour and play to really small venues and just have the best live shows every single night, I'm not saying it's gonna happen, but it's what we want", adds Johnson.
— —
— — — —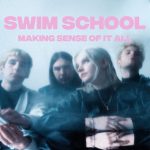 ? © Rory Barnes
:: Stream Swim School ::
---