Aussie trio DMA'S are ready to continue from where they left off with their fourth album 'How Many Dreams?' – a record full of punch and attitude, made unlike any they've made before.
by guest writer Owen Cummings
Stream: "Olympia" – DMA'S
---
We made it unlike we've made any other record before.
DMA's announced their upcoming record How Many Dreams? (out March 31 via I OH YOU) at the back end of last year, with the aim of continuing to entice fans to their renowned indie-electro sound whilst adding a bit more attitude and modern feel to things.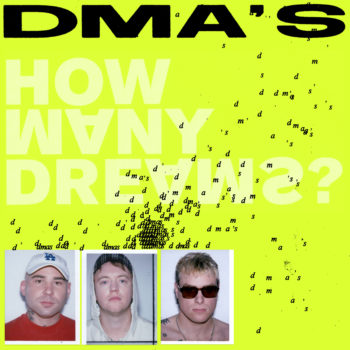 The Australian band started out over a decade ago by recording their first EP (self-titled) in the apartment that lead singer Tommy O'Dell and guitarist Johnny Took were living in at the time. They have since developed a huge following in not only their home country, but also the UK thanks to numerous hits including "Silver," "Lay Down," and "Delete."
Now they are about to release their fourth studio album, with their previous LP The Glow, released in 2020, charting at number four on the UK albums chart. Yet the rock 'n' roll trio remain as determined and driven as ever. Teased by five singles thus far – "I Don't Need to Hide," "Everybody's Saying Thursday's the Weekend," "Olympia," "Fading Like a Picture," and most recently "Something We Are Overcoming" – How Many Dreams? is set to be DMA'S' punchiest, most "modern-sounding" record of their career.
Atwood Magazine sat down with O'Dell and Took to discuss the making of their fourth album, the band's latest singles, tour, and all that's ahead for the coming year. Catch up with DMA's and dive into the depths of How Many Dreams? below!
We experimented with a few different things, but it's still very much DMA'S.
— —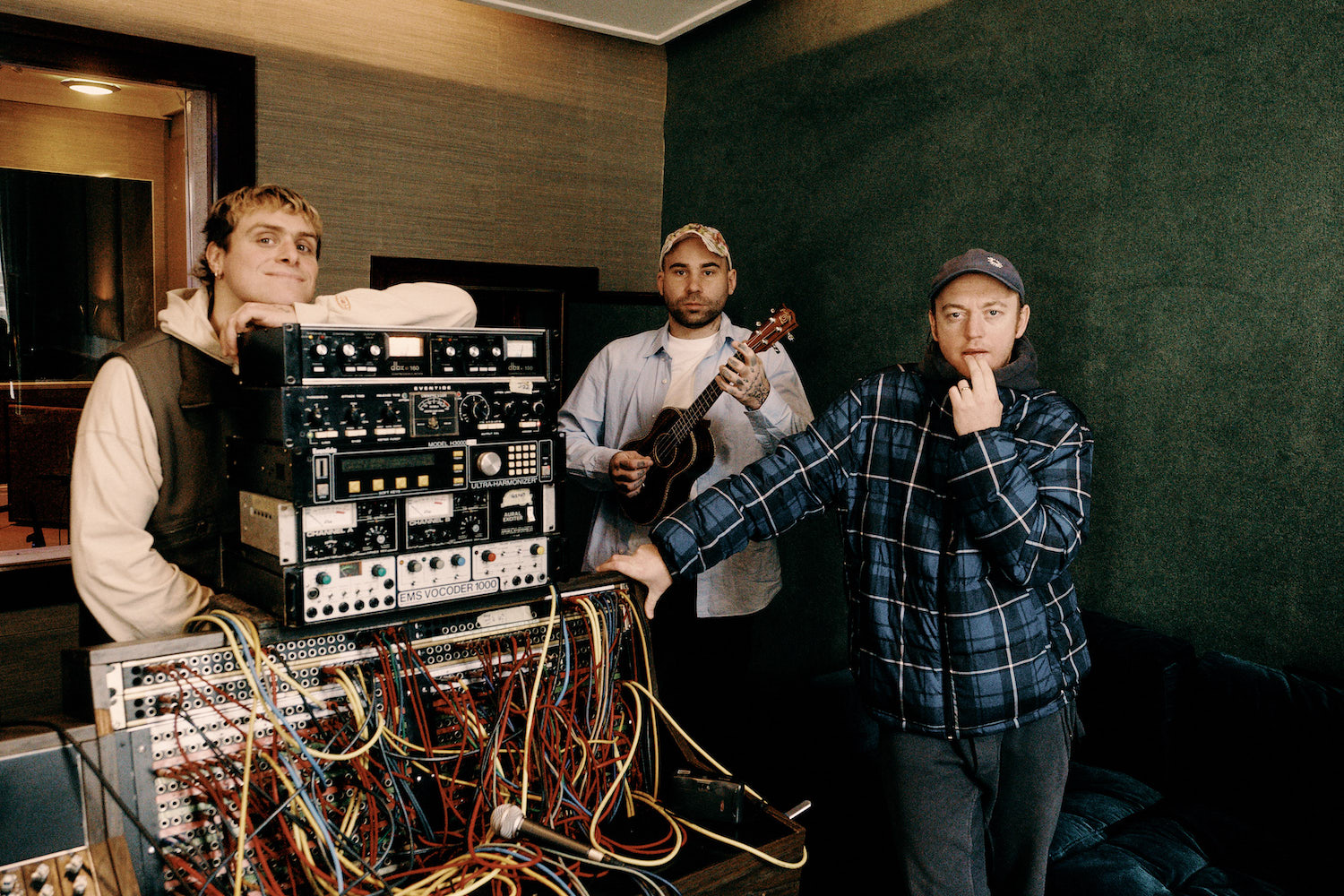 A CONVERSATION WITH DMA'S
Atwood Magazine: How would you describe How Many Dreams? compared to the other stuff you've done? What can fans expect?
Tommy O'Dell: It's kind of like our previous records but with a little bit more attitude. We experimented with a few different things but it's still very much DMA'S.
On some specific things, we didn't want to make it too layered  —  we wanted to concentrate on each part to make it clear and well-rehearsed. It is different to other records in the way we recorded it over two stages: We did some with Stuart Price and Rich Costey in London, and then we got back to Sydney and realised it wasn't where we wanted it to be, so we took a bit of a break from it and finished it off with Constantine Kurstin,  our producer from Brisbane.
So, it was different in that way, but it was quite cool actually because it gave us time to listen to what we had and then adjust some lyrics and production. You often run into a strict time frame when recording and don't get that luxury.
Johnny Took: I would describe it as being an evolution of DMA'S in general, however, at the same time, still very true to who we are. It's probably the most modern-sounding record we've made but most of all, it's just a lot of fun.
We made it unlike we've made any other record before and it feels super unique in that regard, but at the same time, we haven't really strayed too far away from that thing that I guess lots of our traditional fans fell in love with, which was the classic songwriting aspect as well.
What was your priority in terms of making the album? Was it to go in a slightly different direction and show a different side?
Tommy O'Dell: We approached each song individually and wanted to bring out the best in each song. For the electro songs, we kind of went full-on, not using any guitars at all. And for the rock 'n' roll songs, we went back to our old school garage-y roots. Overall, the production is pretty polished and it's got a little bit more attitude than some of our previous albums.
Would you say it's an even split between the electro and rock songs?
Tommy O'Dell: Yeah, 60/40 maybe with probably more guitar.
I've got to ask about the singles from the album, starting with "I Don't Need To Hide." Was there any reason why you decided to release it first?
Tommy O'Dell: The reason why we released it first was that the song and its production was for us pretty much the perfect balance between our rock 'n' roll influence and electro influence. It came together quite quickly.
Johnny Took: I think it was appropriate to release this one first because it kind of generated every aspect of the record. So, I guess there was a sense of starting with those big open synths, it was kind of a tip of the hat into the electronic side of things. Some of the other production aspects did lean into a more pop sense but then also when the chorus hits, Tommy's vocals start soaring and there's a big anthemic feeling but it's got those garage drums, incorporating those noisy guitars as well.
For me, it ticked all the boxes.
How did "Everybody's Saying Thursday's The Weekend" come about?
Tommy O'Dell: It was written very quickly — Johnny and I wrote it in probably around twenty minutes I'd say. Johnny was on the phone to a friend and he actually said, "Oh come on, let's go out. Even though it's Thursday — it doesn't matter — it's basically the weekend!"
I think we've all had that experience at a point in our life where you just want to forget about everything and just go and let loose.
It's a fun, light-hearted, feel-good tune and it's been really nice to play live too. People have been responding really well to it, so that's great.
Johnny Took: I guess, production-wise, it took a while for this song to get to where we imagined it, but to me, it sounds like a modern rock song. It's got those big choruses but it also has a darkness and moodiness to it, particularly at the start and just the way that whole juxtaposition works.
Once again, it's different for DMA'S but it's not. I feel like in my favourite albums that I've listened to, I wanna hear something that's familiar but also something new and I feel this single captures that.
Definite cert for the setlist going forward then?
Tommy O'Dell: For sure, without a doubt.
"Olympia" — that opening riff is just so infectious…
Tommy O'Dell: That's one of the more rock 'n' roll songs. But when you hear it the production sounds a bit bigger than some of our previous rock songs. [Matt] Mason wrote that song. It started with the riff and grew from there. There's actually quite a lot of versions of that song. He wrote it on a mandoline originally, so it's quite interesting that it became an epic rock song.
Johnny Took: I remember when he first played that song to me and Tommy, and we fell in love with it straight away. The riff was really funny to me because it's on the borderline of being cheesy. There's a mystical line for everyone between cheesy and cool, and it really tinkered on that for me but it definitely fell on the cool side. I love that song.
I think it's one of those songs that will stick in the set for a while now. Every album you make there's a couple of songs that you play because the albums out and you want to play the new songs, and then there's a couple you bring up every couple of years. Then there's a few songs that stay in the set for years to come and I feel like 'Olympia' is one of those songs.
"Fading like a Picture" is out now! Talk us through that one.
Tommy O'Dell: It was written on a piano through Covid actually. It's kind of got that sentiment about breaking free from confinement and that happy nostalgic sensibility that we like to touch on.
Johnny Took: I think it is the most quintessential DMA's song on the record  —  maybe sits next to "Olympia," but it certainly has that "Lay Down" summery nostalgia vibes. Sort of less moody than "Olympia" though.
What's your favourite of the twelve tracks on the record?
Tommy O'Dell: I go through stages where I like one song more than others, and then I change or whatever. But at the moment, "[Everybody's Saying] Thursday's The Weekend" feels really good. When we play it live, it feels right. There's also a tune called 'Dear Future' — a beautiful ballad written by Johnny that I think lyrically is very special and encompasses the band and that mix between rock, folk, dance and country music.
Johnny Took: I like them all for different reasons. I like the last track on the album 'De Carle' because it's the first fully electronic track we've done. If I heard someone like The Presets release it, I wouldn't be surprised. For me, that signifies growth because I like releasing a track on an album that is new in a lot of ways.
Mason's also written this track called 'Jai Alai', which is an older sport from the Basque Country. It was very big somewhere like Miami in the '60s. I like the way Mason thinks of quirky ideas to write songs about. If you listened to it and didn't know it was about that, you could make your own meaning up to it. Super beautiful.
What did you personally take away from making the album?
Tommy O'Dell: Don't rush things. Trust yourself. Trust the guys in your band to know what you want. And stay true to an idea you have in your head if you know it's the right thing. I guess that's some good advice for anyone in a band  —  stay true to yourself and stick by each other. More often than not, you know what's best for your music more than anyone else.
Johnny Took: I hold pretty similar sentiment, especially in a band like ours because we started off by making our first EP in my bedroom in the apartment that Tommy and I were living in with the mattress against the wall. For us, at that moment, that was the truest, most fundamental aspect of DMA'S. Four albums later, we're different people who have grown and listened to different things. It's a funny thing because there's some fans who might want you to carry on doing that garage rock thing, and then there's other fans who have come on board since The Glow and like the more hi-fi aspect of it. We like both and that hasn't changed hence why we did that EP [I Love You Unconditionally, Sure Am Going to Miss You] not long ago.
At the end of the day, we reached different points with all of these songs when we knew they weren't right and instead of rushing to release it, we stopped. I think between the three of us we know when it isn't right. There's a lot of people involved with DMA'S now, so there was some pressure to get it out but when we talked about it, we all agreed it wasn't right. So, we put our heads down and didn't release it until it was the record we wanted to make. The truth is an album is never finished but you can just do the best you can and when you're happy with it, you should get it out there.
Don't rush things. Trust yourself. Trust the guys in your band to know what you want.
Having got to this stage, do you always find the motivation to make new music and tour?
Tommy O'Dell: That's why we often go back to our roots because it re-inspires us. We often go back to just guitars because that's where we started and that reignites the flame a little bit. That's kind of how we stay motivated.
In terms of touring, anyone that tours will say that it has its amazing moments. I guess our growing fanbase help us stay on course with that.
Have you found the industry has changed much for you coming out of the pandemic in terms of recording and making music?
Johnny Took: I worked on my production skills a lot and really learnt a lot from working with Stuart Price. There's a lot of parts to music production that I've never had the chance to explore because of us touring constantly over the last six/seven years since Hills End came out. I want to keep listening, learning and evolving.
I can look back on some of the songs that the three of us wrote in those days but I think others can get a little too wrapped up in thinking about 'should I write songs like I did when I was 24?' and it's like, mate, you're not fucking twenty-four! You should be writing songs like you are when you're thirty-two and embracing that, and looking to the future rather than the past all the time. That's one thing I always strive for.
Tommy O'Dell: We were promoting a record through the pandemic and we did a lot of online and Zoom gigs. We played eighteen acoustic shows, so we were actually pretty busy   — it wasn't like we were locked away the whole time, musically, we were very busy. On reflection, I guess it gave us time to write music and work on our graft. Some great songs came from it.
It's in the past and feels weird to even think about what we were doing back then — not something I want to look back to, although I guess in a way it shapes the record we're about to release.
You've got a UK tour coming up in April. That's got to be exciting, right?
Johnny Took: It's become our home away from home. We've played some brilliant shows in the last month in Australia which makes us really happy about where we come from and how things are going over here, but the truth is, we need both for us to survive.
They're different in their own little ways but they're both equally as special. Just the way the UK's taken us under their wing and the response that we get to the shows over there is its own thing. Some of the greatest shows we've played in our lives have been over there, so we just want to keep coming back, growing with our audience and for the gigs to keep getting better and better. If people will come, we're going to keep playing.
Tommy O'Dell: Every time we go back to England, there's always a memorable gig. We have a strong love for British music, so to be from Australia and to be accepted in the British music culture makes us honoured.
Is there anything else you'd like to share about the album?
Johnny Took: We took our time with it. It wasn't how we planned to do it, but we made the most of it with the situation of different variants of the virus coming in and out. We just did what we had to do. It's funny that we ended up working with three fucking amazing producers. You know, if times were different and we just worked with one of them, it wouldn't be the album that it is.
This is what we've made  —  and we fucking love it and are proud of it.
•• ••
Owen Cummings is a Herefordshire, UK-based freelance music journalist, sports writer, broadcaster, and guitarist. Specialising in modern rock bands, he is also an upcoming local musician and gear expert. Reach him on Twitter: @OwenCummings05!
•• ••
"Something We Are Overcoming" – DMA'S
— — — —
 © Kalpesh Lathigra
:: Stream DMA'S ::
---