Blaenavon's Ben Gregory takes us on a track-by-track journey through their beautiful, urgent, and intimate sophomore album, Everything That Makes You Happy.
— —
If Blaenavon's debut album That's Your Lot took us on a smooth journey from light to darkness, their sophomore record Everything That Makes You Happy makes the extraordinary case for mashing these opposing forces together constantly. Take, for example, album opener "I Want You", that is a selfless declaration of love but also feels like a song about heartbreak, or the absolute sonic euphoria of "Catatonic Skinbag", a self-deprecating chronicle of what it feels like to be deeply depressed.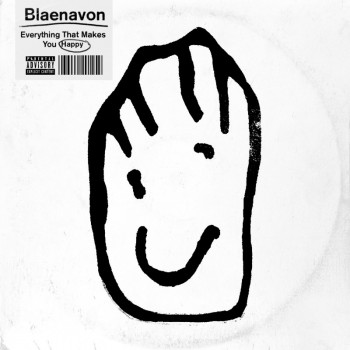 Everything That Makes You Happy, released today via Canvasback Music, was born out of inner conflict, a struggle with self, as frontman Ben Gregory was dealing with mental health issues he detailed in an open letter to fans earlier in the year. "Sanity's coming, he knows I'm sitting proud on the edge" became a prophetic lyric, written prior to Gregory's stress-related breakdown. In the midst of this internal, personal strife, also came the reflections upon how what he was going through was influencing those around him. The tension between external and internal forces in Gregory's life are heard on "Fucking Up My Friends", an upbeat pop song about how your mental state can affect even your closest relationships and on the theme of breakups and heartbreak that is peppered through the album on the gorgeous "This Song's Never Gonna Be The Same", ode to Lorde "Skin Scream", and "Quiet In Your Heart / Alone In Love".
But this friction is perhaps most acutely depicted on album closer and title track "Everything That Makes You Happy". It's frantic and lively sonically, but possesses an irony and self-motivating quality that complements the almost mumble-like vocal delivery which grows to a cathartic crescendo. The album ends with an emotional purge, a shedding of the skin, a high point that leaves you buzzing, all in exact opposition to the darker, more haunting sounds that open the record. There's no way to listen to Everything That Makes You Happy and not undergo an emotional transformation in the less than 40 minutes the album runs for.
It's been a long road to Everything That Makes You Happy, but its sheer existence is meaningful. Blaenavon are known for their lush songs and poetic lyrics, and their top-notch songwriting sensibilities, intertwined with the chaos of existence results in an album that's a terrific depiction of the drastic ebbs and flows of human nature and mental health struggles. It sounds beautiful, urgent, transparent, at times so intimate that it feels wrong to be inside Gregory's head, but ultimately it's easy to recognise what a privilege and gift it is to be privy to this project. Everything That Makes You Happy is acceptance of our darker side, and the celebration that something meaningful can come from even our most hopeless moments.
Ben Gregory shares a track-by-track analysis of each song on Everything That Makes You Happy below, giving more insight into the stories, feelings, and themes that shape Blaenavon tremendous sophomore album.
Listen: Everything That Makes You Happy – Blaenavon
:: Everything That Makes You Happy – Track-by-Track by Blaenavon ::
"I Want You"
"I Want You" is the truest lovesong on the album, steeped in romantic imagery of dedication and even obsession: "for love like ours I'd swim through rivers and oceans of tar". However there's a bitterness between the two lovers in the chorus: "it's how you said it with those eyes looking through mine like a bitter child, like a fading light." The protagonist seeks to overcome this with as clear a declaration of their love as possible with the recurring clarion call: "I want you".
"Catatonic Skinbag"
"Catatonic Skinbag" is a very silly song: an attempt to poke fun at the symptoms of deep depression. "Always tired, lacking desire". It focuses on the stage when one is barely living, simply existing and unable to move except to top up one's glass of red wine. It also challenges the effect this can have when one member of a relationship is stuck in this state: "I'm the last man that I'd ever date". The bridge underpins this theme most poetically: "find a series brainlessly easy and drink til I've a lolling head". The song is massively autobiographical, highlighting the position I was in through much of the writing and recording of this album and something I'm still trying to overcome today.
"Back This Year"
This song focuses on an attempted escape from a damaging relationship, which can lead one to this state of catatonia. Bending over backwards to keep someone else happy and giving up a part of oneself in the process: "I'm not the man I used to be, I've lost so many sides of me". However to free oneself from this dangerous codependence is tricky: "I won't be coming back this year but you say you need me still. I called so many times to make it clear but you won't listen at all." The impact on one's mental health can be catastrophic: "It showers down like acid rain to punish me, myself, my brain."
"This Song's Never Gonna Be The Same"
This song is about falling in love so deeply and so quickly that one enters a toxically intense state of emotion. However, it feels too good to be true and a strong sense of doubt creeps in: "you'll never be mine so you'll never be alone again" – the protagonist is suggesting he's not mentally fit to undertake such an impassioned romance. The most harrowing element of this song is how prophetic it became upon reflection. It's like my subconscious was warning me against fulling committing to a love which seemed to have a sinister tint. "Sanity's calling – he knows I'm sitting proud on the edge." Madness is a subject I've always written about, but rarely as poignantly. I guess the key theme is the power of love and how it can be such a life-affirming and destructive emotion at the same time. I fall in and out of love quite easily and in fairly regular cycles, often head over heels into relationships I know might be damaging. Maybe I'll get it right next time: "I'm nearly up in heaven – it'll keep on coming round again."
"Skin Scream"
"Skin Scream" is the ultimate breakup song. It wallows, it whines, it reflects, it regrets. This one again felt prophetic, foreshadowing the breakup I was soon to go through in pretty harsh and accurate detail: "I never thought I would be a memory but you're peeling all the posters of the walls – they're getting kinda empty." This happened when my mother took the trip to my ex-girlfriend's flat to pick up my stuff after I was released from hospital. I'm never gonna get over the "shit that [she] said" and for a long time afterwards I did feel I was "better off lonely". 'The song's never gonna be the same' was right and I was on the edge of sanity. I slipped off and then 'Skin Scream' picks up from the aftermath, the logistics, tidying everything up and removing the reminders of an intense, brain-shattering romance. I wrote this song with Lorde in mind and I hope that one day she hears it. Ideally we would perform it as a duet at the Grammys.
"Fucking Up My Friends"
This song was partially written about the mental health crisis. I'd grown up in a circle of young, creative, talented people and had long felt depressed that it seemed 60-70% of them really struggled with their mental health. I wanted FUMF to be an anthem about overcoming these issues and blossoming into adult life with a sense of confidence and triumph: "living in corridors ain't quite the cards I was dealt. I wanna dance with someone unapologetically themselves". It's a very honest song about breaking through pretences and indulging in ones flaws, desires and emotions: "I'm not tryna be anything I'm not – I just wanna fall in love." The song points at the damage I'd done by being dishonest and basically trying too hard: "I just wanna be enough for you and everyone else – I wanna spread myself so thin across the sky and wish the world good health." It's my favourite chorus on the album and the last song that was written for it.
"All Your Vanity"
This track is pretty straight forward. It's supposed to poke fun at the instagram vanity culture we so indulge in these days. "It's just a face – you know I could sell it". It's something I'm massively guilty of myself and I do like to be self-deprecating in songs like this and 'Catatonic Skinbag'. My generation is so intent on keeping up appearances that "even Narcissus would gawp". I like the imagery of staring into a mirror for so long that it fogs up and the wind turning around and leaving your face stuck as a frown. This and 'I Want You' were the first songs I wrote for the album.
"Never Stop Stirring"
"Never Stop Stirring" is probably the most optimistic song I've ever written. It's a pretty simple message: keep on trying dude and you'll get where you want to be. "If you never stop stirring it can't stay still – a little luck will fix it quick as a poison pill". I played violin on this song, which is pretty awesome. 
"Quiet In Your Heart / Alone In Love"
I love this song. It's sombre, mournful, steeped in regret, with a little nod to FUMF: "Another person you fucked up". The lovers have wronged each other and the song reflects on different attempts to hide the pain, before the eventual acceptance: "warm water makes the guilt get colder – freezes every memory." The voice inside the protagonist's head encourages them to forgive themselves and overcome this guilt: "don't feel bad, it's not worth your time to never feel yourself again." The end of a relationship can feel like the end of the world and this song nods to both parties and acknowledges their grievances, with the other lover taking their turn to speak in the final verse: "you'd die for them to wish you well – the quickest apology cos hell, sometimes time doesn't make it better." I'm still waiting for some apologies… There is sorrow on both sides and the two feel "alone in love" with the burning romance, once so strong, now "quiet" in their hearts.
"Everything That Makes You Happy"
Depression is a key theme on this record and the title track underpins it most succinctly. It begins with a misanthropic vibe: "staring at the pavement and hiding my face" and points to everything one should feel blessed for but simply cannot: "health and looks and fortune and everything that makes you happy." It's the only time the record takes a sarcastic tone. The protagonist's view of the world is clouded in discontent: it's "scary, soiled and rushed". The highlight in terms of imagery takes place in the 'airport' verse, comparing the protagonist's existence with such a dull location and humourlessly describing the scent as "between urinals and christmas cake". Each verse wallows but builds up in intensity before the chorus hits. Lyrically the song is waiting for a spark: "is it time? is it time?" but when happiness comes the character cannot cope with it: "look busy!" The track reintroduces the theme of catatonia in one verse: "how much is too much to drink alone? it doesn't matter when your eyes are closed. asleep in perfect pain." The final song on the album feels like a bold, brave statement of human dissatisfaction, building up from a gentle moan to a fully fledged scream: "EVERYTHING THAT MAKES YOU HAPPY!"
— —
?© Blaenavon 2019
:: Stream Blaenavon ::