Following the release of his debut single "Satellite", Kidgloves talks to Atwood Magazine about song inspirations, past experiences, and deep love for Rush.
Stream: "Satellite" – Kidgloves ft. Emily Brimlow
---
Instruments have been a huge part of my past. As a kid, I fell asleep with my bass across my body more times than I can remember.
Kidgloves is a musical endeavor by producer/songwriter Cody Aledia. His buttery, infectious indie sound paired with introspective lyrics, make his music the ideal listener's paradise. His latest single "Satellite" possesses all those irresistible qualities with soft, delicate arrangements and warm vocal tone. The reflective release focuses on the common obsession with being on our phones and how much of life we are missing because of this. The more we scroll through our feeds the less we are content with our lives.
As Aledia sings, 'Hey baby, I've been thinking long and hard. Now lately, I'm not feeling satisfied.' Constantly comparing ourselves to others, too much time spent on social media can often lead to a decline in mental health. People though have gotten used to devoting countless hours to their mobile devices and just accepting that as their way of life. In the chorus he again mentions satisfaction: 'Now and then it feels we're running on a satellite running out of time/ to say the way I feel, I feel like I could lose my mind but we all seem satisfied.'
Unfulfilled by following in his sibling's footsteps pursuing competitive sports and academics, Aledia took the more creative route. Using music as a form of self-expression, he inherited the musical gene from his father and grandfather. The singer picked up his first electric bass at only 12 and that set the tone for a sustained career in the arts. Now writing and producing in Los Angeles, it is through these collaborations he has found his true voice.
— —
Stream: "Satellite" – Kidgloves ft. Emily Brimlow 
A CONVERSATION WITH KIDGLOVES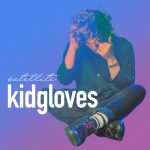 Atwood Magazine: Your compelling single "Satellite" examines society and the fact that the world is moving so fast as we are all glued to our phones. Can you explain your song's inspiration in more detail?
Kidgloves: The idea really came out of a conversation with friends last summer while we were hanging out at an analog studio, the Skipper Room. It was 3 a.m. and we were musing over a much simpler, slower lifestyle. When you walk into a place like that, it's hard not to- all the gear is from the 1960s, there's this massive analog switchboard, you've got Miles Davis staring at you on the wall. And it had been in my head lately, the idea of a computer constantly glued to the palm of my hand. Is it really helping? I don't know. When I moved to LA from New York, my girlfriend and I got flip phones as an experiment – or maybe an antidote after the crazy buzz of the city – but I ended up going back to my smartphone after a while. I felt like I was living on a time delay when it came to my musician peers. So isn't always easy to disconnect, but it's pretty easy to just ditch the device in your pocket every once in a while.
The track features a minimalistic soundscape with your smooth, emotive vocals at the forefront. You also collaborated with your friend Emily Brimlow to add an extra layer of dynamism with her stunning vocal tone. What was your process like when perfecting the track and how did you come to the decision to team up with Brimlow?
After tracking the original demo, I did a ton of experimentation. At one point the song was really production heavy, synthy and pop-modern. But something was lost. I wanted the theme of simplicity to permeate as much as possible. After I added and added, I removed and removed even more – it took a lot of restraint. At the end of it, I realized I pretty much had the original demo in terms of instrumentation, and there was something fitting in that.
I was producing some of Emily's music at the time, and shared the track with her – she dug it and immediately got what I was going for. We were collaborating on so much then so I think we were just in sync. I left the 2nd verse unwritten and she came over and we finished the lyrics in an hour or so together at my studio in Pasadena.
"Satellite" came to you while pondering over the nostalgia of the past with friends. What is something from your past that has really stuck with you?
The first thing that comes to mind is how I would lock myself in my room as a kid, playing my bass guitar for hours along to my favorite CDs of the time. Instruments have been a huge part of my past; I grew up playing in the youth orchestra. As a kid, I fell asleep with my bass across my body more times than I can remember. It was so easy to lose track of time back then. Of course when you're an adult you have more responsibilities, but the dedication and time spent exploring my musicality has never changed. The gear is just more expensive!
Speaking of the past, your name comes from your favorite childhood band Rush. How were you first introduced to the musical group and what made you decide to choose your title after that specific song?
When I was starting to learn the bass guitar at 13, my dad handed me a Rush CD Farewell to Kings and challenged me to learn every note on the album. It was super far out from anything else I was listening to at the time…but I loved it. It was the first time I had heard a rock band play and compose symphonically. I was studying Mozart and Tchaikovsky, and the parallels between them and Rush were uncanny. As a kid in the orchestra, my mind was pretty much blown.
"Kid Gloves" is the name of b-side Rush track. The beginning lyrics read 'a world of difference, a world so out of touch, overwhelmed by everything but wanting more so much'.That resonated with me, especially as a producer. Handling things with "kid gloves" is a perpetual focus point.
You have worked as a musician in NYC and now you are based out of Los Angeles. How would you say the music scene differs in each city and how has each place shaped you as an artist?
To me, the NY scene felt nearly the polar opposite to the LA scene. In my experience, most of the cats in NYC are exclusively focused on hustling live gigs, whereas in LA most musicians try to tap into the recording industry, producing for other artists, co-writes, basically anything they can do inside of their house or apartment. We are much more isolated and spread out here in LA.
That being said, there is such a wonderful and vast community of artists/songwriters in the LA scene that are usually just a DM away from collaborating. I've noticed that musicians/songwriters in LA are really open to doing co-writes. It's part of the fabric here. It's difficult to break into any scene as an artist, but LA has pushed me to create value for others and build long lasting relationships with other collaborators by investing into them as much as I am investing into myself.
Inspired by a musical father and grandfather, music runs through your veins. You have dedicated yourself to a career your grandfather was unable to pursue. How do you feel your family has paved the way for you to achieve your dreams?
My dad is an incredible musician/songwriter and was always in bands growing up, gigging and traveling most weekends. His dedication for music came from his father, who emigrated from the Philippines during WWII on a full ride music scholarship. Grandpa was always pushing my dad and I to dig deeper into our craft, introducing us to artists like Bing Crosby, Frank Sinatra, Dean Martin, etc.. When my grandpa was a young man he made the decision to pursue a career in medicine over music so he could safely provide for us. My dad was his first son and when he gravitated towards music my Grandpa did everything that he possibly could to support him, including letting my dad ditch college and buying him a van to tour in with his band. Grandpa was essentially my dad's bands record label. He was the most generous person on the planet – most of what I do is a tribute to him.
When you were young your grandfather passed away and you poured yourself deeper into your music. How has he inspired you in your life and are there any powerful words of wisdom he bestowed on you?
His influence on all of the Aledias is literally endless. One of the things that always stood out was his selflessness and loyalty to his family. He was so proud of all of us, supported us in every way and expected very little in return. The only time I ever saw him truly upset was when my brother and I found his secret stash of ice cream in the basement freezer. My first job was at a Cold Stone Creamery when I was 15 and him and my Grandma used to visit me every single Saturday afternoon. My Grandpa would put a $20 bill in the tip jar just so he could hear me sing. He loved my voice long before I ever did.
Other than your musical family, are there any other experiences you can recall that sparked your love for creating music?
I have been fortunate enough to have some truly amazing musical mentors in my life. My school's orchestra director Doug Wright had a tremendous influence on my growth as a musician. He was a bass player himself and was always pushing me – he was relentless, in the best way. Our class worked so hard because we respected him. and it just would not have been the same without him there. My Grandma also did so much for me throughout my life and especially when I moved to NYC from our small hometown in Ohio. She has been there for me through some really difficult times.
During this new normal the world is facing, how are you staying connected to your fans and what projects have you been working on?
Collaboration has been more important than ever lately. I'm focused on releasing music consistently, writing, and featuring other artists. My friend Elizabeth Woolf and I wrote and produced a song completely through Zoom calls, and we're getting ready to release it this month. For better or worse, social media has also been a huge part of it all- it's the best way to personally connect with fans these days, even though it can sometimes feel a bit daunting.
Lastly, are there any artists you are listening to at the moment that you can recommend to our readers?
I am loving the latest Phoebe Bridgers album. Madeline Cunningham's Who Are You Now album also keeps me up at night.
— —
Stream: "Satellite" – Kidgloves ft. Emily Brimlow 
— — — —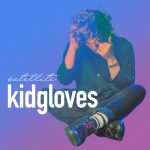 ? © 2020 

:: Stream Kidgloves ::