Tom Grennan's second album, 'Evering Road,' is an unashamed profession of heartache, longing, and the road to personal growth.
Stream: 'Evering Road' – Tom Grennan
---
A cheeky geezer with a cool aura, Tom Grennan could easily pass as a typical Jack the Lad, but dig a little deeper, and this Bedford boy is completely unafraid of his emotions and sharing them with the world.
Grennan had considerable mainstream success with his debut record "Lightning Matches," which reached number five in the UK Albums Chart, and featured the belting track "Found What I've Been Looking For" and flirtatious offerings like "Royal Highness" and "Secret Lover." Throughout Evering Road, released through Insanity Records, the singer-songwriter occupies much the same sonic landscape, but this second record feels tainted with pain and is elevated by its much more raw approach.
Evering Road in West Hackney is an unremarkable location to most, but to Tom Grennan, it's the geographical hallmark of love, and subsequently, a toxic relationship that inspired his second studio album. Speaking of the new record, Grennan told The Metro that he became toxic in a previous relationship as he couldn't find the strength to love himself. After a painful breakup, the talented songwriter created Evering Road for some much-needed catharsis and, in turn, discovered a completely new outlook on life, the wherewithal to own up to his mistakes and a need for growth.
Evering Road is definitely a single-led record, with highlights including "This Is The Place" and "Something Better." Audibly, "This is the Place" is a simple pop hit filled with building hooks and bright synths, but it's in the lyrics that Grennan proves his artistry. While detailing his own heartbreak and sadness, the singer gracefully avoids falling into the distasteful egocentric trap that many artists do. "Something Better" tackles themes of adversity with similar grace, a glistening falsetto, and funk-fused brass instrumentals.
Another notable moment is the record's fifth single, "Little Bit of Love." The track's lyrics, "These awful wounds ain't healing//Tryna find my way back to you//'Cause I'm needing a little bit of love," were inspired by a romantic relationship, but at the song's core are themes of unconditional love and belonging. That's why, when it came to the music video, Grennan and director Keane Shaw reinterpreted the song's meaning to scrutinize toxic attitudes to masculinity faced in working-class areas.
However, it's not only the singles on Evering Road that leave a distinct mark. "Sweeter Then" is a jazz-influenced delight that slowly burns into a soulful gospel-esque chorus. The embracing track is a humble promise of growth and reinvention, which is clearest as he sings, "I've been trying to be a better man." "It Hurts" is another non-single success. While the track doesn't lyrically match up to "This is the Place" or "Sweeter Then," the song has a stand-out R&B production that is a welcome addition to the record.
Watch: "Little Bit of Love" – Tom Grennan
Two things that remain unfaltering throughout Evering Road are Grennan's fervent gospel-quality vocals and his graceful lyrical tact. With a sultry gravel tone and a piercing falsetto, Grennan's voice is nigh-on impossible to criticise. The vocal light and shade on "You Matter To Me" is a stellar demonstration of Grennan's emotional musicality, and his vocal power on the bass-driven "Oh Please" is enviable.
While Grennan's sophomore album is not an overly adventurous step for the singer, it is a wonderfully emotive, sincere, and forthcoming piece of work that highlights not only Grennan's musical talent, but also his emotional maturity. Evering Road is a powerful record and quintessentially Tom Grennan.
— — — —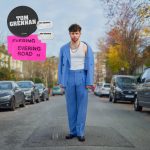 ? © 2021
Evering Road
an album by Tom Grennan
---