This Pride Month, Atwood Magazine has invited artists to participate in a series of short essays in observance and celebration of the month's significance. Today's submission comes from Miami-based R&B singer/songwriter Jada Michael!
"Ready to GO"
an essay by Jada Michael
•• ••
To me, Pride signifies something of such importance that the emotions involved often become complicated.
While part of me glows in light of all the progress we have made, such as seeing representation in the media or pride flags on different logos, this validation is often fleeting. As I celebrate myself and my community, I can't help thinking about our safety. Outside of the parades and festivals, there are so many people within the LGBTQ+ community that are still enduring abuse. So, for me, Pride 2022's vibe hits the whole damn spectrum; fear, mourning, joy, but most of all, hope.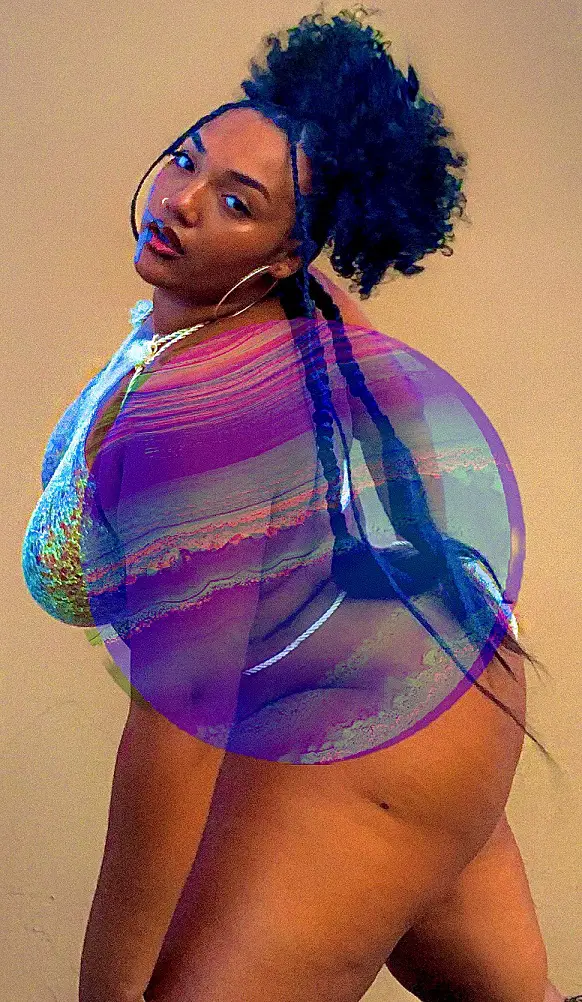 I hope for full integration of our history within the education system. We are long overdue for full access to our history and accurate representations within such systems of learning. The new generation not only deserves this, but will soon demand it. I hope for physical and emotional safety for the LGBTQ+ community. I hope for proper support and lifelines for those who are robbed of that safety. However much the list may feel never-ending, there is still so much to be done.
So many people are forced to withhold their true identity due to safety concerns, so I feel incredibly grateful to be able to express myself in a way that both makes me happy and is incredibly fulfilling. Within my upcoming project, I have been able to focus on sharing a vulnerable side of myself, which in it of itself is becoming incredibly rare within our society.
Throughout June and Pride 2022, I have been working on my next single, "Go" and its proceeding music collection.
Directing and styling my first simple visual was definitely a harder task than I anticipated, but I could not be happier with the opportunity it has granted me to learn and grow.
"Go" is inspired by my own personal journey navigating out of abusive relationships. I battled a lot with the thought, "how can I leave my abuser, when it is their own horrific abuse-stemmed trauma that causes them to hurt me?" While this applies to many people, it is a uniquely terrifying experience for queer people of color. An unsettlingly high percentage of my past partners, family members, and friends, have endured emotional, physical, and/or sexual abuse throughout a majority of their lives. So, when a person I loved would release that pain onto me, it was hard not to excuse it due to the underlying belief that the experiences that caused this behavior was out of their control. Even after, if they apologized for the repeated abusive behavior, it became hard not to acknowledge the fact that they are often trying so hard to break generational and toxic familial curses.
However, "Go" embodies the answer I have come to recognize:  I deserve the understanding and respect that I am giving! I also deserve LOVE! So, if while evaluating the balances within a relationship, you discover that being there for the one you love means neglecting yourself- GO!!! This does not mean you do not have love for them, it just means you are loving yourself more. The empowerment from that realization has also brought me closer to the thing that brings me the most peace in life, which is music. I feel entirely ready to jump in and pursue that dream full force, which is why this song means so much to me.
"Go" marks a spiritual 'coming of age', one that is happening in a time where I have finally established what I do and don't want out of my life.
That shit took a lot of time and self-reflection. I have not released music in two years, and until recently, have not posted on social media for a little over a year. That initial halt happened near the beginning of the pandemic, when I was hospitalized for my mental health after experiencing suicidal depression, self-harm, and feeling completely drained from some of my personal relationships. Part of it stemmed from not fully realizing my place within this life, as a person whose personal desires never seemed to align with society's desires. This experience I have found to be a very common one within the LGBTQ+ community. I got to a place where I truly did not know if a person like me, could be meant for a society like this. However, with patience and love, I have been able to shift to being my own source of life, which I think is fucking awesome. Everyone reading this, especially in the queer community, I hope that this lesson finds you in some way too.
Thank you for the platform that allows me to share my authentic self. It is a rare opportunity that I cherish deeply. To the queer audience: There is someone out there who loves you for who you are, and they will find you. You, as you stand today, are a gift from the universe. – Jada Michael
— —
Stream: "Go" – Jada Michael
— — — —
? © 2022
:: Stream Jada Michael ::