*This is the third in a series of exclusive articles about the forthcoming Cool Dads EP, being released publicly soon.*
As previously mentioned, when you constantly tour with internationally famous musicians, you're likely to have some inspiration rub off onto you, too. This is expressly true in the case of Danny Carissimi and Jay Bonisolli, the respective touring manager and merchandise manager for Atwood Magazine favorites The Griswolds, who have undeniably cultivated a culture of fans all their own–and the fascination has only continued to grow, and stick. Most recently, the two revealed that they have been working on their own debut EP, entitled Cool Dads. The EP, curated entirely from the brains of Carissimi and Bonisolli, features production from The Griswolds' drummer, Lachlan West, and guitarist Danny Duque-Perez, as well as an interlude track starring bassist Tim Graham. A six-track, inimitable gem of a record, Cool Dads blends cultural phenomena with impressive musicality.
Whoever came up with the idea that a song needs to be serious in order to be 'good' is grossly mistaken. Musicians have been poking fun at their craft for years, and have seen an incredible amount of success in doing so (re: Weird Al Yankovic and The Lonely Island). Just because a song isn't always serious in its content or themes does not detract from the overall quality of a tune. Enter: Cool Dads' "This is My Dream."
The third track to be released off the Cool Dads EP, "This is My Dream," offers a much more "traditionally" hip-hop sound, taking a sample from South Park and maintaining a whirring instrumental as a backing track throughout the 3-minute tune. Bonisolli's rapping feels effortlessly honed as well, gliding through the track with proper finesse and commendable ability.
"This is My Dream" might feel even more over-the-top than its predecessors, however this does not hinder from the track's overall prowess. Bonisolli perfectly plays into the EP's overarching theme of cheeky jocosity, allowing for his dad character to reach peak ridiculousness.
Moreover, "This is My Dream" is also the first track to be released that has a true "verse-chorus-verse" style, offering significantly less redundancy than the two previous tracks. "This is My Dream" allows the opportunity for dad to really show off his intense personality.
The tune itself falls in the middle of the EP, taking advantage of the opportunity to progress the record's continuing storyline. It allows for dad to express himself more fully, and gives listeners the chance to further attach themselves to the overall narrative.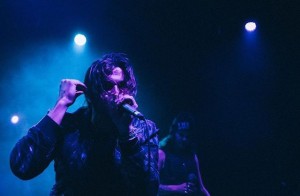 "This is My Dream" is every stereotypical (sports) dad to a tee: obsessed with their child being the best of the best, getting upset at everyone else when they're not, and subsequently making it all about him in the end. "This is My Dream" is your dad at all your basketball games when something doesn't go quite right; it is the epitome of dad culture at its dad-est.
Though the song is undoubtedly supposed to be taken lightly, its musicality is still present. It masterfully blends punctuating beats and whirring synth with Bonisolli's confident rapping, as he–somewhat aggressively–croons about just how important it is for his son (Jeff) to be perfect. Or perhaps he is secretly lamenting his own imperfections?
Bonisolli and Carissimi have undeniably fostered a unique freshness with their Cool Dads collective, one that should certainly not be overlooked. Though they are admittedly ridiculous in their content and themes, the musicianship is still wholly there, and the subsequent result is something entirely commendable. Cool Dads may have started as a side project, but it is now very obviously, very swiftly, and very impressively approaching the fore.
Follow Danny: Twitter // Instagram
Follow Jay: Twitter // Instagram
Listen: "This is My Dream" – Cool Dads
*Part 4/5 will be available soon. Stay tuned!*