MUNA's "Number One Fan" celebrates the importance of rooting for, believing in and fangirling over yourself.
Listen: "Number One Fan" – MUNA
MUNA have returned from their two year post-album hiatus with their infectious self-love single "Number One Fan". The driving synth beat paired with vocalist Katie Gavin's words cut through the silence to start the track with a force:
So I heard the bad news
Nobody likes me and I'm gonna die alone
The downturn opening mood swiftly changes to become the empowering first single off the band's sophomore LP, Saves the World (RCA Records / September 6, 2019). Appropriately released during Pride Month, "Number One Fan" celebrates the importance of rooting for, believing in and fangirling over yourself.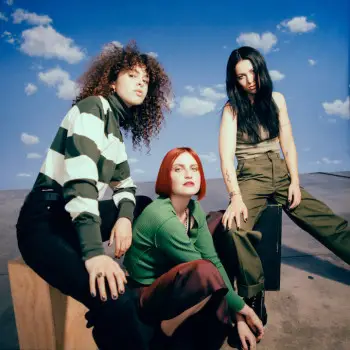 All three members of MUNA identify as queer, marking the band as a beacon for the LGBTQ+ community since the start. Rebuffing gender specific pronouns throughout their work and requesting gender neutral bathrooms at their live shows are just a few examples of their awareness and dedication. "Number One Fan" is a welcome promise of that continued commitment throughout their next album and tour cycle. The track also shows the band's allegiance to creating radio friendly music that never fails to carry a message regarding real life.
"Number One Fan [is] a song about recognizing the negative voices in your head and learning to speak back to them," MUNA wrote in a press release. "It's a joyful and surprising experience to recognize that, just as we can all be our own biggest haters, we can also decide to be our own biggest fans."
In the thick of it
Will you stick up for me?
In the thick of it
Are you gonna believe that I can do it?
Love me in the way that only you can
Be my number one, number one
The track is fun, refreshing, danceable and incredibly powerful while also feeling effortless. Gavin's vocal work remains specific and unique, featuring a lower tone and unmistakable emotion. The other two thirds of the band, Josette Maskin and Naomi McPherson, share songwriting duties, instrumental and production work. The three women are a force to be reckoned with, redefining what it means to be a female pop band. Dripping with emotional integrity and explicit compassion, the intention behind their work is unmistakably genuine.
That authenticity rings especially true when it comes to the timing of MUNA's second album. Fans and critics alike have anticipated Saves the World after the success and acclaim of their debut, About U. Still, MUNA respected the process and refused to rush their sophomore LP. The goal has always been to put out their best, truest work.
Watch: "Number One Fan" – MUNA
"I think we are an album band," McPherson told Billboard, "and it was important for us to feel like we were mature enough to make a unified statement with a record. That was our number one priority."
MUNA has undoubtedly honed in on their sound over the past two years, and the increased confidence is unmistakable. Though "Number One Fan" clearly fits into MUNA's overall style, it's a fresh and punchy take on their former work.
MUNA's unwavering dedication to their fans, community and work makes them so compelling in a universe driven by instant gratification. Gavin, Maskin and McPherson take their work seriously, and their clear vision is undeniable and admirable. "Number One Fan" is a message MUNA needed while working on their album through writer's block and self doubt. It's also one we should all learn to remember. "Number One Fan" reminds us that we must love ourselves to truly enjoy all that we deserve, and MUNA's the perfect band to deliver that message.
— —
— — — —
? © Isaac Schneider
:: Today's Song(s) ::
:: Stream MUNA ::