Zeshan B, a first-generation Indian-American hailing from the Windy City, makes the most of his compassion and political drive on sophomore album 'Melismatic'.
— —
2017 was a memorable year for Zeshan Bagewadi, who entered the scene with the release of his debut album Vetted.
That was the year the Chicago native gained his first instances of national exposure, both by means of Rolling Stone and The Late Show with Stephen Colbert. He also got his discography going strong with Vetted, a cover album that demonstrated the singer's multilingualism- these renditions were done in English, Urdu and Punjabi- and passion for social justice, which came across especially vividly in the video for his take on George Perkins' "Cryin' In The Streets."  
Three years later, Zeshan B is back with his new LP, Melismatic. While the songs here are all original this time around, the political fervor in his music is every bit as strong as before. An anthem as fiery as "Brown Power" would have been effective in just about any context, and in a year as turbulent as 2020 has proven to be, its release comes across as especially timely. Elsewhere, Zeshan demonstrates his admiration for the "the amazing South Asian women who have influenced me throughout my life" (as explained in an interview with NPR) on "Nausheen" and puts his mind to "uplifting the ones who have been discriminated against" (as told to The Fader) just about everywhere.
Zeshan B shares his dual love for music and political activism with Atwood Magazine.
— —
Stream: 'Melismatic' – Zeshan B
A CONVERSATION WITH ZESHAN B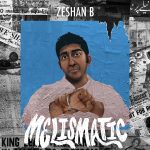 Atwood Magazine: Your first album, Vetted, was a cover album; the follow-up, Melismatic, is your first release of original pieces. What do you see as the critical similarities and differences between each format of music?
Zeshan B: Both Vetted and Melismatic are similar in that they are honest and that they reflect the realities in my life at the time I released them. By that I mean when I released Vetted, I had just started to graze the surface of my own compositional voice and was miles away from being comfortable with it. And then after I released Vetted in 2017, I spent the next three years trying to settle into that compositional voice which resulted in Melismatic.
As far as differences, I'd say Vetted was much more cohesive in that all of the songs were of a similar "ilk". They could be categorized with ease in some ways whereas in Melismatic, there's less of that genre unity between the songs and rather more of a common strand (i.e the melismas) between them. Also Melismatic is far more vulnerable – after all, it's nothing but my own voice, my own compositions and my own sentiments.
You're quite keen on using your music as a platform for sociopolitical commentary. What topics were you particularly keen on covering as you made your way to the recording booth to make Melismatic? How did you structure the ensuing album accordingly?
Zeshan B: Well, I wouldn't say it was structured insomuch as it was more sort of "day by day". In other words, I didn't have any particular agenda in mind when I started writing these songs; rather, I just went with exactly how I felt on that particular day when I was in the studio. But as it turned out, I was inclined write about the things that were on my mind or that perturbed me during those particular days- misogyny, gender inequality, racism, income inequality, urban blight, global warming- these are all things that especially affect millennials like me so it felt only natural to write about them.
As an American citizen with Indian heritage, what are some important steps in assuring that your music appeals to people in both regions?
Zeshan B: To be very honest, I don't really concern myself with whether my music appeals to people, regardless of whether they're in India or the US or anywhere else. And perhaps to my own detriment, I've gone about my career with that sort of attitude. Now obviously if my music resonates with people, it's superbly gratifying! But I don't write, record, release or perform my music for the purpose of appealing to people. If I did that, I think the result would be inauthentic to me. For example, if I really wanted to appeal to audiences in India, I would more or less have to write cheesy, ear-candy Bollywood tunes replete with computerized patch instruments only and with vapid lyrics. But that just wouldn't be me!
I think the best I can do is simply write stuff that evokes the very best of both the Indian and American musical idioms/aesthetics that I've been so fortunate to soak up throughout my life.  Like the incredibly rich ragas that are the foundation of Indian folk and classical music. Or the complex harmonies that we hear in American jazz and soul. That's where the love is!!
What are your personal thoughts on the term ''Brown Power''? How do you convey this in your lyricism and other outlets?
Zeshan B: The construct of Brown Power is the consolidation of political, social and economic resources of all melanistic people who, despite having vastly disparate cultural narratives, share a common oppressor (i.e. the well entrenched forces of white supremacy). Wow I love writing that out! Maybe we should update Webster's dictionary to include this definition? That in itself would be an act of Brown Power, don't you think?
I think I convey Brown Power by simply being truthful to myself, my family and my people and by also advocating for humanity that which I would want for myself. I don't have a large following for living my life in this way. I continue to struggle to survive as an artist. But I sure can sleep at night!
Your first major instance of national exposure was performing ''Cryin' In The Streets'' on The Late Show in 2017. In hindsight, what do you think made that the performance the breakthrough that it was for you?
Zeshan B: I have to say it was the sheer awe (if not panic!) at having to perform in front of 10 million Americans is what made that a watershed for me. Never before had I experienced something so grandiose. But also what made it special for me is despite the high stakes and pressure, I did not cave into the suggestions of some people around me (who were well-meaning, no doubt) to perform something less overtly political than "Cryin in the Streets". In hindsight, I feel gratified that I didn't listen to them!
How did your virtual album release party go on May 22nd?
Zeshan B: It was ok! haha. I say ok because there's really nothing that can replace the feeling of performing LIVE for an actual LIVE audience. With people breathing in the same room. With the sounds of the room and for that matter, the sounds of "life" in general. I mean don't get me wrong, I think it's great that everyone's trying to make things work during this pestilential pandemic, and I'm super grateful to Blue Note NYC for imbibing that resilience and keeping the music playing and giving me the opportunity to do my release show.
But I guess you might say I've just been "spoiled" over the years with the exhilaration of playing for a live audience in a live setting and with my band mates and I cookin' on stage! I'll say this though: I will NEVER take any of that for granted again! God knows when the hell this pandemic will subside but, boy when it does, I'm gonna kiss the first stage I perform on!
You're a proud Chicago native. What are some actions you have taken that truly reflect your passion for your hometown?
Zeshan B: Oh man, so many! You know, for all of its world class, Chicago is still at the end of the day a Midwestern town in that the people are warm, friendly and honest. It's almost as though the arctic weather has caused us to adapt in such a way that we retain that warmth within our very selves. And consequently I have continued to retain that warmth in myself here in NYC despite the fact that people here on the east coast are in my opinion, remarkably "different" in this respect, which makes it quite difficult to be warm when the people around you don't reciprocate it. But I feel that I owe it to my beloved hometown to hold onto these values!
And I gotta tell you this has quite the trickle-down effect. Like even with going about my daily business, whether it be important things pertaining to my career or even mundane things like getting groceries, I constantly remind myself to be grounded in the Chicago, Midwestern charm that is very much part and parcel with me- because like I said earlier, things are different here. People in Chicago value long-term relationships instead of short term gains. Not everything has to culminate in some important end-goal for a Chicagoan. Not everything is about posturing and social climbing. We listen to each other. We are giving of our time and energy. Here on the East Coast… eh, not so much. Which is perhaps why I've gotten so bogged down from being here that I recently hung up the Chicago flag in my apartment! No joke, it has seriously boosted the morale of my wife and I! Because it reminds us of our beloved hometown and also reminds us that our move back to Chicago is just around the corner- we're coming back home in 2021! Thank God!
Once the pandemic settles, what are some ventures in music and/or social activism that you hope to engage in?
Zeshan B: If it's one thing that this pandemic has forced me to reckon with, it's my interests/skills outside of music. And let me tell you: there's not too many haha. But nevertheless, I'm working on creating some interesting content in the way of a cooking show and/or an easy-to-digest academic lecture series.
And then like I said, I'm SUPER excited to move back home to Chicago in 2021! I plan on fostering my own community of artists, activists, curators and organizers through my existing networks and bringing about meaningful reform to our city, our country and for the world. I plan on applying for dual citizenship with India so that I can keep the strong connection to my roots and work freely there too.
— —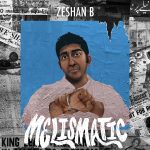 ? © Harris Ansari

:: Stream Zeshan B ::
---