HYLLS blends deep reflection with catchy warmth in "Timeless," inviting us to ponder our place in the world while grooving to sweet tropical pop vibes.
— —
Who do you want to be in life, and what kind of legacy do you wish to leave behind? For those of us who have the privilege of making such destiny-determining decisions, the answers lie forever just out of reach. You can pursue an entire career believing you're on the right path, only to find, later on, that you're being pulled in a different direction. Uncertainty gnaws at our confidence, an everpresent and looming force that can shake us to our very core. Thus, it's always good to check in with ourselves to figure out where we are, why we're there, and if that place is right for us.
HYLLS blends deep self-reflection with infectiusly catchy warmth in her new song "Timeless," inviting us to ponder our place in the world while moving and grooving to sweet tropical pop vibes.
The brightest sunrise
comes from the darkest nights
led by starry lights
I walk for many miles
The longest days
are when I have paid
my dues in droves
and so I wait
Listen: "Timeless" – HYLLS
[soundcloud url="https://api.soundcloud.com/tracks/450445512?secret_token=s-mirHf" params="color=ff5500&auto_play=true&hide_related=false&show_comments=true&show_user=true&show_reposts=false" width="100%" height="166″ iframe="true" /]
---
As an artist, you always want to leave something for the world to have once you're gone.
Atwood Magazine is proud to be premiering "Timeless," the fifth and latest single from HYLLS, singer/songwriter Nadia Ali's new project. A Billboard chart-topper ("Love Story") and mainstay within the electronic and dance music scenes, Nadia Ali has a voice of gold and the lyrical prowess to boot. Her new music marks a distinct transition in an already-noteworthy career: Introduced in late January through debut single "All Over the Place," HYLLS serves enchanting indie pop through an intimate lens.
Working with a still-anonymous team of musicians, HYLLS finds Ali combining her extensive work in EDM with lighter pop melodies and provocative, poetic lyrics. She takes the best of both worlds to deliver an undeniably fresh sound: The project's most popular song to date is "Linger," a heartfelt ballad that finds Ali stretching her already-evocative voice to new lengths as she lays her soul on the line, supported by light synths, cool drums, and shimmering bells.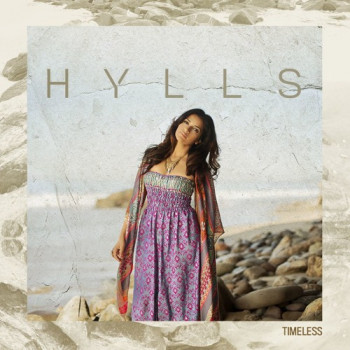 HYLLS feels much like a musical diary: Nadia Ali's feelgood, enticingly pristine music is further propelled by powerful lyrics and utterly mesmerizing performances. Nowhere is this more true than on "Timeless," an incredibly personal song about the individual's journey of self-discovery, our desire to leave something meaningful behind, and all the assorted hopes and fears attached to these notions.
"Timeless" is tropical pop perfection, an intoxicating summer song ready to get us through the long hot days and cool, sweet nights. A warm, vibing rhythm accompanies Ali as she sings a familiar story of passion, uncertainty, and perserverance.
Maybe I'll stumble and go astray
I won't fully know until I break
Pass over the valley once I am brave
One step could take me all the way
Slowly I might reach my destiny
I wonder what's on the other side of risk
I trekked with all of that heavyweight
eventually I might meet the day
This leads perfectly into the song's bold, downtempo chorus. The percussion drops to the background as Ali's vocals take their deserving center stage in a touching outpouring of intimate hopes and fears.
All of my life
I looked for the signs
to get to a place
Where I would be fine
The wildest of skies
follow stormy nights
and I hope I leave something
timeless behind
"A few years ago, I slowed down the pace of my touring and had some time to reflect on everything," Ali tells Atwood Magazine. "I felt like I had reached many of the milestones in my life, but still had this feeling of uncertainty. There were several months were I actually felt anxiety about the next chapter of my life. At a certain point, I began to realize that I was spending too much time worrying about a lot of factors that were out of my control. I came across a few books that helped shift my perspective and get me back on my optimistic path. The "Alchemist" was one of those great books, and the imagery inspired the lyrics for 'Timeless.' The message in the song is that as an artist, you always want to leave something for the world to have once you're gone. A lot of what I took from the book was that both the good and the bad are necessary, and I think the more you go through the peaks and valleys, the more you have to offer."
"Timeless" rings out with deep truths and sweet, delightfully tasteful electro-pop sounds. HYLLS' fifth release is as spirited as it is pure of heart, its resounding message leaving us feeling refreshed and invigorated. Out everywhere this Friday, "Timeless" is sure to push HYLLS further into the spotlight, so be sure to lend this song your time and energy as it whisks you deep into yourself, inviting questions for which there are no direct answers.
— — — —
? © Jade Young
:: Stream HYLLS ::