Keren Ilan's raw debut single "This Morning, Yesterday" reflects on how we deal with difficulty, channeling longing, loss, and bottled-up pain through an expressive array of indie rock charm.
I have broken my heart this morning and yesterday…
We all deal with difficult emotions differently: From artistic expression to total numbness, the range of human response to the most powerful of feelings is vast and well-documented. Yet for all our advances in technology, we are still subject to our individual inner workings: Those mechanisms we feel so strongly tend largely to be in the driver's seat throughout hardship and distress. Keren Ilan's raw debut single "This Morning, Yesterday" reflects on how we deal with difficulty, channeling longing, loss, and bottled-up pain through an expressive array of indie rock charm.
The way I'm shifted so easily
makes me doubt the truth.
I am not a true one,
I am all in one
and I can be better
as the right time comes
Atwood Magazine is proud to be premiering the music video for "This Morning, Yesterday," Keren Ilan's debut single off her forthcoming debut EP of the same name (out August 2019). A cryptic, beautiful, and emotionally volatile song about loss, heartbreak, and unavoidable changes, "This Morning, Yesterday" serves as an exciting introduction to the Vietnam-born, Tel Aviv-based artist with a deep connection to words and the meaning behind her songs.
"Many of my poems are written subconsciously about finding a certain place," Ilan explains. "Myself, a home, a lover. Most of my songs seem sad because when I am going through an intense patch- I find a lot of comfort in words and they spill out of me like water – emotions take over. I usually pick the guitar up and jam with myself until I find it perfectly suitable for me, words may change but the basis of their meaning remain."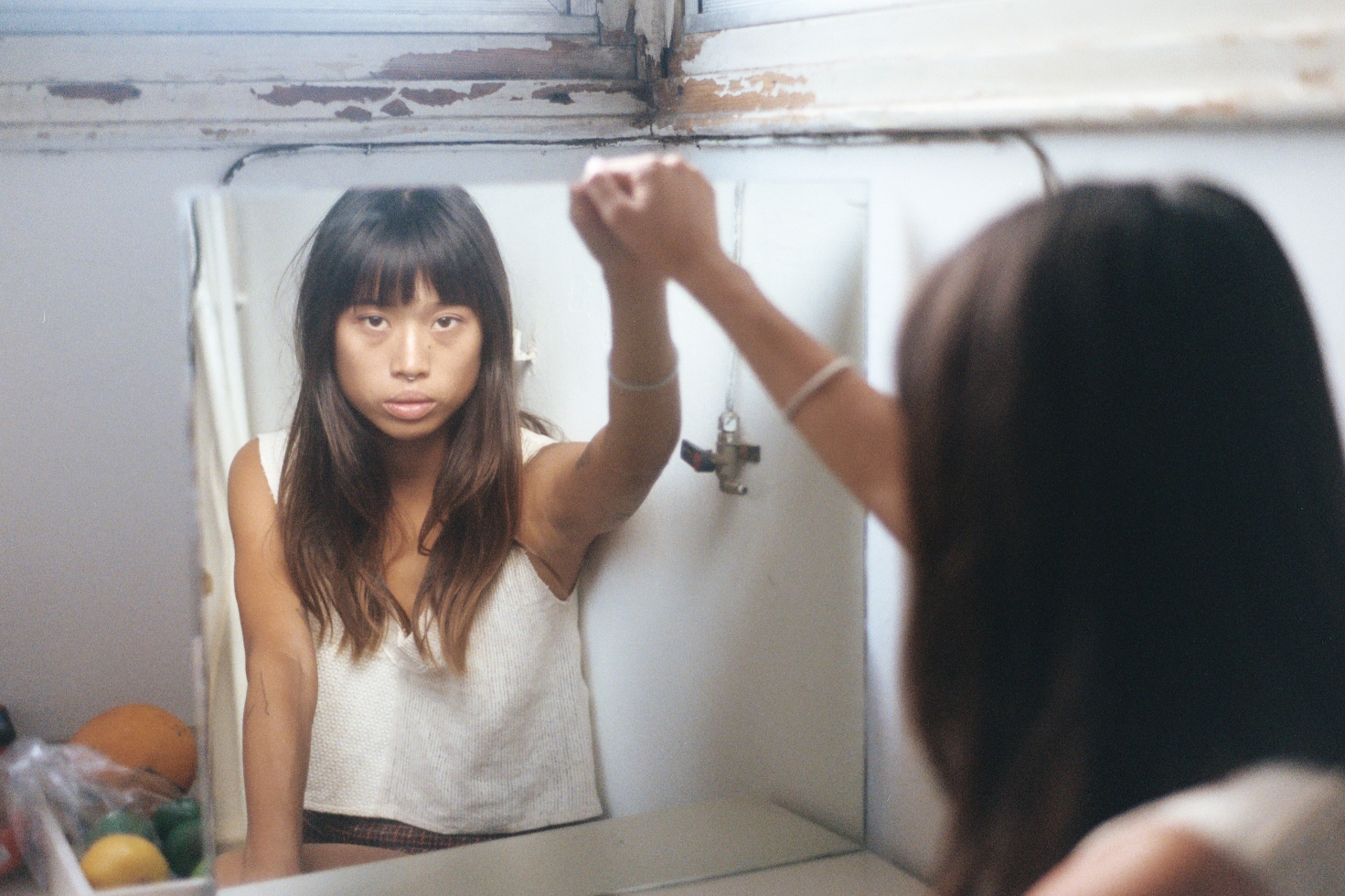 There's no place like
the place you know
Although every place
can be your home.
but if home is where the heart is,
then my home is nowhere.
because I have broke my heart
this morning
and yesterday
As it is Ilan's very first single, there is only so much we can rightfully glean from "This Morning, Yesterday" without making too many assumptions about the music to come. As an entity in and of itself, however, this song is striking: Driven by raw electric guitars and poignant, reflective melodies tinged with nostalgia and the weight of memory. Ilan's voice rises and falls in conjunction with her guitar: The harder the axe hits, the more powerful her voice rings out, and vice versa.
While "This Morning, Yesterday" centers around a romantic loss, the song can easily apply itself to most situations of distress and melancholy sentiment. "I first wrote this song while i was living in Italy, almost four years ago," Ilan tells Atwood Magazine. "I was just finding my passion for writing and words in particular. I was mostly inspired by people's words, everything sounded and looked so poetic in Florence. At first, the name of the song was "Combination" because that was it – a mix of what I felt at that time, a combination of feelings. New and uncomfortable situations life hands to you. I was seeing a guy who reminded me of some kind of home, but in the end we couldn't overcome the huge gaps there were between us. A cultural gap, language, and probably age as well."
I was in a place which allowed me to observe myself – and love again.
Ilan continues, "When I came back to Israel I had a lot of texts lying in the drawer and I combined them for the final draft. A friend of mine composed it, and its name 'This Morning, Yesterday' was chosen to reflect a constant change that we can't avoid."
You are the love of
my life just for today
every word you say
I take to the grave
but lately it's been
so hard to find
what it means those bad things.
I'm finding it hard to
believe you are mine, well,
You've been going
around most of the time
Directed by Yonatan Halevy, Ilan's music video displays an individual portrait of dark, repressed emotion. "I asked a friend of mine, Yonatan Halevy, who is a film student, to direct the video for this song," Ilan states. "He came up with the concept of a girl who is trapped in her perfect house up above all the people 'down' in the city. The girl has the same morning routine – waking up and taking her pill to get through the day with out awareness. Through the aesthetics of the video viewers receive a story of a seemingly beautiful world, that everything moves and "exacerbates" the terrifying reality we experience from time to time. The girl in the video actually repressed reality as she remains indifferent to the life she has created… It is a metaphor for the feeling we wear sometimes to deal with difficulty."
Ilan plays the lead role in the music video, and her portrayal is instructive to how many may interpret her song's depths: Stone-faced and cool, she performs as if she is detached from the world around her – going through the motions, without directly feeling the impacts of any action or behavior. Such is the case with so many scarred hearts, no matter how they got to be that way: Keren Ilan captures the weight of pain and the effects of distancing the self from it, which so many of us find ourselves doing on an all-too-frequent basis so that we may simply make it through the day.
Watch "This Morning, Yesterday" exclusively on Atwood Magazine, and stay tuned for Keren Ilan's debut EP This Morning, Yesterday – out this August!
Jesus boy don't you cry,
it looks like you've been
working on your tears
along with mine
Because I have broken
my heart this morning, and yesterday.
Stream: "This Morning, Yesterday" – Keren Ilan
— — — —
? © Ariel Pedatzur
:: Stream Keren Ilan ::