Taken from her upcoming EP of the same name, "Eu Voo" by French singer/songwriter Laure Briard is positivity delivered by way of Brazil.
— —
Stream: "Eu Voo" – Laure Briard
---
Ambiances are created through familiarity, associations charging to the senses and causing us to react and think in certain ways. It's like that with style, with decor, with music, whether it be stereotypes, traditions, or zeitgeist. French singer-songwriter Laure Briard is pretty accomplished at transporting listeners. Her albums (2015's Révélation, 2016's Sur la piste de danse, and 2019's Un peu plus d'amour s'il vous plaît) are a blend of traditional French cafe vibes, summery psychedelic, and Bossa nova- the instrumentation always calming and the vocals swirling.
In 2018 she released an EP called Coração Louco, her love for Brazilian music concentrated on in more depth with the lyrics all in Portuguese, and it's this approach that continues with her newest single "Eu Voo" (released November 24). The song is instantly feel-good, bouncing along like the movements of prancing and swaying in a hot summer's breeze. In it she sings about the ocean, about the motion of the waves and the removing of sadness.
""Eu Voo" is a song about crossing the ocean to find one's beloved," Braird explains in the press release. "During the new recording session in January, I absolutely wanted to do the song while changing the initial arrangements: accelerate the tempo and make it more punchy, catchy."
Onda que vai
Em movimento
Eu voo
Onda que vem
Estou a atravessar o oceano
Eu voo
Tristeza que vai
De um amor que passo
Deixa uma marca viva 
The catchiness is translated into the accompanying video, where the picturesque landscape and the notion of playing dress-up create a fantastical element that's challenging not to get sucked into. Set in the Bardenas Reales in spain, the golden tones from the sun and haziness of the film complement the rhythm and delivery of the song, while a pair of wings are handcrafted out paper plates, feathers, and tinsel. Briard is either stood defiantly or running towards the hills like a restless child. This innocence and seeming belief that anything is possible is representative of the song, where love has no boundaries and transportation is they key to satisfaction.
For "Eu Voo" and the EP, Briard collaborated with the Brazilian band Boogarins (Latin Grammy Award winners), whose psychedelic, lo-fi leaning style works perfectly with the slightly softer approach of Briard. In the chorus, they share harmonies, with Briard singing 'estou a travessar o oceano'- I'm crossing the ocean- and the accompanying vocals making that journey sweeter.
The EP is due for release in February, therefore the music is perfect for dreary winter days when we're in even more desperate need for escapism. In the meantime, Atwood Magazine spoke with the artist, who comes from Seignosse in France, about her love for Brazilian music and the creation of the EP.
Stream: "Eu Voo" – Laure Briard 
A CONVERSATION WITH LAURE BRIARD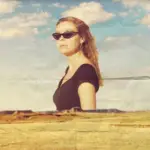 Atwood Magazine: Hi! Could you give us a little insight into yourself? Do you have a Brazilian/ Portuguese background and, if not, what made you choose to make music in this language?
Laure Briard: I'm a huge fan of Brazilian music. Since my 20s, I became kind of obsessed with it. I started with Astrud Gilberto and Vinicius De Moraes and then everything suddenly became concrete when I met the Boogarins in 2017 during the SXSW festival in Austin. Our friendship began and they helped me to organize a tour in Brazil. For this occasion, I wrote my first song in Portuguese and after that I continued to do so.
You're collaborating with the Brazilian band Boogarins. What is your relationship with these guys and how has it developed over time?
I really love these guys! They are my Brazilian family! As I was saying, they helped me to organize my first tour in Brazil in September 2017. I already had one song in Portuguese that we played with my band during the shows. When I came back to France, I was so thrilled with this experience that I was thinking about this amazing trip all the time. My first Brazilian song "Janela" was really cool (my friends said! Even the Brazilians!!) so it sort of became a challenge for me to write several songs to record an EP. I was beyond imagining that it would be in Brazil with Boogarins.
Overall, your music has hypnotic, sun-soaked quality but do you have a different mindset when writing in Portuguese compared to French? How does your musical approach differ?
My musical approach is mainly different from the lyrics. I don't know how to explain but, in a certain way, I feel freer. I use some images, some poetical language that I don't use in french. I think it tends to be more "psychedelic" sometimes because it's more abstract. I never learned Portuguese. I do it my way so sometimes it's fuzzy. But the guys said that it's my own style so I think it's ok!
That's cool. The best way to learn a language is to do so in your own way! Additionally, do your lyrics touch on different things in French compared to in Portuguese? I always wonder if writing in different languages makes you write about things with a different mindset.
Yeah totally. Especially about love.
"Eu Voo" incorporates a really joyful blend of Bossa nova and jazz. Before making these songs, do you have a vision of how they will sound or is it a very collaborative process where the sound is created afterward?
"Eu voo" is one of the first songs I wrote. We were supposed to record it on the first EP but we didn't have enough time. I had a lot of time to imagine the mood of the song, for example it had to be a very "good vibes" song with an up-tempo beat, very dynamic with all the guys' choirs. In my mind, it was already the first single. So, from that idea, we did the arrangements all together during the recording.
The title of "Eu Voo" translates as 'I fly'. Could you talk about the lyrics to the song and the message it holds.
Basically it's a song about a love story between two persons who live on each side of the ocean. There are many images of the waves that come and go, like waves of sadness for example. The chorus keeps repeating "estou a atravessar o oceano" which means "I'm crossing the ocean".
The video is really playful and innocent, handcrafting a pair of wings and prancing around in the middle of the dessert. When was this filmed and why the location of the Bardenas Reales?
It's such a beautiful place! So close to the place where I live and I didn't even know about it! It's my friend Norma (the director of the video) who got the idea. We shot it in September and wanted it to feel like an American western/road movie. So the desert was perfect and incredible for this.
Taken from the EP of the same name, what position does the song have in relation to the other songs? For example, is it most representative of the EP?
Not really. All the songs are different. I chose to work with several Brazilian artists like Dino from Boogarins, his sister Flavia, Giovani Cidreira, and Gabriela the lead singer of My Magical Glowing Lens. There are many collaborations with different styles and different sensitivities.
Similarly, what was the process of making the EP like? Who did you work with, where was it written and recorded, and how has Covid affected it?
It was before this awful Covid so no effect on it, fortunately! I started the process maybe 8 months before the recording. To make the songs we had to proceed with the distance. For example, I sent words or a guitar melody to a person and this person did a melody or lyrics depending on what I had initially recorded. The final recording was in January (2020) We spent one week in a wonderful studio in Sao Paulo (Dissenso studio) and we found the arrangements all together There were three Boogarins (Benke, Dino and Ynaiã) and my french musician friends Pieuvre Convex and Marius Duflot as the sound engineer) It's a family work!!
What Brazilian artists do you especially adore? Are there elements of Brazilian music (for example, instruments) that you really wanted to bring into your own songs?
I love sooo many Brazilian artists. For contemporary ones, there's Giovani Cidreira, My Magical Glowing Lens, Hierofante Púrpura, Ayé, and Ava Rocha to name a few!
Finally, what do you hope listeners feel when listening to your music? Is there a particular mood or environment that you want them to be transported to? Because, like mentioned, there is something pleasantly hypnotic about your songs!
I would like to spread joy, emotions. Different types of feelings if it's possible. The idea of closing the eyes and mentally going "on a trip" while listening to it is really cool! I like this idea of something pleasantly hypnotic!
— —
Stream: "Eu Voo" – Laure Briard 
— — — —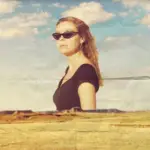 ? © Andre Peniche
:: Stream Laure Briard ::