The events of the last 18 months may have stopped a lot of things, but nothing could stop The Lathums' rise to glory.
Stream: "How Beautiful Life Can Be" – The Lathums
---
We're planning world domination and taking over. We got robbed of last year; it was our time, but we'll make up for it and hopefully stay here for the next 20, 30, 40 years.
Sitting down to speak with The Lathums feels surreal, not only because the band has made such an epic breakthrough since the music industry descended into lockdown in early 2020 but also because we're speaking just two hours ahead of their set at Tramlines Festival 2021.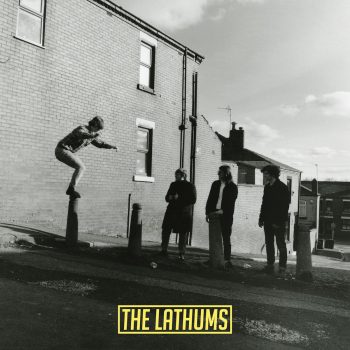 Waiting for the return of live shows in the UK has felt never-ending, but it's finally here, and The Lathums are more than ready. "We're feeling quite chilled out today! Much more chilled out than I anticipated. I felt some butterflies in the van when we saw all the tents, but other than that, I'm excited. I can't wait to get back at it," explains frontman Alex Moore.
It's that laid back attitude that is so appealing about this humble band from Wigan, consisting of Alex Moore (vocals/ guitar), Ryan Durrans (drums), Scott Concepcion (lead guitar) and Jonny Cunliffe (bassist). The Lathums don't come with any frills or industry sheen, just great music and excellent showmanship.
"I'm a different person on stage; it's weird. It's like I get lost in the moment," Moore admits. And it's true: Once the four-piece step on stage, the modest band turn into an unshakeable force.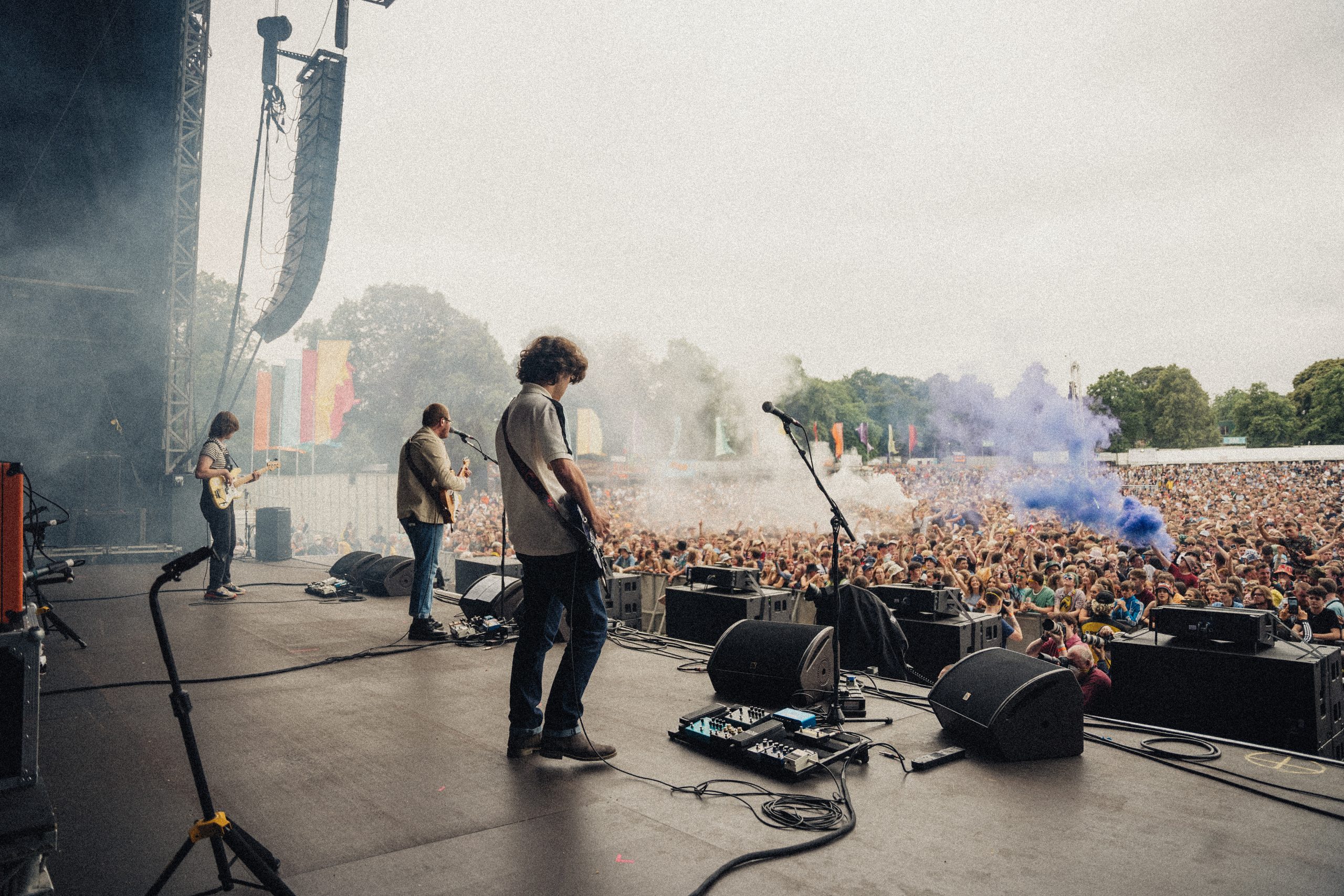 To see The Lathums live and experience their impressive genre-blending songwriting and crisp musicianship is to truly understand their impressive success.
Since forming in 2018, the band have released two EPs, signed to Island Records, and built a large and loyal following. "We've got a natural, organic fanbase, and some of them are proper diehard!" Moore says excitedly.
Yet to begin with, the success was difficult to digest. "It was a bit surreal. At first, I couldn't really understand why people were giving us attention and why people wanted to listen to us. Now, I've slowly learned to understand it, and when people tell us how we help them, it's massive. That's what makes it worthwhile for us," the frontman reveals.
---
Yet, there's something else The Lathums are after ("Money!" Moore jests, when asked how signing to a major record label helped the band). Clearing up the obvious joke, he expands, "It has given us so many opportunities to take things to the next level. And it's a good security net. We get so much support if we need to go into the studio or make a music video. So, that's the best thing about it; we can live and work comfortably." But deciding what label to sign to was not something this canny band took lightly; they knew they had to make the correct decision.
"You just have to go on the vibe you get," Durrans explains. "You have to take it from your initial impression and the energy you get off a person. You can see how they speak, see how they look at you, their eye contact and their actions too. But I don't think you can ever really tell if somebody is faking it or not. We've been really lucky in the fact that we have really decent people around us. But, as I say, you can't ever be 100%, and you've got to take a punt on it, and if it doesn't work, take the money and run," Moore continues with both wisdom and humour.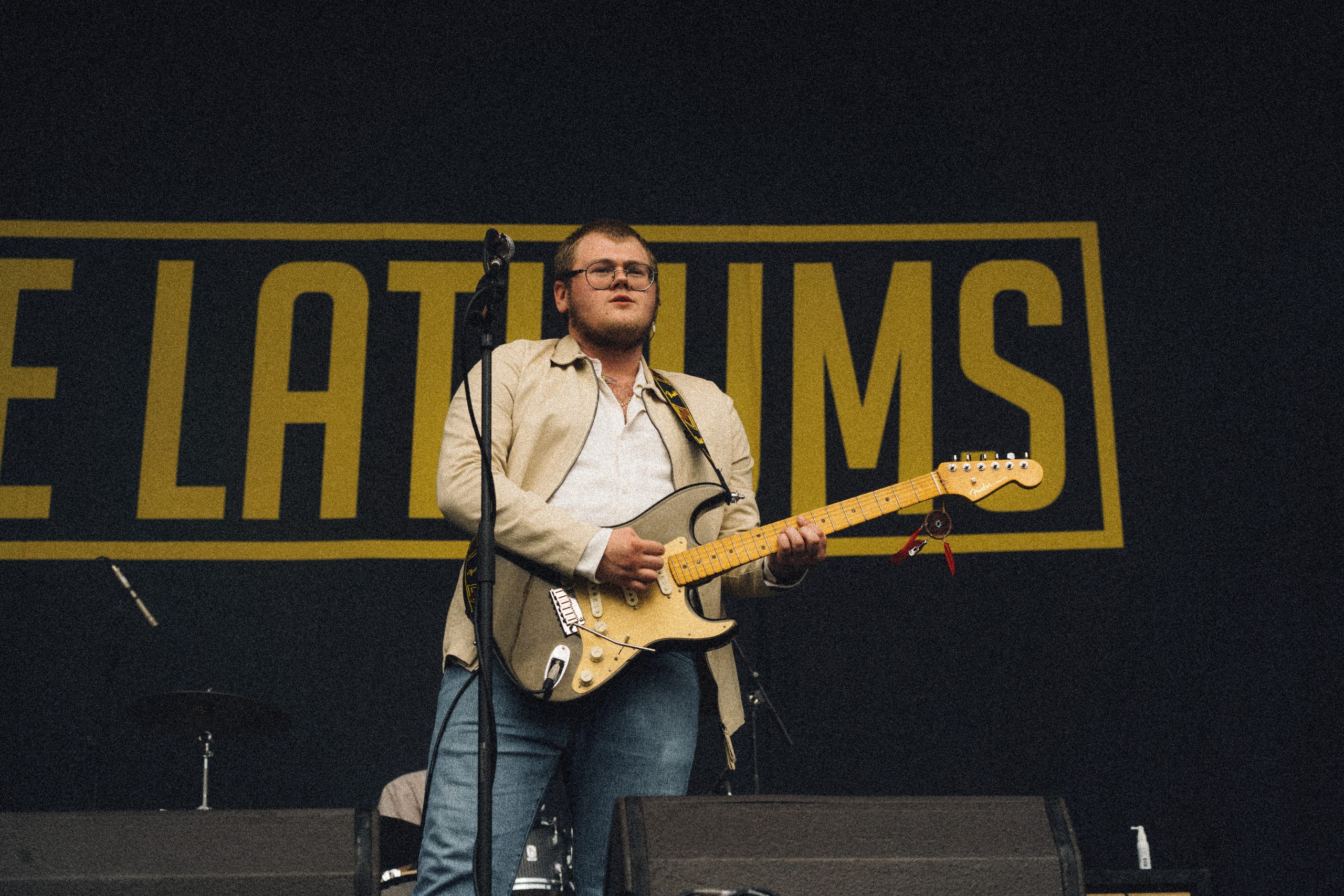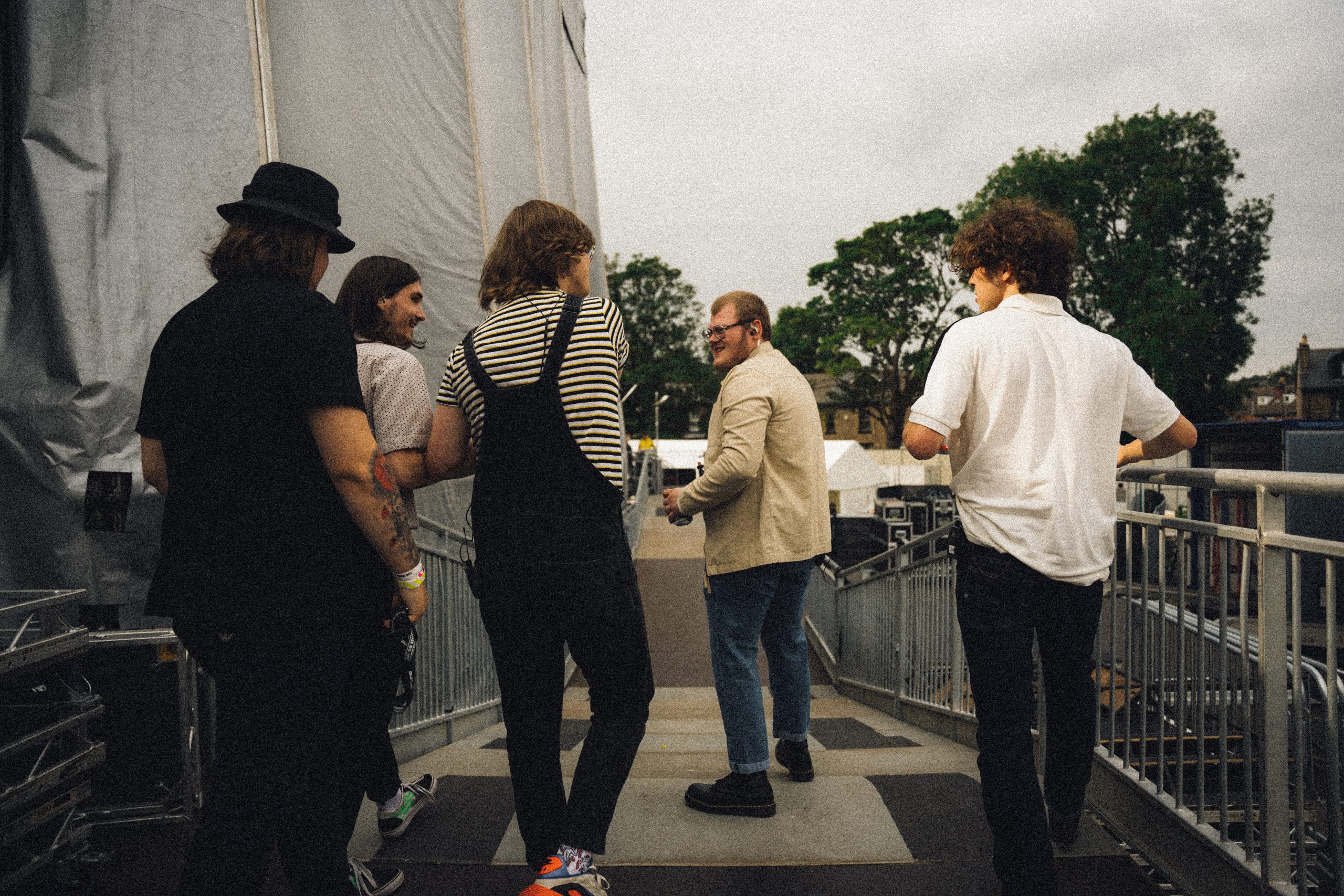 We've got a natural, organic fanbase, and some of them a proper diehard!
Now, comfortable under their new label and in their success, The Lathums are ready to release their debut full-length project. The upcoming album, How Beautiful Life Can Be, is set to be everything a debut album should be, honest, diverse and brimming with emotion. Explaining the themes and stories that went into the creation of the record, Moore reflects, "For me, sadness was what got me into writing and what gave me the ability to feel things more intensely. I don't think any of these songs would have come to me if I didn't have that sadness."
He continues, "I feel so excited for the release. I feel really strongly about the songs; they're all little pieces of time throughout my life and the lads' lives, and I think they're going to be very relatable. So, I hope that'll hit home."
Delving into their own sadness is a necessity for many artists, and at times the process isn't easy. However, something The Lathums didn't find too difficult was piecing together the upcoming record.
"This first album almost fell together. We were in the studio, and we'd do one song and then think, 'Do you know what song would go really well here?' It just happened, and if anything sounded out of place, it seemed to fit somewhere else," Durrans reveals. Still, they're clued-up enough to know that ease won't last forever. "Because it's our debut and there's not really a direction, it's probably been a bit easier. I imagine for album two, they'll probably be a few fits," laughs Moore.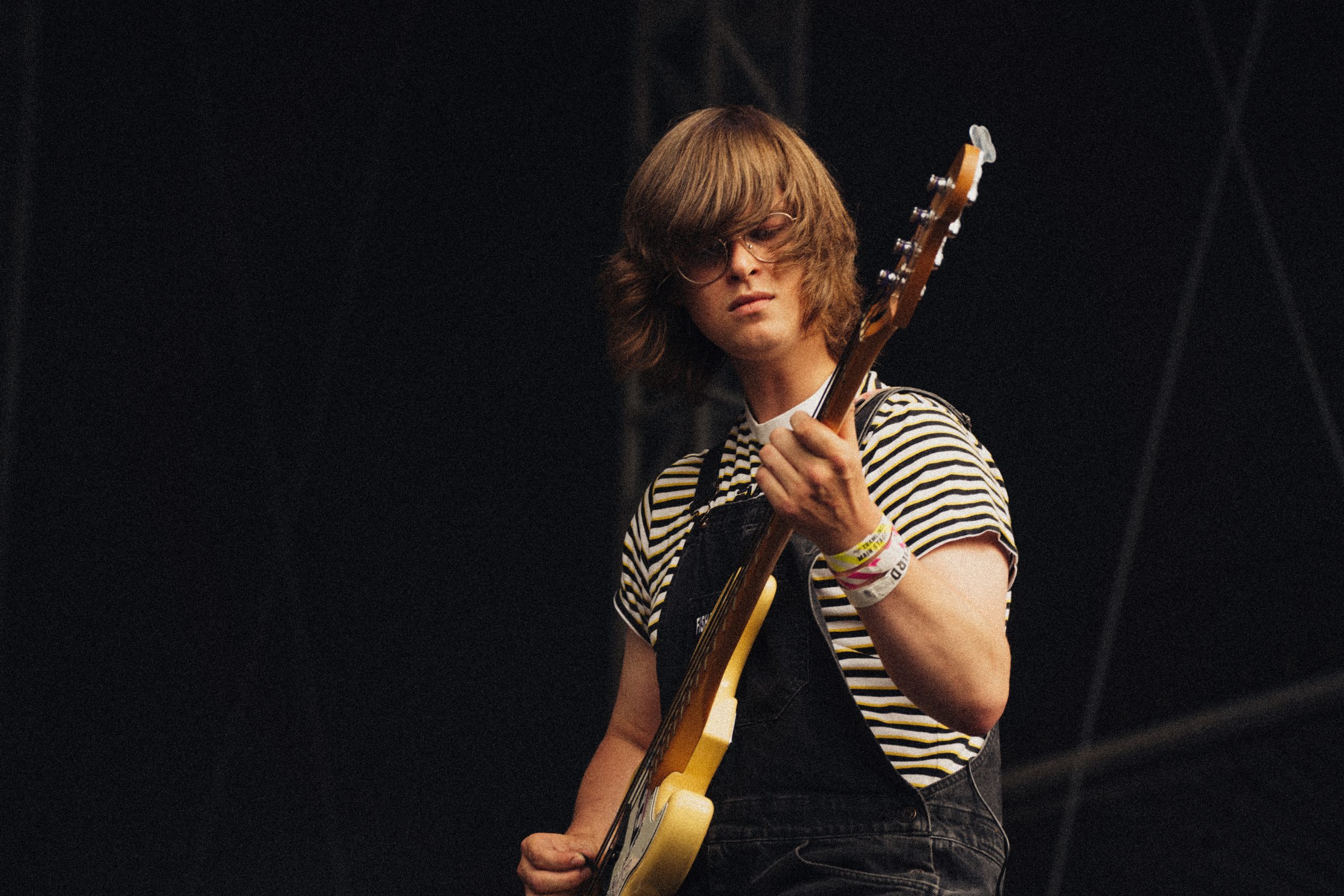 Since their breakthrough in 2020, The Lathums have time and time again received praise for their unique yet still widely appealing sound. Now they're taking the standard up another notch, "the quality of sound is so improved on the album. It sounds so much better and clearer that it's almost pretty. It's just so nice to listen to." Durrans gushes.
Keen to reassure that it's still the classic sound of The Lathums at the record's core, he adds, "But, the songwriting is still just good old us. The [track] I'm most excited for people to hear is 'Circles of Faith'. It's a big, massive opener tune."
Concepcion chimes in, "It's got to be 'Redemption' for me," and Moore agrees: "I'm with Scott on 'The Redemption of Sonic Beauty.' That's a very different one, and I don't think anyone would be expecting it."
The Lathums are more than ready for the release of How Beautiful Life Can Be, and they've got exciting plans for the future, which are nothing short of colossal.
"We're planning world domination and taking over. We got robbed of last year; it was our time, but we'll make up for it and hopefully stay here for the next 20, 30, 40 years," Moore confidently beams.
However, Concepcion wants to get some festivities out of the way first. "I might have a dabble with Christmas as well. You know, we missed her last year. Then it's world domination, but Christmas always comes first," he adds with perfectly timed humour.
The Lathums debut album, How Beautiful Life Can Be, will be released on Fri 24 September 2021 on Island Records.
— —
— — — —
? © Sam Crowston
:: Stream The Lathums ::
---