An ambassador for light and love, Gizmo Varillas and his genre-bending, culture-blending songs uplift and inspire with messages of unity, peace, empathy, and healing on his passionate third album, 'Out of the Darkness.'
Stream: 'Out of the Darkness' – Gizmo Varillas
---
We can't always choose what happens to us, but we can choose how we react to it… The only way to truly heal is to choose love over everything.
Spanish-born, London-based artist Gizmo Varillas has come to be something of a musical Lucifer in recent years: A harbinger of light and love, his genre-bending, culture-blending songs uplift and inspire with messages of unity, peace, empathy, and healing. This has been the case throughout Varillas' career – with 2017's debut album El Dorado and 2018's Dreaming of Better Days both bursting with tenderness and unbridled passion  – and nowhere is this better felt now, than on Varillas' intimate third album, Out of the Darkness.
When the world turns its back on you
When you find it hard to see it through
When you are uncertain of what is true
Choose love over everything
When the world
tries to get the best of you
When friends are far and few
When you are uncertain of what is true
Choose love over everything
When the world is spinning out in anger
Hate is not the answer
When you are uncertain of what is true
Choose love over everything
– "Love Over Everything," Gizmo Varillas
Released June 5, 2020 via Muisca Records, Out of the Darkness heralds Gizmo Varillas' return in the new decade with a buoyant record of perseverance and inner strength. Fortified by two dazzling bookend tracks ("Love Over Everything" and "Out of the Darkness") that capture the depth of the artist's character as well as his inspiring universal message, Out of the Darkness is an immersive look into personal growth and the ways in which we find and embrace willpower, self-esteem, self-confidence, and so on. In premiering the moving title track last June, I wrote that "It's hope, not naïveté, that drives Varillas' bright textures and warm, positive outlook: Hope for a better world and a better tomorrow… 'Out of the Darkness' sparks a light through buoyant melodies and an immersive effervescent energy. Driven with an infectious bounce, sun-kissed instrumentation, and Varillas' signature blend of rock/pop with Spanish influence, "Out of the Darkness" injects unequivocal love and tenderness into the coldest of voids."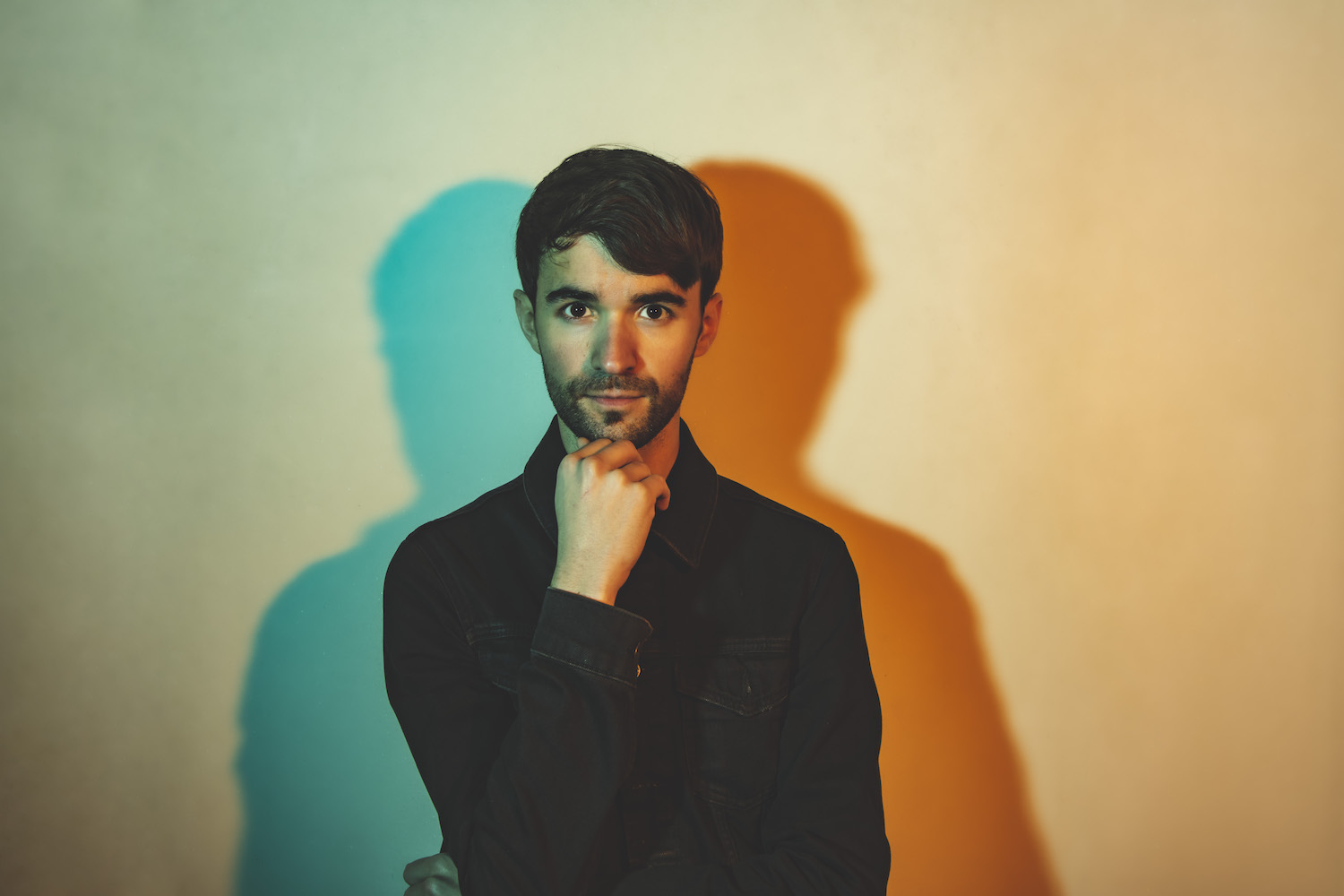 Throughout this album we hear and feel Varillas pushing himself to incorporate new instruments and sounds into his already extensive repertoire; he also continues his trend of injecting Spanish-spoken songs into his records with the sweet "Bella Flor," the fiery and overwhelmingly colorful "Danza De Sombras,"  and the hypnotically percussive "A La Vida."
It is hard to deny the immersive world created in Out of the Darkness' opening song, "Love Over Everything." An Atwood Editor's Pick, the song begins this record with a sweet n' savory ode to unity and community whose waves of psychedelic warmth are second only to the artist's own hypnotic, sultry vocals. "Gizmo Varillas has this magical way of sowing harmony into discord, bringing order to chaos through his effervescent, multicolored soundscapes," Atwood previously noted. "This song comes at a time when (it feels like) our divided world is trying desperately to come a little bit closer in counteracting and fending off the spread of novel coronavirus COVID-19 together (although every country is still acting leagues apart from one another). It comes at a time when we need to see past our differences and connect with our neighbors on a visceral human, person-to-person level. "Love Over Everything" is a powerful message Varillas and our team at Atwood Magazine cannot stress enough: Preach love, not violence; preach togetherness, not separation (except in the case of social distancing, when necessary)."
Through all the highs
and through the lows
I've learned to live, I've learned to grow
With only hope in my heart
I found my way through the dark
Through all the hurt and suffering
I've learned to smile, I've learned to sing
With only hope in my heart
I found my way through the dark
And I feel alive again, alive again
And I feel like I'm born again, born again
– "Born Again," Gizmo Varillas
Gizmo Varillas' selling point remains his steadfast belief in humanity and in the power of love as a tool of connection, of bridge-building, of healing and sustenance, and of inspiration.
He truly is an ambassador for light and love, and Out of the Darkness is his latest contribution to "the side that always wins." Speaking about his new album, Varillas recently shared that "it's my most personal one to date and it's hard to put into words how much writing these songs meant to me. But it makes me really happy to be able to share them with you."
"I hope that my music can serve as some sort of remedy for those who need it in these times. I support the BLM movement and urge people to donate, sign petitions, and do anything they can to help the cause. We all have so much to learn and I believe we are witnessing a huge awakening in society, one that is overdue. Individually we can make small ripples, and together we can make a huge wave of change."
Experience the full record via our below stream, and peek inside Gizmo Varillas' Out of the Darkness with Atwood Magazine as the artist goes track-by-track through the music and lyrics of his third studio album!
— —
Stream: 'Out of the Darkness' – Gizmo Varillas
:: Inside Out of the Darkness ::
— —
Love Over Everything 
The opening track to the album starts with a delayed Charango (South American 10 stringed instrument). The strumming is a mix between flamenco rasgueado and sweeping chord strums used by the likes of Jaime Torres. I learned this technique while I was living in Spain and it has become an integral part of my sound now. At the time of writing this song, I was also listening to a lot of desert blues from the Sahara, artists like Bombino and Ali Farka Touré. So I mixed the two styles together which made a great musical cocktail and gave the song a unique touch. I wanted to give this dreamy and atmospheric landscape more of a funky groove, so I wrote the bassline to be rhythmic and melodic to carry the song through.
When writing this song, it was a very reflective period for me. I was looking at the world at large but also deep within myself. Love Over Everything is about how we can't always choose what happens to us, but we can choose how we react to it. Choosing hate is much easier and loops back in a vicious cycle. The only way to truly heal is to choose love over everything. 
Born Again 
This was the last song I wrote for the album. For me, it was key in summarising the concept and its theme about metamorphosis. Each song on the album represents different situations that I faced within myself to come out of the darkness. This album is like a journal for me. Talking about these stories brings relief and being Born Again is what happens after you go through that process. Even though it's a personal story, I wanted to make it universal so that everybody could relate to it. I like the idea of taking complex issues and delivering them in a straightforward way.
Musically, I was inspired by funk and afro disco from the '70s. Influenced by Nile Rodgers and Bob Marley, one of the first parts I wrote for this song was the bassline. It came to me after I recorded some of the funkier/reggae guitars you hear on the track. I wanted to make the verse vocals really melodic and rhythmic and then the chorus melody more open and singalong. That gives the song an overall feel good mood.
I knew this song was going to be the last piece of the puzzle to finish the album. It was hard to finish it, but I didn't quit until I did. All the other tracks were quite heavy on a personal level. Born Again was the full stop, and a relief to write. I genuinely felt like a weight was lifted off my shoulders.
Rise
When I was a kid, I changed school and moved between Spain and the UK so much that it set back my confidence and self-esteem. No matter where I was, I was always the outsider. I was bullied, and as a shy kid I quickly started closing myself off from everyone. I felt a lack of sense of belonging, which was the root of my withdrawal. I started to skip school, food and sleep, compulsively playing video games, not wanting to socialise at all. In the end I found myself alone and depressed. But, as I've learned the hard way, that this was not the way to deal with being bullied.
The communal hum and claps you hear throughout the song are influenced by the likes of Nina Simone and Michael Kiwanuka, they reinforce a sense of unity, which I thought fits the context of the lyrics. It feels almost like a chant "we're backing you up, you're not alone". It is very empowering and yet comforting. You will also hear how the arrangements slowly build up from beginning to end and that is because I wanted to mimic the lyrical idea of rising. The music is constantly building and it lifts and lifts and lifts up higher. I wanted to make sure the lyrics are reflected in the music so there is harmony in the message.
Writing's On The Wall
For this song, it was the first time when I tried to experiment with Jazz. I'm always trying to innovate and better myself in one way or another, when writing music. Every album's been a progression, and a learning experience too. I love that my music's constantly evolving. You never know how a song may emerge so I always try to keep my options available when writing. It all started with the bassline and it became the backbone to the track. Lyrically, it is about how the future is ours to write. It's empowering – saying we can change anything we want to. But it's up to us to do so.
Bella Flor
On this track I wanted to keep the intimacy of the nylon guitar and the percussion but still make it feel epic. The choruses shift from minor key to major key which really lifts it up. It also adds a lot of colour to the song. And on the end of the track I used a theremin to create a haunted sound. It's one of three Spanish tracks on the album. It talks about lost love, that disappears into the night. In literal translation, Bella Flor means beautiful flower.
One Day At A Time
These last two years haven't been the easiest for me, I found myself battling my own issues while also making the difficult transition, as an independent artist, from part-time to full-time musician. This song is about the realisation that time is finite, when you are younger you feel as if you have so much time on your hands. These days I wish I could squeeze more hours to my day because there's so much I want to learn and do. This track is quite bitter-sweet… celebrating the moment and seizing every opportunity while at the same time being nostalgic.
The tribal backing vocals on the intro and throughout the song are me trying to make sounds I never done before. I wanted to try to push the boundaries a bit while still being authentic to the song. There's also a piano line that comes in on the middle eight section, that kind of reminds me of The Stranglers – Golden Brown. That harpsichord sound was definitely an inspiration.
Burning Bridges
This is one of the more anthemic songs on the album, even though I wrote it on acoustic guitar I swapped it for some synths to give it a larger than life vibe. The slower beat gives it that stadium-like feel while the synthesizers float above the melody to give it a hypnotic dreaminess.
These days, with all the divisiveness in the world, it takes a lot of courage to unify people. And the best way to do it is with music. That's why I made this song as catchy as possible, as I would love a large audience from all parts of the world to sing this with me one day. In a concert nobody's thinking about their next day of work, what they need to buy in the shop, or about the argument they had earlier that day. It's one of those rare occasions when people of different views, nationalities, races share a pure love.
Saving Grace 
As with my song Out Of The Darkness, I wanted to continue to create songs with exotic flutes. So I recorded these middle eastern flutes and added distortion to give them an edge. That was the first step towards writing this song. It set the scene and created an atmosphere I felt inspired by. Later on, the beat, the guitar and all the rest just happened very naturally.   It was almost an emotional response to that atmosphere. Once I wrote the music, the lyrics followed very quickly.
This song is essentially an ode to music. Throughout the toughest times in my life, music has always been one of the few things I could count on to lift me back up. What I've learnt over the years is that, in the end, we all can turn to music for healing. That's what sparked the making of this song.
I also worked with one of my heroes, legendary Afrobeat drummer Tony Allen, musical director for Fela Kuti's Africa 70 band as well as, more recently, a fundamental component of The Good, The Bad & The Queen. As soon as he arrived at RAK Studios in London and laid down the first five seconds of the beat, I leapt in excitement. Working with him was one of my dreams come true.
Danza de Sombras
I was inspired by Simón Díaz, Venezuelan artist who plays Charango and creates songs with an eerie and folkloric atmosphere. I wanted to recreate that haunting feeling while writing this song and it was the first idea that started the songwriting process.
Lyrically, it's really about reminding yourself about the good in the world. It's a love song to the world and our humanity. There will always be shadows that walk beside us, but the important thing is to not forget the beauty that surrounds us. Danza De Sombras means something along the lines of 'we danced in the shadows' in Spanish. It's a metaphor for the constant dance between light and dark, good and evil.
In the middle eight section of the song I wanted to create a nylon guitar solo that would softly accompany the music. I've always been a huge fan of Paco de Lucia so I try to channel that style in my own music wherever I can. I always enjoy bringing out the Latin or flamenco side of my music, as I get older I feel it's something I need to unveil and explore instinctively.
A Silver Lining
The softer verses are inspired by the whispers of artists like Devendra Banhart or Leonard Cohen, the kind that cradle you and reassure you that everything will be alright. I like how the nylon guitar gives the track some warmth too. In contract, the marimbas on the choruses feel like you are being swept away into a storm and you are trying to ground yourself once again. Like it says on the middle eight "Like an anchor, I'm holding on, holding on… " all the while the marimbas in the background are swaying from side to side. The dynamics of the instrumentation were important for me. On this track I wanted to create a sense of chaos and calmness all in one. 
Cold
Cold is based on a story that draws upon the difficulties me and my partner of ten years have sometimes faced, it is probably the most personal song I've released to date. The percussion and drums on this track are quiet and subtle in the beginning, until the end where it goes more energetic. The strings make it more emotional. It's a juxtaposition of a raw emotion mixed in with the powerful drum.
Keep Shining On
This song has some melancholic undertones, but the energy from the drums and the message on the chorus really give it a punch. I opened the song with a piano to tie it in with the previous song Cold. The song has a somewhat dreamlike quality to it, so I wanted to keep the vocals soft and gentle to not overpower. However the addition of synths towards the end of the track make for a great lift when it all goes explosive. I tried to make the instrumentation of this track feel like you are lost in a dream, while the message in the chorus is of perseverance.
A La Vida 
This song is in Spanish, meaning Dear Life. It is a letter to life, asking for hope and light amid adversities. The chorus is a joyous celebration. The rhythm is a mix of mediterranean rumba, while the synths and piano accentuate the melodies and harmony. The middle eight features another guitar solo that subtly plays with the descending chord progression. Each chord change is there for a reason and to help emote the lyrics and vocals. The descending chords create tensions which then releases onto the big chorus. This track also shifts to a major key on the choruses which makes it feel like a resolution – giving a sense of hope.
Out of the Darkness
This is the title track to the album which represents a collection of songs about transformation, metamorfosis and making it to the other side. This past year I've reflected a lot on the dark times I've overcome in my life and the theme came to me quite naturally. 
Musically, on this track I was inspired by the indigenous Pygmy flutes in Francis Bebey's music. When I first heard his songs I was captivated by the sound, as I never heard anything like it before. I started with recording and layering flutes until I got a similar sound. That was the first step in writing this song. It dictated the vibe, from which I started to write lyrics to, and then the melody came about.
This song, as well as the album started in my home studio, as I wanted to keep the intimacy of my first two albums. I love making songs at home as it gives me time to experiment and be creative with my ideas without any time limitation. Though I also wanted to expand the sound, after having toured across Europe these past few years, I wanted to capture the live energy from my gigs. Once the demos were finished, I invited my musicians to the legendary RAK Studio, in London to finish it off.
— —
— — — —
? © Carsten Windhorst
:: Gizmo Varillas ::
---