'Heaven By The Back Door' by wojtek the bear is an album that reminds us how universal music can truly be. We had a chat with them about it.
— —
Stream: "some states" – wojtek the bear
---
T here are some artists who are particularly good at describing everyday scenes as if they were unique, despite doing so with rare simplicity. That's exactly what wojtek the bear did with their second album, Heaven By The Back Door, released on July 16.
We had already discovered them through one of their latest singles, "ferme la bouche," which was about abusive relationships and domestic violence. This time we are dealing with a real collection of moments of daily life presented without the presumption of sounding like supreme poets. We can see these moments as many small pictures apparently unrelated to each other – together, though, they make us understand how necessary it is to remember that we are all human beings, now more than ever. Without realizing it, there are many small, irrelevant experiences that bind us together for various reasons, which make us remember that we are never really alone. We're all in this together, especially after being struck by the pandemic – so why carry on resentment and conflict, if after a similar experience we promised ourselves we'd become better people?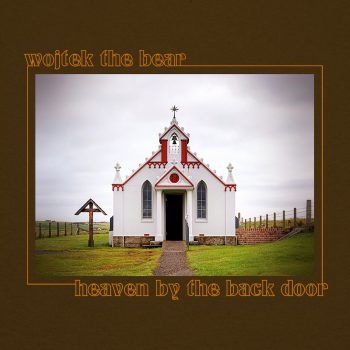 Of course, not that my faith in humanity has ever been particularly high, absolutely. On the contrary, I would say. Heaven By The Back Door however gives me a great sense of hope, and a bit of nostalgia if you will. Who has never faced heartbreak? Who has never been able to be the bigger person and forgive? Or again, who hasn't been to mass with their parents as a child without even knowing who God was?
Heaven By The Back Door is an album that reminds us how universal and authentic music can truly be.
Human beings can be benevolent, cruel, pensive, carefree, and a whole series of adjectives that I won't list because they would never really end. The fact is that wojtek the bear manages to remind us how much we all have in common with each other on this immense planet, that there are experiences (like music) that truly go beyond space and time. At the end of the day, it's pretty comforting to know that no matter what the situation, we'll never really be alone. While you are going through a break up there will be someone going through the same thing, as well as many couples can't wait to pronounce the long-awaited "I do" at the same time. And… Well, while I am writing this article listening to wojtek's "luck or design", there will be someone out there listening to Heaven By The Back Door.
I used to adore you, now I endure you
And we are here, neither luck nor by design
I used to think you were a prize
Now your words they cut like knives
You say more in a line, than I could in a lifetime
 
I've got a lot of bad ideas
I've got a lot of bad ideas
I've got a lot of bad ideas, and I'm happy to share them
– "luck or design"
We had the pleasure of chatting with Tam Killean, the band's lead singer, and dig into Heaven By The Back Door – check it out below, and don't forget to stream the album!
Watch: "ferme la bouche" – wojtek the bear
A CONVERSATION WITH WOJTEK THE BEAR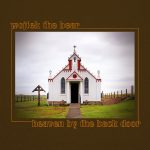 Atwood Magazine: HOW WAS HEAVEN BY THE BACK DOOR BORN?
Tam: We actually didn't set out to record an album initially. We had planned to record 3 singles and release them throughout 2020 and had just finished the first few recording sessions when the UK went into the first lockdown back in March 2020. It then quickly dawned on us, as all our gigs and festival dates were being cancelled, that we were about to have a prolonged period where we couldn't play live so we kept writing and decided to expand the singles to an album. In the end, having the extra time to write and working in the studio was a blessing as it meant we had a creative outlet to work on rather than sitting around waiting on things to reopen so we could release and promote the singles we had planned!
YOU SAID YOU'RE REALLY PROUD OF "ONE THING'S FOR CERTAIN", WOULD YOU MIND TALKING ABOUT IT? WHAT'S THE THING YOU LIKE THE MOST ABOUT THE PIECE?
Killean: I think as a song it's really representative of where we are as a band at the minute. We're always striving to write what are essentially pop songs with big hooks that connect with people but that still have substance and aren't seen as disposable. With the last single ("one thing's for certain") I think we managed to bring all those things together with the lyrics and the music and it's probably the perfect distillation of what we're about as a unit. I'd be happy if someone asked "what does your band sound like?" to play them that song and know it was giving them a good overview of who we are.
WHAT'S SOMETHING THAT WILL ALWAYS BE FOR CERTAIN ABOUT YOUR MUSIC?
Killean: That's a great question, but one that's hard to answer without sounding incredibly pretentious! I guess I'd like to be certain that we'd always be authentic in terms of the music we're making, and by that, I mean that we're writing in a way that's true to ourselves. We aren't churning something out that we don't love ourselves just because we suspect it might be popular or indeed make us money. Although to be honest if you're starting a band in 2021 with the idea that you're going to make money you're setting yourself up for a big disappointment…
''I'VE GOT A LOT OF BAD IDEAS'' (FROM 'LUCK OR DESIGN'): WHAT'S A BAD IDEA OF YOURS THAT ACTUALLY TURNED OUT TO BE GOOD?
Killean: When we were recording the album I thought I'd written a really great catchy melody for one of the songs until the other guys pointed out I had in fact just ripped off the melody to the hymn "Ave Maria". It then forced us to write something else which we wouldn't be sued by the Vatican for so that has to be a good outcome eh?
BOTH THE TITLE TRACK AND ITS COVER SEEM TO BE RELATED TO RELIGION. OR IS THERE MORE TO IT? WHAT WOULD YOU LIKE TO SAY ABOUT IT?
Killean: I was raised in a very catholic family and I think there are references to religion running through most of the album, the majority of which are me trying to make sense of it all and wrestling with whether I believed in God and organized religion or not, but also looking at the social and community side of religion which truthfully I can see a lot of good in. I was the cliched "rebellious" teenager who rejected everything my parents tried to point me in the direction of but reflecting back on it I actually have a lot of happy memories of that stuff (mostly of getting pished underage) at family baptism's, communions, etc but happy memories all the same!
WHAT'S THE BIGGEST DIFFERENCE BETWEEN A TALENT FOR BEING UNREASONABLE AND HEAVEN BY THE BACK DOOR? HOW DID YOU EVOLVE AS A BAND?
Killean: We've expanded physically in terms of the actual personnel in the band, as we now have Becky and Scott as full-time members, but overall we've definitely evolved how we sound.  There are a few songs on the new record which are a bit different from what people might expect from us, and I think we're much more confident in ourselves now so we've got the confidence to make those brave choices, to try things out of our comfort zone and hopefully we've pulled it off!
LIVE MUSIC IS FINALLY COMING BACK. WHAT'S YOUR DREAM TRACKLIST?
Killean: Truthfully we're so desperate to play gigs at this point I think our dream tracklist would be literally to be allowed to play ANYTHING! We're just excited to get back out playing gigs again and we can't wait for everyone to hear the new songs.
WHAT DO YOU HOPE PEOPLE TAKE AWAY FROM THIS ALBUM?
Killean: I guess without being overly simplistic about it, I hope they can take away something that they love or connect with, even if it's just a line in a song. If we've created something that brings people a brief bit of happiness or makes them think about things differently for even a short time, I think we'd be happy with that.
— — — —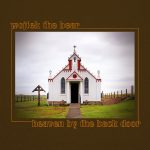 © Kris Boyle
:: Stream wojtek the bear ::