Milwaukee rapper Tone Legit rises in "No Time For That," a triumphant and self-aware rap/R&B crossover.
Stream: "No Time for That" – Tone Legit
---
Milwaukee and Boston share similar qualities when it comes to their existence in hip hop. They've each had one or two past hits that made a slight impact on their respective localities (despite some talented acts); they both entered a period in purgatory during the mid-2000s; and both found a light at the end of the tunnel in 2019. Wisconsin, much like Massachusetts, suffers from discrimination due to a chauvinistic government that doesn't give two shits about African Americans.
And while Boston reached new heights with their "do-it-yourself" mentality in 2019, it's Milwaukee that's really starting to make noise around the country. Their Detroit-inspired street rap has made waves on YouTube, as artists such as MT Twins and 54 Baby Trey articulate tales about the city's divided integrity and underground history. Milwaukee natives have also gotten noticeably more exuberant and melodic, particularly in the case of Lil Chicken; an animated spitter who released one of my favorite songs of 2019 with "Fast Cash Babies."
One of the more technically sound rappers to come out of this stellar regional run is Tone Legit, a sports-enthused prodigy who carries impressive vocal chops and a keen ear for triumphant beats. His new track "No Time For That" follows an ongoing trend of rap/R&B crossovers from different parts of the city.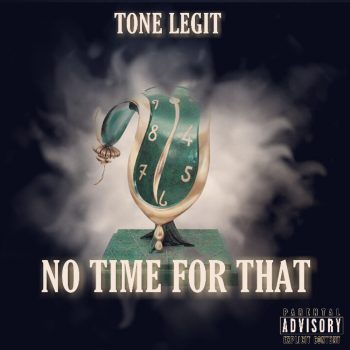 Don't get things twisted though; Legit is a full-on rapper's rapper. He weaves in metaphors with ease, and possesses a meticulous discernment for penning universal bars about whatever the heck comes to his mind.
We all rise, we all fall
But I'm tryna' stay up
like I popped 20 Viagras dog
That's why I go super hard
His acumen falls somewhere in between Cyhi the Prynce's operatic cadence and Jerreau's anthemic comprehensiveness. For someone who's only been making music for a few years, Legit enjoys the dexterity of an allegorical street spitter who can also harmonize within an instrumental crescendo.
"No Time For That" is jubilant on the surface, but also very self-aware. Legit, much like many rappers form Milwaukee, has witnessed some arduous nights filled with bullets flying outside the house. He dedicates only a couple of bars to these experiences, opting instead to focus on conscientious wordplay about trading firearms for fireball shots.
My parents used to tell me
ain't no name on the bullet
So when I used to hear
shots fire, I got low
Nowadays it's fireball shots
and my eyes low
Legit's words are rooted in escapism, though I do hope he offers the full purview of his life at some point in future work. He clearly has the technical aspects of the genre on lockdown – something that's highlighted throughout his preview-heavy YouTube channel. He enunciates every word with excitement and intensity, hitting every kick and snare with a rhythmic cleanliness of a Pusha T track.
The video that goes with "No Time For That" examines a small portion of Milwaukee, where basketball hoops slathered in Bucks graffiti represents the area's growing success in sports-and street lights illuminate the city's park benches while Legit sparks a blunt. These are the small pleasures in life Tone Legit would rather have time for; as would everyone in Milwaukee.
Stream: "No Time for That" – Tone Legit
— — — —
? © 2020
:: Stream Tone Legit ::
---