Atwood Magazine speaks with Aussie alt/pop rock band The Moving Stills, digging into their debut album 'Sunshine Corner', life outside of lockdown, and "pizza flavoured music."
Stream: "Sunshine Corner" – The Moving Stills
---
Sometimes when you look at your lyrics on a page, you might judge yourself as being a little dramatic or something… but it's so fine, normal and valid to feel emotions, and when it's in the song it often feels great.
Picture yourself driving down to the beach with surf boards tied to the roof of the car. There's just one wispy cloud drifting in the clear blue sky, the windows are down, a warm breeze is blowing through the car and there's feel-good music buzzing in the background. That music would be the sunny sound of The Moving Stills debut album Sunshine Corner (released January 28, 2022 via Sureshaker).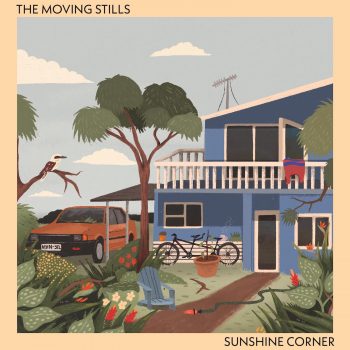 Based on the central coast of New South Wales, The Moving Stills have spent the last couple of years writing and recording, finally releasing their new album out into the world. Leaning into their vulnerable side, the four-piece band of Tom Mahler, Mike Drennan, Brad Guthmann, and Ben Day have poured heart and soul into Sunshine Corner, opening up about their growth, experiences with heartbreak, and moments of self-reflection. Dipped in an amalgamation of genres, their '80s soaked sound glistens with playful synths, showcasing their surf-soaked roots.
The Moving Stills chatted with Atwood Magazine about creating the album, musical influences, getting back into live shows and what's on the cards for the rest of the year.
A CONVERSATION WITH THE MOVING STILLS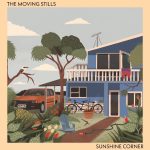 Atwood Magazine: Firstly, congratulations on the release of your debut album Sunshine Corner. Having been two years in the making, how does it feel to finally have it out in the world? Is it a feeling of euphoria, or was there any built up pressure with it being so highly anticipated?
Tom Mahler: Thank you! It feels amazing to be honest. We've mainly been releasing singles for a few years now, so it's so great to have a full length album finally out, and we are super happy with the response. It was a slightly scary thing to release an album, but we are so happy we did, it doesn't feel real.
Mike Drennan:  Thanks so much. Feels great. Been a long time coming so we're buzzing finally having it out in the world. Feel like we've just had our first child.
The album has been described as a "coming of age" release filled with your own personal experiences. If listeners could take away just one message from the album, what would it be and why?
Mahler: There's a theme of reflection throughout the album. Whether it be of a situation or self reflection. We tried to be fairly open and honest where we could in the songs. So our message would be that there is good value in honesty and looking inwards. We feel it's important to be open to change and growth.
Drennan: I'd say to look inward for self improvement. Fix yourself before you go trying to fix the world. We're no yogi's but we do appreciate the benefits of mindfulness and mental well-being.
Sunshine Corner perfectly captures the summery, surf life of Australia. It's evident that your surroundings play a huge part in your sound. Do you think the album would have resulted in a different vibe, had it been written and recorded in a different country?
Mahler: It's definitely a possibility. We all live and grew up on the coast, so naturally that must influence us and our song making. It would be rad to write in a different space and see how that rubs off on the tunes.
Drennan: I'm not sure, I'd be interested to find out. I'd like to think it wouldn't make much difference. But at the same time it might make for some nice subtle flavouring over some new tracks. Maybe we should try a writing holiday in Italy. We like pizza, maybe some pizza flavour music?
With the songs coming from such a personal place, were any of them particularly difficult to write? Or was the experience more of a therapy session to get things off your chest?
Mahler: Most came together fairly easily, although there's definitely a slight sense of hesitation when opening up about things in a song. Sometimes when you look at your lyrics on a page, you might judge yourself as being a little dramatic or something.. but it's so fine, normal and valid to feel emotions, and when it's in the song it often feels great. So it's definitely worth opening up about things on your mind or happening in your life. Definitely a form of letting go and analysing things.
Drennan:  For the most part, writing and recording is quite therapeutic. There is a bit of monotony involved in mixing but nothing too crazy. Enjoy it too much.
Do you have a favorite track off the album. If so, what is it and why?
Mahler: I'd say "Throw Me A Line".. it was a co-write with our friend Taras from The Lulu Raes. It just came about really quickly and organically. It was the first song we had done together and I remember listening to the demo we did the day of writing it on the drive home, and feeling real stoked on it. The recording on the album is actually pretty much that exact demo. We felt the vibe was captured in it, so we rolled with it.
Drennan: The thing I like about "Waste My Time" is it's not trying to be anything it's not. It's not trying to impress. It's an honest moment.
Your sound often features an '80s tinge - what is it about this era that you love and who are your favorite artists/bands from the '80s?
Mahler: Yeah we love bands like The Cure and The Smiths. There's heaps of heart and emotion in the vocals and instrumentation. I think I love the vulnerability bands like those show. U and Me has some similarities to The Cure, especially the drums and lead guitar. We've also been fairly influenced by that era in the way we use Synths. It was after listening to a bunch of those 80s bands that we started putting synths into our tunes and expanding our instrument range on tracks.
Drennan: There seemed to be a lovely freedom especially in live music back then. That era was two decades before we were even born, but we've definitely been inspired by that generation.
With the world gradually opening back up and Australia slowly opening its borders, where is the first place you would like to go and tour? Any dream venues?
Mahler: We are so happy things are opening up. We've got a bunch of shows coming up which we are pumped for. We have a national tour with Perth band Great Gable, so we are playing a bunch of new places this year. We've been wanting to do shows in South and Western Australia for some time so we are amped to get over there! We have just recently bought a new Tarago tour van so we are feeling pretty ready to hit the road. Of course there's a bunch of international touring we'd love to indulge in when we can too.
Drennan: A big part of touring for us is exploring new places on the days between shows, we've never been over to WA, but we've finally booked a run over there in March/April/May. So very keen to check out some cool places over there. We've spoken about getting to N.Z. too and we'd love to get to North America.
2022 has definitely started off with a bang for you, but what else can we expect for the rest of the year?
Mahler: We are going to jump into the studio really soon and get started on some new tunes! But for the next little while we are going to get out and play as many shows as we can, and spread this album around. As mentioned, we've got a national tour with our friends Great Gable which we are super pumped for, and a few album launch shows of our own in February. So that should be a good time. Hopefully see you at a show!
Drennan: We're just going to play as many shows as we can and keep writing music. We'll also film some video clips along the way. We do them ourselves on the road so we don't have to plan much, we've always liked doing it this way. We have fun and just see what happens.
— —
•• ••
Upcoming Shows
FRI 18 FEB – BRIGHTSIDE, BRISBANE
SAT 19 FEB – THE NORTHERN, BYRON BAY
SAT 26 FEB – LANSDOWNE, SYDNEY
SUN 6 MAR – MIAMI MARKETTA, GOLD COAST w/ Spacey Jane
Shows with Great Gable:
THU 17 MAR – ALTAR, HOBART
SAT 19 MAR – CROXTON, MELBOURNE
FRI 25 MAR – UC HUB, CANBERRA
SAT 26 MAR – MANNING BAR, SYDNEY
SUN 27 MAR – MANNING BAR, SYDNEY
FRI 01 APR – THE NORTHERN, BYRON BAY
SAT 02 APR – THE TRIFFID, BRISBANE
FRI 08 APR – LION ARTS FACTORY, ADELAIDE
SUN 17 APR – ASTOR, PERTH
FRI 03 JUN – FROTH CRAFT BREWERY, EXMOUTH
SAT 04 JUN – MERMAID HOTEL, DAMPIER
SUN 05 JUN – ROEBUCK BAY HOTEL, BROOME
— — — —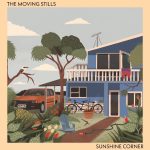 ? © Dave Mahon
:: Stream The Moving Stills ::
---