Honeysuckle's third album 'Fire Starter' captures a vast array of relationships through heartwarming progressive folk sounds and provocative, ponderous lyrics.
— —
There will always be a space for sweet-scented folk in the world: For gorgeous two and three-part harmonies woven over the rosey vibrations of an acoustic guitar or banjo. Honeysuckle's new album reminds us of the timelessness these sounds carry: Fire Starter captures a vast array of relationships through Honeysuckle's heartwarming progressive folk sounds and immersively ponderous lyrics.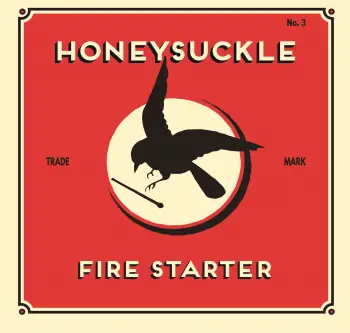 Atwood Magazine is proud to be premiering Honeysuckle's third album Fire Starter, out June 21, 2019 via AntiFragile Music. The Boston, Massachusetts trio of Holly McGarry, Benjamin Burns, and Chris Bloniarz, Honeysuckle's instrumental arrangements and sonic language puts them in a similar camp to acts like Boy & Bear, The Novel Ideas, and Shook Twins — bands who also give great credence to harmonies and the interplay between their largely unplugged instruments.
Glowing with gorgeous Americana and bluegrass warmth, Fire Starter places Honeysuckle into the forefront of their field as a band not only with songs to share and a story to tell, but one who can maintain our attention and keep us wanting more.
"Fire Starter is in large part about the people and experiences large and small that have shaped us into the people we are today," Honeysuckle tell Atwood Magazine. "Anything from songs about an offhand comment by an acquaintance to a changing relationship with a childhood friend and the dramatic ways they have affected us."
Fire Starter comes two years after Honeysuckle's sophomore album Catacombs and, a record which itself built upon the provocative intimacy of the group's 2016 self-titled debut. This time around, it feels like the trio spent plenty of time fleshing out each track, allowing multiple arrangements to come and go until they found the one that fit the best.
"Since our last release, Chris and Holly have been co-writing much more," the band explain. "We wrote 'We'll Die Young' and 'Gaslight' together for this release, and [we] think it gives them a little different flavor from our previous releases. We were also able to road test all of these songs a bit before we went into the studio this time which was nice and [we] think allowed the songs to settle and take shape a little better before we went in to record them."
The number of truly memorable, exciting songs on Fire Starter is a testament to this extra thought and energy. Pre-release songs "Gaslight," "Firestarter," are "To the Grave" are undoubtedly amongst the album's musical highlights, but they are not alone: The songs "We Will Die Young" and "Nearby If Need Be" – one about inner fears and the other about leaning on your chosen family – offer thoughtful insights through provocative lyrics that demand repeat listens.
The fact of the matter is this: Folk isn't some old man's sport, performed exclusively by an aging demographic or a rural population. Honeysuckle pride themselves on blending "older influences and traditional instrumentation with modern effects and inspiration," and Fire Starter is the exemplar of that perfect pairing. Experience the full record via our exclusive stream, and peek inside Honeysuckle's Fire Starter with Atwood Magazine as the band go track-by-track through the music and lyrics of their third album!
Stream: "Honeysuckle" – Fire Starter
:: Inside Fire Starter ::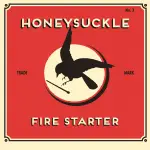 — —
Miss You
Holly grew up in a small town in the northern panhandle of Idaho. When she got accepted to attend Berklee College of Music in Boston, MA most everyone in my community were excited and happy for me. There was however one person who told me that Boston would "eat me alive" and that I would never make it. So this song is a slightly sassy number for them.
Gaslight
Chris and Holly wrote the song "Gaslight" together. To put it simply it's a song about a dysfunctional relationship but don't worry, it's not autobiographical. There's a real shortage of love songs in the world after all.
Fire Starter
"Fire Starter" is about how we define ourselves. Are our personalities and actions dictated by the people and environment that created us? How much are we in control of who we are, what we do and how we experience the world? This song was started almost 3 years ago when I thought I might leave Boston to go back to my hometown, which I feel in large part has shaped the person I am. I only got as far as the first verse until last year. I think until then I didn't truly have the perspective to finish it.
I Love My Phone
"I Love My Phone" began as a melody that kicked around for a few years, then became an attempted diatribe aimed at dissecting my/our relationship to this modern mode of conversation – the smartphone – and my sometimes tactless communication, or lack thereof, on that front with people I otherwise hold dear face to face. Then I realized how little I had to contribute to that dialogue, and maybe how little I cared to expand, so it ended up being about the distance that seems to calcify between friends when their geographical distance increases, which at the time was a theme for me. The ham fisted quip for which the song is named, however, stuck. The irony of a folk band singing about loving a phone felt neo-hokey in an honest, hopefully humorous way, I guess. Tacked on is a memory of an intense afternoon out in the country with some close, high quality friends, where no phones were present.
We'll Die Young
Chris wrote the music for this song and Holly the lyrics. It's unfortunate for our profession but Holly has an intense fear of dying in a car crash so every time we go on tour all sorts of scenarios keep me up at night. We've certainly had to drive in our fair share of terrible conditions, which show up in a few verses.
To the Grave
It's more or less about understanding your family's history in order to better understand yourself. It's about seeing how your relatives strengths and weaknesses have become in some ways your own strengths and weaknesses.
Crossbow
The overall feeling of the song is being frustrated at people's lack of understanding of your feelings and your past.
Nearby if Need Be
This song is about the people in life that are so close to you, that even though they can drive you crazy at times, you'll always care about them. When it comes to family, you always stick together, no matter how strained the relationships can be. You'll always be nearby if need be to help out one another.
Islands
"Islands" expands on the sentiments in "ILMP", wherein the phone becomes more of a satellite, or a flare sent up from an island of my own making – time being the volcano, a certain sadness the magma. Adult friendships become abstract, growing wider rather than deeper at times, and choosing comfortability over closeness. Both of these songs were just a raw feeling in time. Sometimes the words just approximate a thing I don't quite understand yet.
Windstorm
This song is in response to a mean poem written about Holly about 7 years ago. It took me so long to craft a thoughtful response that the author of said poem likely doesn't even remember it or me all that well. Either way it felt cathartic to write and more empowering than our usual self deprecating material.
— —
— — — —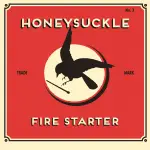 ? © Kit Castagne
art © Becky Levine / Chris Cruz
:: Stream Fire Starter ::
---
:: Honeysuckle Tour ::
*with Bart Budwig
7/3 Sunset Tavern – Seattle, WA* special guest Navid Eliot
7/4 Fort George Brewing and Public House – Astoria, OR*
7/5 Brickroom – Ashland, OR
7/6 7 Devils Brewing Co. – Coos Bay, OR
7/7 Sam Bond's Garage – Eugene, OR
7/9 The Olympic – Boise, ID* with special guest Nick Delffs
7/10 The Bartlett – Spokane, WA with Jenny Anne Mannan
7/11 Brewminatti – Prosser, WA*
7/12 SummerFest – Sandpoint, ID
7/13 John's Alley Moscow, ID
7/14 The Old Church – Portland, OR* with special guests Vacilando
7/16 Hotel Utah Saloon – San Francisco, CA*
7/17 Moe's Alley – Santa Cruz, CA*
7/18 Coffee Gallery Backstage – Altadena, CA*
7/19 McCabe's Guitar Shop – Santa Monica, CA*