A record of movement and stasis, depth and discovery, Mild Orange's new album 'Looking for Space' is a comforting blanket of alternative warmth and wonder ready to soundtrack to life's ebbs and flows and melt us into oblivion.
Stream: "Oh Yeah" – Mild Orange
---
As we found, different spaces have different influences and feelings – some you gravitate towards more than others. I mostly like to think about 'Looking for Space' referring to the journey of life, and trying to figure things out as you embark on it.
A record of movement and stasis, depth and discovery, Mild Orange's third album is a comforting blanket of alternative warmth and wonder. A softly cinematic soundtrack to life's ebbs and flows, Looking for Space invites us to close our eyes and melt away as New Zealand's coolest export envelop us in a stunning, stirring reverie.
Should it make sense
When it feels this good?
Not sure what it needs
Why don't you just chill out?
Oh yeah
It's not understood
Why it feels this good
I'm still thinking myself
I'll just continue to chill out
Oh yeah
If you're Looking for Space, search no further than Mild Orange's third album, released February 10, 2022. Basking in the glow of charged alternative rock, sweet indie pop, and hot psychedelia, the four-piece of frontman/producer Josh Mehrtens, lead guitarist Josh "Jah" Reid, bassist Tom "Barry" Kelk, and drummer Jack Ferguson have followed 2020's acclaimed self-titled LP with an album that breathes with its own gravity: One that feels unleashed and full of possibility. A world unto itself, Looking for Space sees Mild Orange venturing out of their comfort zone and the "bedroom pop" sound of their nascence, giving their instruments (and songs) literal space to breathe, grow, and build naturally. The resulting sound feels like a marriage of Glass Animals, Radiohead, and Oasis: A cohesive eleven-track journey that rises and falls with enchanting ease, kaleidoscopic color, and a certain kind of honest underdog charm.
---
Guitarist Jah Reid explains how this time around, the band set out "to explore new sonic territory, while remaining distinctly Mild Orange."
"The album was recorded over a multitude of locations," he says. "We started the recording process just after New Zealand's first lockdown in mid 2020 and were very excited about being able to play and write together again. Following that, we converted a few different beach houses into studios, as well as visiting a studio in Auckland over a period of 18 months to produce what is now Looking For Space. It was probably the most meticulous we've been in writing an album thus far."
"We knew from the onset that we wanted some huge songs for when live music returned," frontman Josh Mehrtens adds. "But the realised vision wasn't clear until we got further through the process. We recorded a string of songs in various places, and it began to make sense as a cohesive body of work as we kept living the songs. We maintained our usual practice of what feels good and right in the moment, nothing too forced, yet keen to progress."
"I think this record sees us doing what we've wanted to do all along – create a timeless and cohesive album that you'll carry with you for the rest of your life and find new things in it upon each listen as your life flows and your settings change. We've also always been from New Zealand, for the world and on this album, we really did that. Most obviously seen in the videos we did ranging from Japan to Indonesia to France. But we've also maintained contact with our fans around the world through music and online during the process. We have the worldwide listener in mind during making the album, with an intention to make music and art that will resonate with people around the globe."
"The nature of the recording meant that we moved to a lot of different environments, all with their own unique feelings and inspirations," bassist Barry Kelk observes. "The music on this album is certainly larger, more dynamic and there are a couple pretty big songs. We've been lucky to play a few of the unreleased tracks live and they feel amazing. Certainly a progression from Foreplay and Mild Orange, but still have ties and links to those two albums." Meanwhile, drummer Jack Ferguson adds how he wanted to focus more on the drums' sound and presence: "They sit better and hit harder in this," he says with an air of contentment.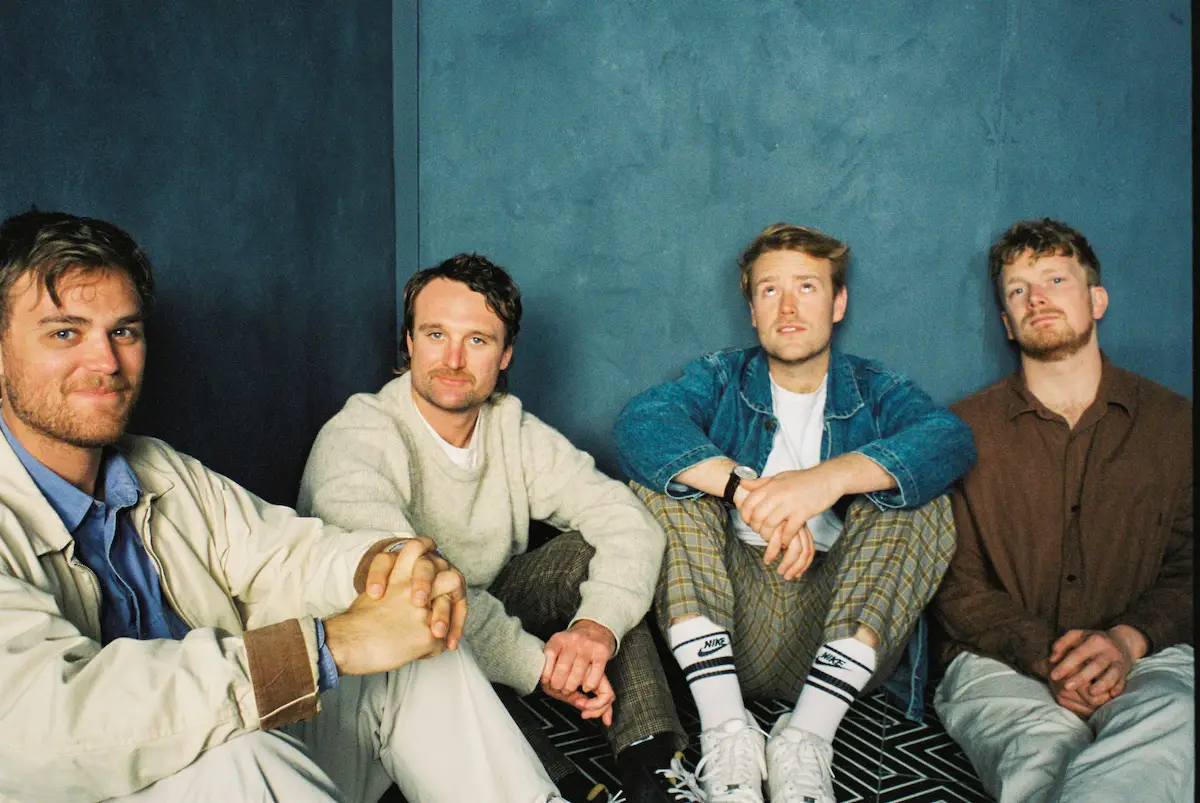 ---
While they may not have set out with a specific vision in mind for this record, all four Mild Orange band members wanted to break out of the box this time around and make something that resonated beyond the pale; something that felt greater than the sum of its parts. Looking for Space can be interpreted literally, but as a title, it truly means whatever you want it to mean.
"There can be many meanings to the title, and we hope it's interpreted in peoples' own ways," Mehrtens says. "In a literal sense it can refer to the various spaces we worked in. Or in a comical sense, space is everywhere, so if you're looking for it, it's actually always right around you. But as we found, different spaces have different influences and feelings – some you gravitate towards more than others. I mostly like to think about Looking For Space referring to the journey of life, and trying to figure things out as you embark on it."
Mehrtons calls the record a "thoughtful, real, companion" LP, while his bandmates describe it as "driving, nostalgic, and warm" and "introspective, smooth, and spacious" – and above all, their best effort yet. Indeed, highlights abound from the scene-setting opener "Colourise" to the soft send-off closer, "Photographics." The band tap a radiant, glistening alternative pop groove in "The Time of Our Lives," a smoldering upheaval that drowns listeners in waves of seductive sound. On the other end of the spectrum, the penultimate "Music." lights up with a relaxed indie rock ethos; reminiscent of Mt. Joy, the song swims its way through heated, churning guitars and a groovy, easy-flowing beat. It's a moody euphoria and easily one of the album's standout moments, highlighting Mild Orange's ability to channel both movement and zen.
"'Music.' and 'Aurora' [are my favorites]," Mehrtens shares. "'Music.' has a cute story and was also a little Frankenstein of a production, which I love. So much character in the recording. Then  'Aurora' is just such a genre-bending song. I don't know anything to compare it to." The frontman also cites the album's opener as having some of his favorite lyrics: "'Colourise' makes me smile when I recite the lyrics in my head," he reflects. "They're simple and motivating to continue to push myself to live a colourful life. I think This Kinda Day has my favourite lyrics. The form and word play on syllables is like brain candy for me. Things like, "Like an ocean, so often" are so simple, but together are so satisfying. The word 'ocean' also sounds like the calming nature of the ocean, in its 'shh' sound."
Count on light
Count on love
But don't always believe
All that you've seen
(Ooh) Colourise
(Ooh) Colourise
Trust the waves
And where you'll go
'Cause you never know
What it may hold
And if you never try
You'll never grow
'Cause you never know
What you don't know
---
"My personal favourite is 'What's Your Fire?'" Jah notes. "It's a special song to us, we incorporated it into our live set almost immediately after writing it (a year and a half ago) and it has remained a highlight since. Prior to its release, we would always have fans come up and ask what song it was and say it was their favourite of the night. It seems to really get the crowd moving."
Barry agrees, also throwing out 'This Kinda Day' and 'The Time of Our Lives,' as songs he enjoys listening to and playing live.
Looking for Space is an open invitation to revel in life's depths: To soak in Mild Orange's soaring sonics and unearth your own dreamland.
It's the kind of record that gives you something new with every listen: An album you can sink into, and truly let it wrap its arms around the ears, the mind, and ultimately the soul. "We hope listeners take away something new each time listening to the album," Mehrtens shares. "We still find something new each time listening to it, even now that it's out. I think there's been more understanding of the power of the build up of many moments and the influence of space. We love doing Mild Orange more than ever."
Experience the full record via our below stream, and peek inside Mild Orange's Looking for Space with Atwood Magazine as Josh Mehrtens goes track-by-track through the music and lyrics of their latest album!
— —
Stream: 'Looking for Space' – Mild Orange
:: Inside Looking for Space ::
— —
Colourise
As with our other albums, we understand the importance of the entry to an album. 'Colourise' sums up a lot of the album both sonically and lyrically. It sounds welcoming and like a journey is building, then it explodes with colour when the second verse hits. Lyrically it outlines much of the themes in the album, touching on outlooks, perspective and ways of seeing the world. This is one of the tracks recorded entirely at Roundhead Studios. It was written in Oākura Beach, New Plymouth and in studio in Auckland.
F.E.A.R
F.E.A.R stands for Forget Everything And Relax. All of us are surely guilty of letting fear dictate our decisions, and this can be good to many degrees as a defense mechanism that protects us from making costly choices, but sometimes it prevents us from leaving our comfort zones which in turn can allow us to grow. This is much what the video touches on too. It's easy to get worried about everything that can go wrong when performing (or doing anything really), and something nearly always will go wrong, but you can't stop, you gotta carry on, relax and embrace the moment. I'd recorded a demo of F.E.A.R in the first lockdown in 2020, and a lot of the vocals and guitar I did made it into the final recording. The song really came together though when the four of us jammed it out and gave it more structure and parts in Carters Beach, NZ. It's a fun and groovy tongue-and-cheek song, with some scattered Star Wars lyrical references that will get stuck in your head in the best of ways.
The Time Of Our Lives
This song came to be after I was reflecting on a time in my life when I truly felt like I was free to discover who I was by finding my own space in the world. I travelled around Japan by myself when I was 21, just skateboarding, exploring and making friends. I picked up little life lessons along the way and the song and video celebrates that feeling of looking for space. I first showed a demo I'd made to Jah, it had the same vocals, guitars of mine and glitchy beat you hear in the final recording. Jah started playing this xylophone sounding part over the song and it elevated the nostalgia and catchiness levels through the roof. Jack and Barry loved it too and what they brought to the song in drum and bass brought so much groove and texture – it had sounded a bare before they'd gotten involved. I worked with Paddy Hill at Roundhead to get this bedroom recording sounding a lot more refined. Paddy painstakingly and amazingly got Jack's real drum kit recordings to emulate the 80's drum machine beat I'd put on the demo. Full circle style kinda stuff. Since the early demo days of the song, I would play it along to Kento Yoshioka's part in the Evisen skate video with the video's audio off and they synced so harmoniously. Kento's my favourite skater. I reached out to his skate team and they digged the song. After many hurdles in Tokyo including lockdowns, monsoon season and the Olympics closing half the city, many months later, the skate/music video for the song was finally filmed. Kento, Tomoyuki and Nion nailed it.
This Kinda Day
Midway through us making Looking For Space I came down very hard with double pneumonia and pleurisy. It wasn't fun to say the least and it earned me nights in hospital, many trips to the doctor and gave me trouble and pain when breathing for months. Jah and I had just moved to New PLymouh and our friends parents, Kat and Bern, kindly let us turn their new house in Ōakura Beach into a recording studio before they renovated and moved into it. Looking out from the house at a storm battering the beach, it dawned on me that the gnarly weather that hits the coastline is a requisite part of shaping and forming the beautiful beach. It dawned on me that this too shall pass, just like the sickness I'd had. My mates (especially the band) and family had been there for me through the dark times, and it helped a lot letting them know I was going through a dark patch. So, this song, like the video, tells the importance of understanding the transience of moments, and to reach out to your friends when life gets overwhelming. The song was recorded DIY between Oakura, the MOHQ in New Plymouth and then also with Paddy Hill at Roundhead Studios.
Oh Yeah
Oh Yeah nearly didn't make it onto the album. For a while it kind of just didn't fit into the album track list. We always knew it was a cool song but we couldn't figure out how it clicked into the album both sonically and thematically. Until, and very ironically, it made sense at a later date once we'd finished all of the songs and were able to listen back undisturbed. My Dad had been urging us to take the song seriously, so we tried it in the lineup and it sonically went well with This Kinda Day to close off Side A, before Side B kicked off more punchy with What's Your Fire?. In hindsight, it definitely fits with Looking For Space. It's hard to fully assess a moment and it's meaning while you are living it. But when you have some time and space,  some living in between that moment and the now, then you are offered new ways of processing that moment. This fits into the 'trying to understand life' category that much of the album attempts. We also feel like this song is sonically reminiscent of Foreplay's DIY slacker, laid back feel. This was unintentional, but we feel like it's a nice nod to fans who've fallen in love with MO for that kind of sound, while we continue to explore other sonic territory.
What's Your Fire?
New Zealand locked down for two months or so in the first half of 2020. This meant that the four of us weren't able to come together to write and record for a while. When we finally came together at Barry's parents place in winter in the Mars-like Bannockburn (the most inland town in NZ), we made music with an explosive passion. We were both excited to make music together again, and excited to make energetic music for people to return to once live music could resume. Enter What's Your Fire?. It was the first song we wrote for the album (before we even knew there was an album). In light of lockdowns and not being able to play music and do other things I loved, I had been wondering where we were in life, what I truly burned for, and how I could continue to keep growing. The lyrics led me, they flowed out of my mouth into the demo phone recordings we did without any planning or careful thought. Bit by bit I made sense of my utterings, and formed the lyrics to the song. They came from somewhere inside that I'm not sure that I've had access to since. It was this song that sparked us to engage with a proper studio. I realized that this song was too big for my laptop and bedroom mixing set up. To get it to sound like a stadium rock song we took my Ableton file to Roundhead. Paddy – The Sonic Wizard – Hill made it sound huge.
Take A Moment (Interlude)
This was an unassumed, unplanned tail-recording of Barry doing some descending chords on the bass guitar. I left it in at the end of the What's Your Fire? demo for months because it felt calming. Then we decided to split it into it's own interlude so people could skip it if they didn't want to take a moment haha. I love it as a peaceful moment in the full playback of the album to reflect and give the ears a little breather.
Aurora
Aurora was written and recorded at the same time as What's Your Fire? In Bannockburn. We'd jammed the idea a bit that I'd recorded onto my phone. I'd listen to these janky recordings each day in the car driving to and from my family home about 30 minutes away and would find little intricacies that needed to be elaborated on, since we played it different each time. Aurora was the last song we recorded in Bannockburn, which meant it was rushed and incomplete. I pretty much tracked Jack's drums, Barry's bass and then Jah's guitar as fast as possible to get their initial ideas down. Then I added my guitar and vocals later when I would have time. I think that rushed and not over calculatedness brought out something free spirited, raw and loose in this song. It needed to be refined and listenable though, so with the help of Paddy's skills, we got this to where it needed to be. As for the meaning behind the song… you can't live your life again.
Hollywood Dreams
This was recorded entirely at Jack's uncles beach house in Carter's Beach. I'd written bits of the song before we arrived together for the getaway but it really came together when we all had input on it and brought our own flairs. This is our "try your best Covid, we'll keep on believing in our dream!" anthem. As well as our attempt at making a 1970's sparkly tune reminiscent of the old days in Hollywood where you'd buy a one-way-ticket to following your dreams in the city of stars. Paddy helped us glitz it up by running it through the same tape machine that Fleetwood Mac's Rumours was recorded on, in the studio owned by Fleetwood member (and legend in his own right) Neil Finn.
Music.
I wrote this in the garden on an acoustic guitar while still recovering from sickness. Events like that, coupled with cancelling shows and navigating the difficulty of being a musician during a global pandemic can really test ones perseverance to follow their dreams. I got a taste for not being able to do what I loved. Music. It really messed with my mental health not having music be the main thing in my life. So this song is about not letting the music stop, and doing everything in your power to keep the things that make you happy in your life. For me that was to get healthy again and value my health more in order to live a life full of music. We'd jammed the song literally twice in the MOHQ a few days before going into Roundhead studios to have as a backup song that we would record if we maybe maybe mayyybee had time. For me, I'd been playing the song for a month or so. But for Jah, Jack and Barry they'd written their parts on the fly on one playthrough and then only played them once back. On one of the last nights in Roundhead, we'd finished tracking Photographics and another song which is not on this album. It would've been about 12:30am and we'd all had a huge day and a healthy dose of beers. We started playing Music. just out of fun. We decided to record it. Jack and I managed to get to the end of the song in a very loose and jammy way which was quite amazing given the state we were in. Jack and. I improvised the drums, vocal and guitar. I need to add that we don't normally drink in the studio, it was more celebratory. Barry played out of key for a lot of the song somehow, and then Jah was unable to remember what he was playing and didn't manage to make it to the end of the song. It was a funny moment, but was all on record though. For months I studied this weird recording of professional musicians sounding like a 12 year old battle of the band's entry that only made it to the first round. However, there was a hell of a lot of passion and raw rock'n'roll energy in it and Jah and Barry's takes both had the occasional stroke of genius in them. I got those two to re-record their parts and I Frankensteined some of the original live jam bits in too. Paddy cleaned up the recording, and boom – this lovely, glowing recording was complete. It's my favorite on the album for so many reasons.
Photographics
We recorded the instrumental live to the 1970's tape machine in Roundhead with Paddy, which gives it the warm and fat texture. Barry sparked the song with the bassline and we had initially intended for it to be an outro or reprise to The Time Of Our Lives. It took shape as an album exit/summary, whereby I strike a poem at the end while the intensity of the band builds. It feels nice to leave the album on such an intense wall of sound. I find it interesting with this recording how in some moments on some sound systems it can be overwhelming, but when you find the right conditions it is just pure melty goodness. It's intentional, something that we deliberated with. It's part of the art of Photographics.
— —
— — — —
? © Kenzie Pigman
:: Stream Mild Orange ::
---