Listening to music is more than just an auditory experience. Atwood Magazine's Tunes & Tumblers column explores the way our senses mingle by pairing new and classic albums with cocktail recipes. We invite you to bring out your inner mixologist as we approach the music we love from a unique, immersive, and thoroughly delicious perspective. Put up your feet and enjoy a cold one on us.
 
The latest PCH stop on Anderson .Paak's discographic journey north is a sultry pit stop that lends itself perfectly to some clothing-optional hotel activities. And we've mixed a little foreplay in a glass to serve alongside it.
   
Nothing embodies the Pacific Coast Highway quite like escape. The 10 Freeway empties into it like the mouth of a river and suddenly the hustle of the city is a forgotten memory. Blast off from the blight and congestion of Los Angeles and into the sun-drenched expanse of the California coastline. The road swallows you as you disappear northward into freedom and the unknown.
Anderson .Paak seems to have defined his musical career by the PCH brand of escape. His 2014 album Venice began his journey in the heart of it, the eclectic beach town that gives the whole state of Florida a run for its bizarro money. He followed that with the critically acclaimed Malibu, a few miles up the coast and notably removed from the bustle of the LA's oceanside spill. Then we got Oxnard, the idyllic burb that sits like an exhalation at the tip of the Malibu mountains and .Paak's hometown. But he didn't' stop there. His trek continued this year into Ventura and presumably beyond, a perennial road trip that mirrors his growth and exploration as an artist.
If you've already been inducted into the school of .Paak, you know he defies the rules of the game. As a pick for the 2016 XXL Freshman Class, he was grouped with emerging hip-hop artists like 21 Savage, Kodak Black, and Lil Uzi Vert. But calling his music hip-hop feels pretty reductive. It's a giant pot of old-fashioned soul stewed with funk and a generous dollop of pop sensibility. Like a master chef, he sprinkles in the rap sparingly, paying close attention to how it elevates the dish. It's his Salt Bae piece de resistance, a flow that spits like a breakdancing jazz flute. Ventura — like all the PCH stops before it — is a shapeshifting work that is one thing above all, undeniably sexy.
It's classic, easy, and so goddamn smooth. The basslines drive like the lapping of flames in a fireplace. Smokey Robinson, Brandi, the late and great Nate Dogg, and Lalah Hathaway all lend their formidable talent to a rich and inviting mood. Turn the lights down low and pour something warm in your glass.
What should you pour exactly? Don't worry, we've got you covered. Please get in the mood responsibly.
separator type="thick"]
THE DRINK
The Boulevardier
1 oz whiskey
1 oz cognac
1 ½ oz compari
½ oz vermouth
Ice (to smooth out all that alcohol)
Instructions
Combine ingredients in a tumbler of ice. Stir to combine, making sure it's nice and diluted to tone down all those strong flavors.
Take a lemon twist and rub the lip of the glass to heighten the aroma. Toss it in the drink and mix one last time.
Put the fireplace on. Lay out the sheepskin rug. Enjoy your drink nice and slow to Anderson .Paak's Ventura.
Dropping yourself into the world of Ventura requires a bit of finesse, like a good backrub before the clothes start to slip off. The brakes need a good pump and "somebody needs to calm you down," as Anderson says himself on "Reachin' 2 Much."
The perfect drink would be just as smooth and best enjoyed nice and slow. It would incorporate a good amount of ingredients to compliment the all-star cast of collaborations, but maintain that richness that will loosen your inhibitions a little. Maybe make some good or some not so good decisions. Either way, you probably won't regret it in the end.
Enter a classic – the Boulevardier. Now a true Boulevardier is simply comprised of whiskey, compari, and sweet vermouth, so we tweaked it a bit to match Ventura's sexy, lavish veneer. Toning down the vermouth and adding that splash of cognac transforms it into the fireside companion that .Paak demands. Sip it slowly as his sensuous world of love, loss, and the messiness of real relationships swims into view before you.
Baby do you wanna make it better?
Do you want to stay together?
Hey, If you do
Then let's please
Make some new memories
Drop that needle and make a few right now.
THE ALBUM
Ventura
Anderson .Paak
---
In an interview with NPR, Anderson said the dot at the head of Paak stands for "detail." "[I] always be paying attention to detail," he explains. "I feel that people take you as serious as you take yourself. I spent a lot of time working on my craft, developing my style, and after I came out of my little incubation I promised that I would pay attention to detail."
It's clear throughout Ventura that the dot is well-earned. Recorded in conjunction with last year's Oxnard, this album comprises all the smoother cuts that came out of those sessions. It's tailor-made to pay homage to the greats, conjuring Marvin Gaye at his most NSFW, Little Richard played at .5x, or Boz Skaggs after a whiskey too many. It's no mistake that the incomparable Smokey Robinson makes an appearance on "Make It Better" and still doesn't manage to drown Anderson in his greatness.
Despite cashing in on clear intentions, it's interesting to note that .Paak doesn't boast the refined vocal prowess of the R&B legends he nods to. His is a raw wail cracking at the edges, raspy and strained. But what it lacks in polished sheen, it more than makes up for in earnestness. He could be anyone on these tracks, pouring out their heart while trying to keep their relationship together (Make It Better), losing themselves in something new ("Jet Black"), or raising a fist in woke defiance ("King James").
The everyman persona though is lifted atop a musical virtuosity that has him in clear control. His attention to detail never wavers.
This is not some super conventional
Extra slick talk meant to convince you all
Master classes reduced to simple form
There's nothing formulaic about it
There's more that Papa told you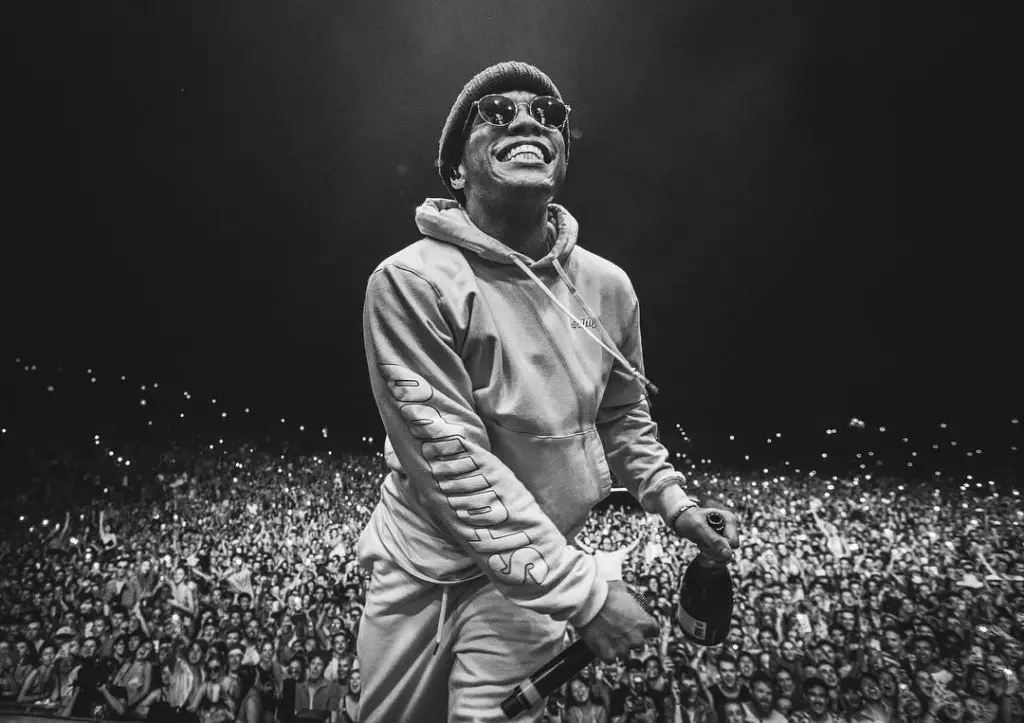 Anderson .Paak occupies a unique niche in the pop music landscape. Though the mainstream leans in an increasingly trap-centric direction, he reaches forever outward for his inspiration. His music escapes the confines of modern hip-hop like an impromptu trip up the PCH (there's that detail again). Yet, he still manages to be mentioned in the same breath as his peers.
Maybe that's what listeners are yearning for. Spotify has opened the doors to personal curation, an escape from the spoon-fed pop of radio tastemakers. The same argument could be made of streaming service algorithms to a certain extent, but overall music fans have greater freedom to tailor their consumption than ever before. Artists that flip traditional genre conventions are popping up everywhere from chart toppers like Billie Eilish, Khalid, and Lil Nas X to buzzy experimenters like Maggie Rogers and Anderson .Paak. The idea of genre may never quite fade away, but the Venn diagram has begun to collapse into a circle.
.Paak follows his creative instinct more than any rigid genre boundary. As his albums get further from the epicenter of Los Angeles, the more he explores. Though a slick album, Venice is his most traditional outing, playing into electropop tropes that flirt with funk more than they embrace them. Miles from the urban sprawl, Ventura unfolds like a sensuous step into the unknown. Elements are recognizable, but they're twisted by his signature blend of old, new, and everything in between. It's the mood that matters most, not the vehicle. As you recline on the sofa, a boulevardier in one hand and a lover in the other, let this peerless blend envelope you.
The coastal escape continues. Whether he stops next in Montecito, Santa Barbara, or beyond is hard to say, but the scenery is sure to amaze. Like those road trips, there will be something familiar, yet wholly unexpected about the journey. Escape into past and into the boundless future until the horizon swallows you up.
— —
Have your own idea for a Tunes & Tumblers pairing? Let us know in the comments, or hit me up on Twitter.
? ? ? ?
:: Anderson .Paak ::