Amongst the wide range of Dr. Dre collaborators, there have been a handful of hits (Snoop Dogg, Eminem, Kendrick Lamar) and a great deal more misses (RBX, Jewell, Hittman, Ms. Roq, King Tee, Soopafly, Slim the Mobster, Joe Beast…) in terms of long-term successes. Yet all things considered, it is safe to assume that Anderson .Paak — whose six appearances on Dr. Dre's Compton earned him some well-deserved limelight after his 2014 debut, Venice, sadly went unheralded — will wind up having things go his way.
Listen: "Come Down" – Anderson .Paak
[soundcloud url="https://api.soundcloud.com/tracks/241158142″ params="color=ff5500&auto_play=false&hide_related=false&show_comments=true&show_user=true&show_reposts=false" width="100%" height="166″ iframe="true" /]
---
To begin with, it is clear that the Southern California native is tremendously gifted. As Malibu, .Paak's sophomore album (January 2016), opens to the gentle sound of plucking guitars and tapping drums, fans can be assured that they are in for an hour of ultra-melodious listening. Funk, soul, and R&B fluidly make their way onto the record in ways that recall the musical tenderness and layering of Frank Ocean's Channel Orange (also like that record, many of the tracks here are punctuated by newsroom-style intervals). Perhaps Anderson .Paak may be able to tide fans over as the wait for Ocean's second album goes ever on.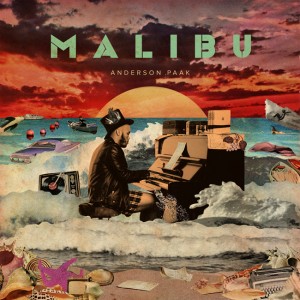 Furthermore, Anderson .Paak fits in very well with the rest of the lineup of Aftermath Entertainment, where he finally earned a record contract earlier this year. It's safe to say that fans of Kendrick Lamar will warm up to Anderson .Paak: The two sound quite alike, for one, as can be most distinctly discerned on songs like "Heart Don't Stand A Chance." and "The Season/Carry Me." More importantly, both are very gifted at channeling their personal experience into compelling lyrical matter.
Malibu's lead artist has faced quite a few turmoils over the years — from seeing his father head to jail, to spending some time homeless with his wife and infant son — and he shows no fear about touching upon these rough experiences. "I was sleeping on the floor, newborn baby boy, tryna get my money pot so wifey wouldn't get deported," he movingly recollects on "The Season/Carry Me." With such candid lyricists as Anderson and K-Dot in its clutches, Aftermath Entertainment just might have as magnetic a duo at its forefront as Eminem and 50 Cent proved to be midway through the last decade.
Listen: "The Dreamer" – Anderson .Paak feat. Talib Kweli & Timan Family Choir
[soundcloud url="https://api.soundcloud.com/tracks/241947148″ params="color=ff5500&auto_play=false&hide_related=false&show_comments=true&show_user=true&show_reposts=false" width="100%" height="166″ iframe="true" /]
---
Even if a number of other genres might contend for the title, Malibu is still a hip-hop record at its core. As such, rappers as stylistically divergent as Rapsody, Schoolboy Q, and BJ the Chicago Kid are all integrated efficiently in various places across the record. Not a single guest verse feels out of place; each plays an intrinsic role in making Malibu a cohesive collaborative effort.
The magnificent album closing track, "The Dreamer," is one of the best testaments to this. Over a lushful soul beat, Anderson .Paak brings forth the Timan Family Choir for a hugely uplifting and infectious chorus ("Don't stop now, keep dreaming, don't stop now…") while Talib Kweli drops some of his trademark "gotta-keep-ya-head-up"-style rhymes à la "Get By" ("My job as an artist is making miracles/ To show you how to struggle poetic and make it lyrical/ Crystallize the thought to make it clear to you/ And make the revolution irresistible"). Having all of these artists from such different backgrounds all deliver their message of hope together so seamlessly makes the song feel especially poignant and meaningful.
Overall, while the bulk of Dr. Dre collaborators have come and gone, it seems safe to say that Anderson .Paak will have earned his spot in the exclusive vault of enduring ones by the time the dust settles. Even if things don't work out (as wildly unlikely as that seems, at this point), he will have achieved at least one amazingly consistent and engaging record with this year's Malibu.
Malibu – Anderson .Paak