Sunshine and smiles make for some amazing therapy, especially in music. Feelgood music is powerful: It can cast a spell over darker subject matters, allowing an artist to bring to light – literally – heavy, raw topics. One of the best examples of this is Bruce Springsteen's anthemic "Born In The U.S.A." – an outright Vietnam War protest surrounded by gilt. The tension between music and lyrics is palpable: One has to really listen in order to experience the full weight of the song, but that full weight – the tension and release between music and lyrics, meaning and feeling – is among the most magical aspects of songwriting.
It is also among the most difficult parts of songwriting: The majority of modern, mainstream pop feels truly shallow and devoid of authenticity not because it is shallow and devoid of authenticity, but because crafting a song that sells a deeper, meaningful message alongside repetitious choruses and catchy hooks is, by nature, a fool's errand. As the song's "fat" gets chiselled out and the song creeps toward pop perfection, it tends to lose its heart and soul; what remains is the shell of something greater, offering a universal message on the surface and nothing underneath.
Listen: "Top" – HØØNCH
---
Thankfully, the world is full of new musicians who resolve to not let their voices be drowned out by the homogeneity machine. Jonathan Hoonch Kim and Gabriel Nava Rodrigues are two promising examples of that: Formerly of the band Walla, Kim and Rodrigues recently unveiled their new project, HØØNCH. The duo only have one song to their name, but "Top" is a beacon of hope with its catchy verses, earworm chorus, subtle subtext, and hidden meanings.
I wish I didn't know
I wish I didn't know you
You're like a criminal
You've got the means to intrude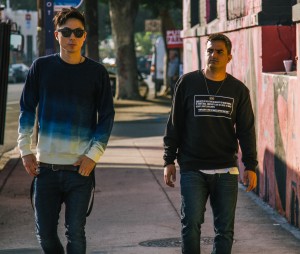 The cute wordplay at the end of the song's first verse will shoot you a small blast of dopamine – not enough for a real high, but enough to forget the darkness of the song's context. This is a song of suffering: The narrator expresses regret.
And I'm not always shaken up
I got a little something innocent
My heart is seeking me to cuss
Only really sober when I'm drunk
Kim admits a deep and personal problem whilst glittery indie-pop hits listeners in all the right ways. It's the perfect cover-up to keep him from breaking down – smile through the pain. This is genuinely bad advice to give an addict, but musical Band-Aids can be powerfully effective. Is the interplay ironic? Sure, but from the artist's perspective, this keeps the song from being a whiny, depressive complaint. "Top" comes off as an open and honest admission of fault, and its positive bounce injects a layer of hope for the future. The sunshine slowly melts the clouds below.
I wish I didn't start
I've been waiting for it
Over thinking on it
From the bottom to the top
I need miracles
Forgot how to do it
How to simplify it
From the bottom to the top
"Help! I need somebody," exclaim HØØNCH in not so many words. The personal situation expressed in the verse/bridge finds release and universality in the chorus as Kim requests a helping hand and commits to improve himself. "Top" could be about anything specific at this point – it doesn't matter, because we've all been in the ruts: We all know what it's like to be low. However, the fact that "Top" is specific, and that underneath the sugary beats, there lies a tortured testimony, lends the song a credence and emotional value that is too seldom seen on the Billboard charts.
HØØNCH go one step further in the "Top" lyric video, directed by Los Angeles' Remii Huang. As with most interpretive pieces, the video can be construed as a misunderstanding of the song or an insightful, deeper representation of the song's themes. Alternatively, one can take the video as a standalone piece of art, depicting moments of young love's blossoming while romanticizing the greater urban experience of what looks to be downtown LA: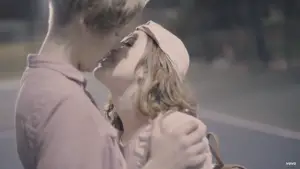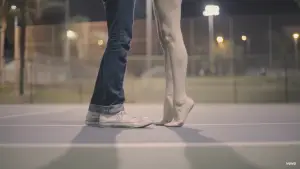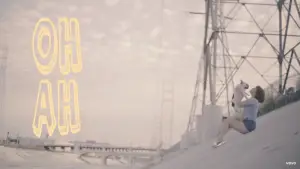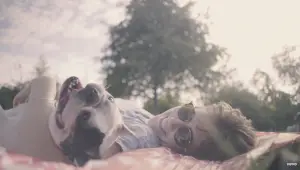 Screenshots from "Top" by HØØNCH
You would never guess this song was about addiction, and that's the true beauty of HØØNCH's "Top." Kim and Rodrigues display an intimate knowledge of the kind of clever, manipulative songcraft that breeds authentic depth and tension. Their wordplay is surface-level (criminal/intrude) as well as subtly deep (I'm not always shaken up), but it does not overwhelm or clutter up the song's ultimately positive, hopeful tone.
Sometimes a feelgood song is all you need in your day. With "Top," HØØNCH offer sunshine and smiles in a genuine human context: You need to feel bad to want to feel good. You need to know the bottom if you want to be at the top. Should anyone be suffering, HØØNCH offer one more resounding message: You don't have to do it alone.
Follow HØØNCH  on Facebook, Twitter and Instagram
Watch: "Top" – HØØNCH