ATWOOD ON TOUR
No Barriers with The Royal Concept: The Intimacy between an Artist and their Fans
Music is so unbelievably special because of its ability to connect. This happens on many levels – emotionally; physically; temporally; interpersonally; music is truly unique in how it can impact the human experience, and artists are incredibly aware of that.
One of the most powerful connections music can foster is the link between the listener and the artist. An individual's 'personal' relationship to an artist is sacred; once it develops, it is always there, regardless of how much time passes without exposure to the music. As an example, my "favorite band" is a group I haven't listened to in over a year – but I still consider them to be my favorite.
This phenomenon relates to the deeper psychological significance and influence of music: Everyone's bonds form differently, but often there is that one song – the catalyst that reeled you in and convinced you to stick around. It's an irrevocable marker of time, place, and meaning, and it comes to bear a special meaning as one's relationship with the artist's music grows.
I remember my initial discovery of The Royal Concept, about two years ago. Their music was glowing and sunny – definitely worth keeping around – but the song that solidified my personal connection to them was the emotional and anthemic track "Cabin Down Below." Something about that song resonated with me; once that connection had been established, I dove as deep as I could.
Caught up in the glow at a cabin down below
and I'm falling and I'm falling and I'm falling
like a rolling stone
Just take me home
Listen: "Cabin Down Below" – The Royal Concept
[soundcloud url="https://api.soundcloud.com/tracks/149906096″ params="color=ff5500&auto_play=true&hide_related=false&show_comments=true&show_user=true&show_reposts=false" width="100%" height="166″ iframe="true" /]
---
Sweden has a reputation for breeding masterful pop songwriters and hit-making prodigies, and Stockholm's The Royal Concept, a rock/pop act signed to Republic Records, does not disappoint. The foursome of David Larson (vocals, guitar and keyboard), Filip Bekic (guitar), Robert Magnus (bass) and Frans Povel (drums) have a knack for writing catchy indie-pop music, and they reached new heights this year by expanding their sound on the Smile EP, the band's second official release in the United States (they have a full album out in Europe). As far as blips in an artist's timeline go, the conscious shift in music (be it from Revolver to Sgt. Pepper, or something less drastic) is always noteworthy, even if it seems like the artist's "natural" progression.
As great as the new record's songs are – and Smile is unquestionably a forward step for the band – from a personal standpoint, nothing compares to "Cabin Down Below." Interestingly enough, "Cabin Down Below" was never officially released in the US; it is only available to stream on SoundCloud.
It therefore meant so much to me when, at another fan's request, The Royal Concept played "Cabin Down Below" as the final song at their recent New York City show. Closing the night with a less popular song seems an odd choice; most artists will save a big hit for the end, in order to keep the crowd around for the full show, and to leave everyone with what would presumably be their highest high. The Royal Concept operate a little differently.
The Royal Concept are acutely aware of their connection to their fans. When I asked frontman David Larson why they chose to end their set with the relatively unknown track, he had no hesitation: "Because someone requested it."
It's more fun to be interactive with the crowd and let them request a couple of songs that they want to hear.
"Cabin Down Below" was already the seed for a few audience members' personal relationship with The Royal Concept, but at that show, in that moment, the song took on an even greater significance: It came to represent the bidirectional relationship between The Royal Concept and their fans.
The Royal Concept are crystal-clear about their love for their fans. This was evidenced by their use of Pledge Music, a Kickstarter alternative for music makers that offers a deeper intimacy between artists and fans, as part of the band's recent EP promotion.
It is even more apparent in concert, where The Royal Concept give their all to making the live experience an interactive one: There is little to no barrier between the four musicians and their audience. The comfort and familiarity with which Larson and others address the audience is striking: The Royal Concept love the music they make and they love playing it every night, but their fans' support means everything to them. Their entire encore, as well as a few songs during the main set, were determined by shouting fans.
The Royal Concept are a great example of an artist that is not only aware of, but also finding ways of embracing their relationship with individual listeners. Toward the end of the show, Larson took a minute to address the packed New York crowd, thanking them "for giving us the best night of this tour." By dedicating their entire encore to fan requests, the band related an important sentiment:
This show is for you.
Such an attitude is an anomaly in 2015 – where many artists, even indie acts on the rise, appear disconnected to their fan-base – but it's one of the many things that make The Royal Concept so special and unique, both in the indie rock genre and in the music world at large. In an interview conducted earlier this year, David Larson told me, "We'd rather play our own songs in front of 50 people than someone else's song in front of 100,000." Here is a band thriving off the individual relationship they can establish between themselves and listeners.
The Royal Concept know all about how music connects, and they are doing everything in their power to create as exciting, warm and memorable an environment for their fans as possible. If you didn't catch them on the most recent tour circuit, rest assured that they will be back soon enough for another round of interactive, dynamic concerts. When a band is this good, it's difficult to stay off the road for long.
NO BARRIERS WITH THE ROYAL CONCEPT
Atwood Magazine: Alright, we're here with The Royal Concept right after your show in New York City.
David: That is correct!
How's it going?
David: Um, we're a little bit tired after yesterday night – obviously – but it's good. It's good, it's all good! It was one of the most fun shows I think we've ever played.
Yeah, it was very fun. You were very honest with the crowd about that, too.
David: Yeah – I mean, they deserve to know it! After a couple of songs, they deserved to know it.
Yeah, they were - I mean, everybody was singing along to almost every song. Are you guys getting that a lot these days?
David: Hmm… Yeah. Pretty much – yeah.
Then were you surprised when they knew the obscure ones that haven't been released in the States yet?
David: Yeah, that's always weird. It's like… I mean, we can end up in like, Kansas City and someone heard an old demo of ours, and they request a song that we haven't played in four years or so.
Filip: Usually they know it better than we do.
David: Yeah, but that's the beauty of the internet, I guess. You know? People find stuff.
Had it really been that long since you guys played 'Girls Girls Girls'?
David: Two years, I think!
Shit. It's been a while since somebody requested that then, huh?
David: Yeah, yeah, yeah! [laughs]
Something I was surprised by was how comfortable you looked up there.
David: I mean, we've been lucky to tour a lot, and everyone has been musicians since we were kids, so – that's what we do.
Even more than that, there was no barrier - no barrier between you and the audience.
David: That's nice of you to say! We feel very connected to the people, but I mean, they also bought tickets to see our show, so like – you know… And we're very grateful for that, so why not be telling them and show them that. Also, we have the best – touring is great, but the most fun of touring is to play the shows. We sit in a car together for twenty hours a day.
You're in New York for a few more days, right? Do you have any plans for during that time?
David: Explore the city. We actually – me and Filip, we stayed here for a summer about three years ago, and that was the best summer of our lives, I think. We have a lot of love for the city.
You said that one of your songs is dedicated to New York City.
David: I think a lot of our songs are dedicated to New York. We have a song called "Cabin Down Below," that we played as the last encore yesterday because somebody requested it. That song is about a bar here, where we actually went yesterday night, called Cabin Down Below.
Is it called 'Cabin Down Below'?
David: Yeah
So I've got to say, that's my favorite song of yours.
David: Ah, okay!
And I didn't even realize that it's supposedly obscure - I love how it rises!
Filip: It's a fun one.
David: It's a bar – Filip and I tried to get in there, because we knew that The Strokes' manager was the owner of the bar or something like that. So we thought The Strokes might be there, so we – like, this is when we were younger, and super starstruck – and we got in, like the third time or so. We met a friend that knew someone, and we could get in there, and they were actually there the first night we got there! And we had a crazy, crazy night – it was a good night – so we wrote a song about that, basically. It's like a secret – there's no sign or anything.
Filip: You have to pass through, like a hot dog stand or something, to get in there.
David: But it's cool – check it out!
Oh New York, you're so weird.
David: They played a lot of jazz in there yesterday, which was cool.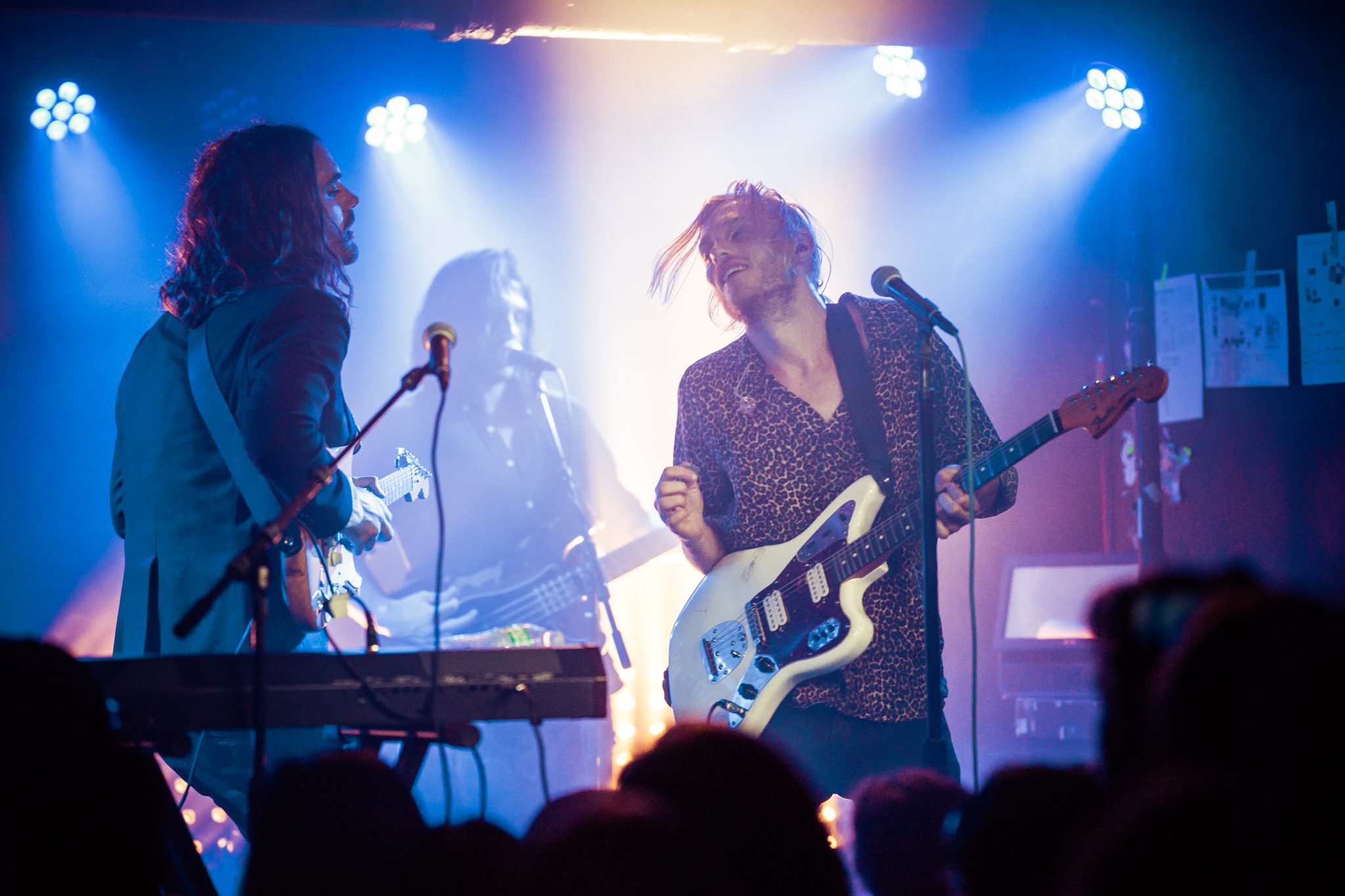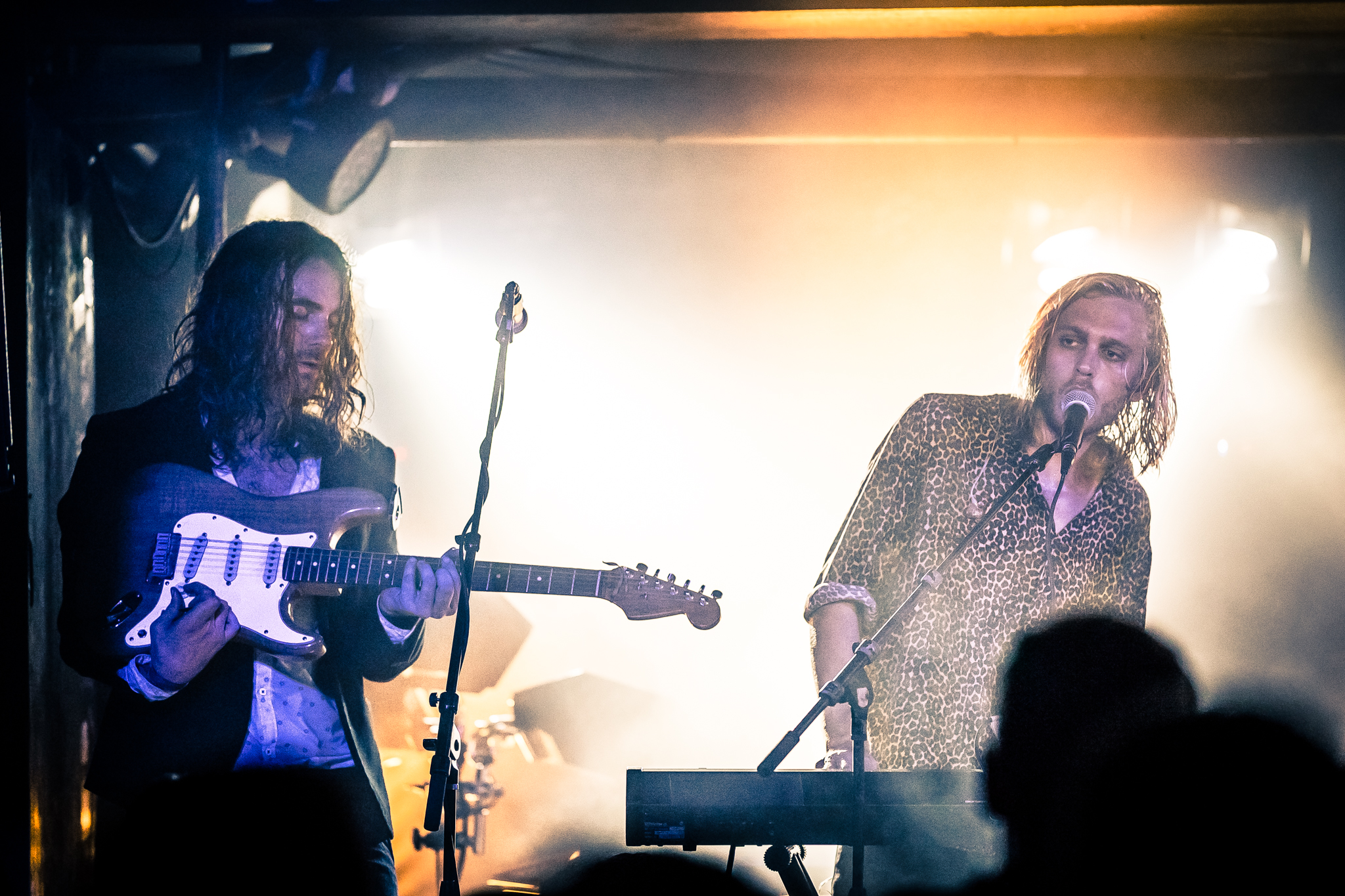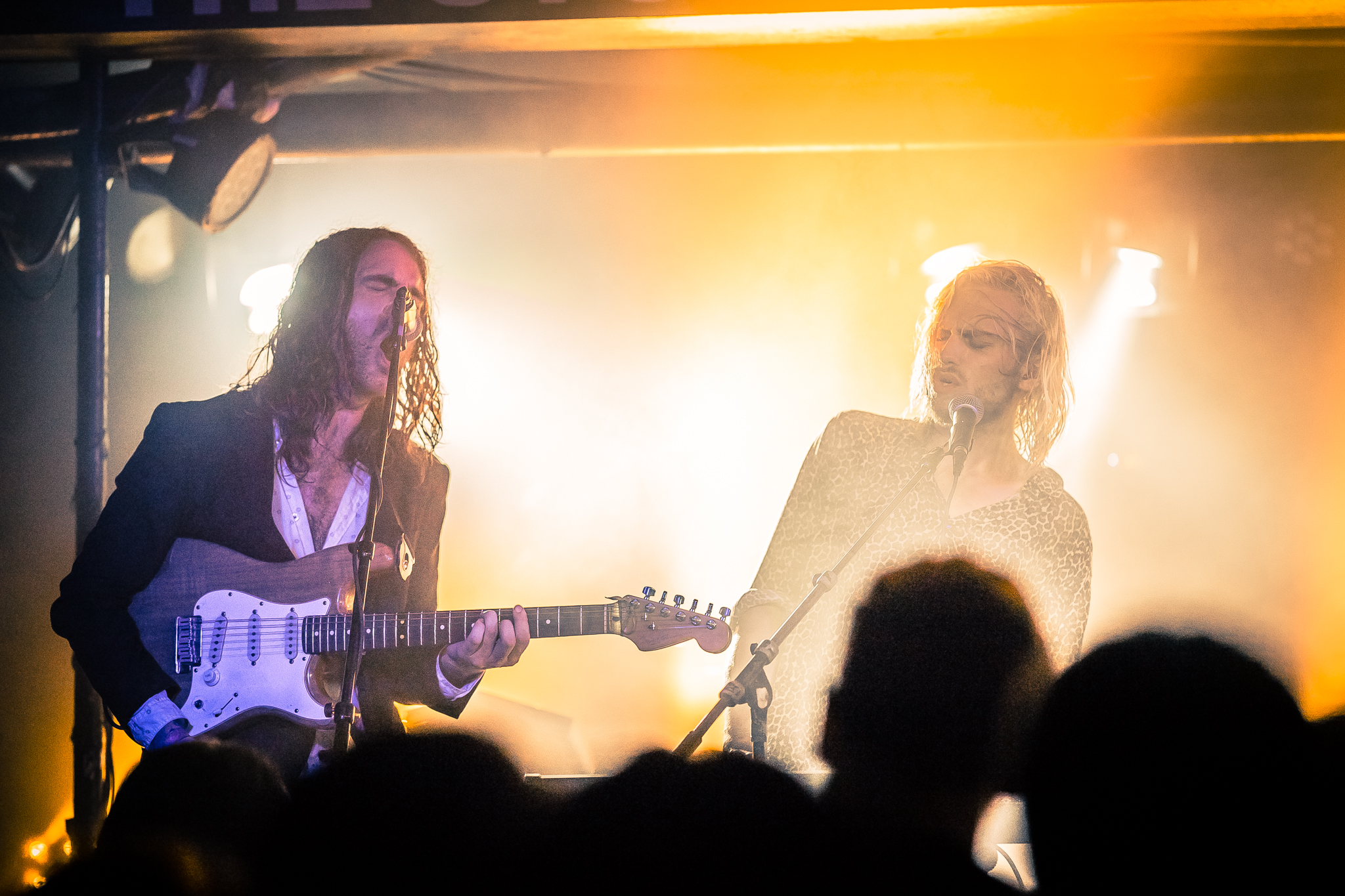 Why would you end your set with a song that's relatively unknown?
David: Because someone requested it. We like to play songs that people request. And we have written a bunch of songs now, so we can't play all of them every show. It's more fun to be interactive with the crowd and let them request a couple of songs that they want to hear.
And to be able to play every song whenever - you know, on cue like that - it just makes it all the more fun to say, 'Alright! Who's next?'
David: Yeah, yeah, exactly! But I mean, there are a couple of songs that we obviously have to play. Like, now we have to play the new stuff, we have to play "On Our Way," of course, "Gimme Twice," like, there are a bunch of songs that we just have to play.
It felt like you probably had 'On Our Way' as one of the last tracks of the night, but you bumped it up because someone requested it early.
David: Yeah – always!
But hey! If somebody requests it, why not! So what's your favorite song to play of the new material? Do you have one?
David: It's different every night, but yesterday night, "Fashion" was really nice.
Frans: "Fashion" was fun; "Higher" was fun yesterday.
David: "Higher" is cool.
Watch: "Fashion" – The Royal Concept
[youtube=https://youtu.be/Fj7kLC7Fqvs?t=0s]
---
Now I can't tell, are you all singing different vocal parts when you're singing these songs?
David: Yeah
These songs are so vocal-based. Did you have to do any choir training experience to be able to get that?
David: No – I mean we practiced a little bit.
Filip: We practiced. We arranged it –
David: But there's not too much practicing going on in this group, overall. It's just, it's kind of like –
Filip: We rely on our talents.
If it works, it works! Right?
David: Yeah, but the boys – the boys sing well! We also use a lot of doubler – it's an effect called doubler, so Filip sounds like there's three of him.
And you're arpeggiating, of course.
David: Yep – so there's a lot of that.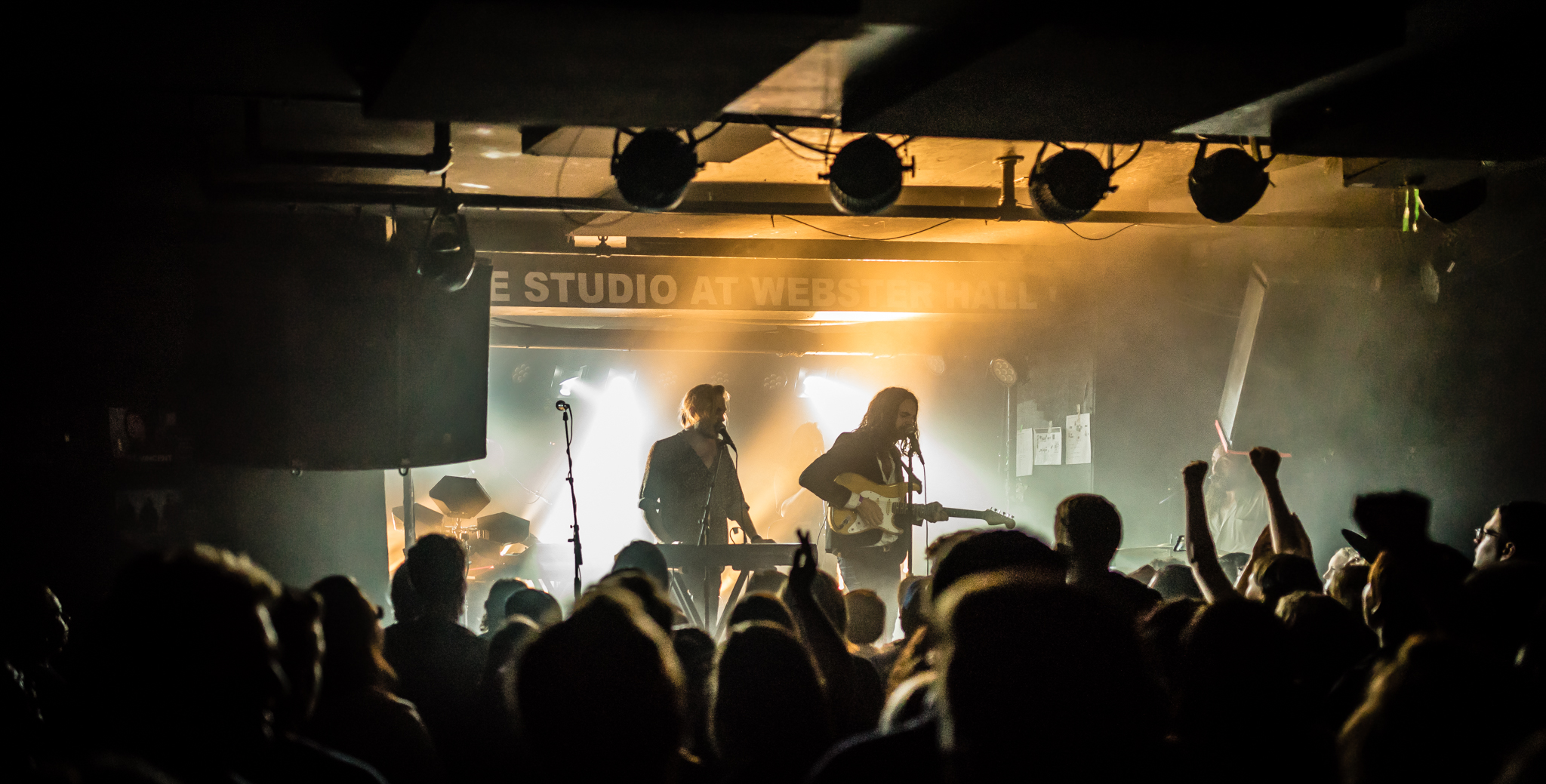 I saw, who was it - Jonathan - on the Moog, right?
Jonathan: Mmhm!
David: That's right. He has a Moog synth bass and a Roland keyboard. It's brand new, actually! Works very well.
And David, you're also on a keyboard.
David: I'm playing this Roland VP-770. It's a vocoder – that's what it's called. It's triggered by my voice, which is cool.
What inspired you to get into that, and to integrate that with the band?
David: The vocoder?
Yeah.
David: Me and Paul, we played with a Swedish artist called Robyn, and she likes that a lot because she's into electronic stuff. We passed a music store in Stockholm, and we'd just got our advance from the label for the first time, so we had a little bit of money, and we saw this jewel, and I tried it and we were like – first of all, we bought it actually for showcases because I can talk to the audiences through that thing. So we bought it as, not a joke, but more of like a funny thing to do, and then we were just like, fuck, this is great! Let's use it.
I always think of ELO's 'Mr. Blue Sky' whenever anybody plays that. It was the song that made it popular in the first place!
David: Oh yeah!
Well it looked like you guys had a super fun time last night, and congrats!
David: Thank you! Yeah, we can't wait to come back. If every night could be like yesterday night, we would be the happiest guys in the world – that's for sure. We're trying to attempt that –
Filip: All throughout the country.
You can follow The Royal Concept on Facebook, Twitter, Instagram and Snapchat (@WeAreTRC)
Watch: "The Royal Concept US tour 2015"
[youtube=https://youtu.be/6Drfrcpo2ig?t=0s]