Atwood On Tour
If you want a party, look no further than Australian import The Griswolds. Comprised of Chris Whitehall (lead vocals, guitar), Danny Duque-Perez (guitar), Lucky West (drums), and Tim John (bass), the group released their effervescent debut album Be Impressive last July and the band hasn't really stopped moving since. Be Impressive offers a sparkling blend of pop-rock euphoria that distinguish The Griswolds as one of the most distinct, fun, and talented indie bands out there.
The first single from the album, "Beware the Dog," won Single of the Year in the 6th annual Rolling Stone Awards and topped the SiriusXM AltNation Chart. The band has toured with acts like Walk the Moon and San Cisco, and this fall, they'll embark on a tour with Andrew McMahon in the Wilderness, New Politics, and Lolo.
Amid their constant touring, the band has also been a mainstay in the festival circuit; playing at massive shows like Bonnaroo and Firefly, among others. On June 21st, they performed at the 3rd annual FuzzFest in Scranton, PA, where I was able to sit down, hang out, and ultimately befriend the eccentric foursome. As we bonded, I got to know the group for who they really were: four regular dudes from Sydney, just riding an incredible musical high; living and loving their excitingly "rock-star" life. During our chat, we talked about everything—from burgers to braids, to Alanis Morissette and not being famous in India, and everything in between.
"Beware The Dog" – The Griswolds
A Giant Kerfuffle: Hanging Out with The Griswolds
Atwood Magazine: Hi! Okay so, first question: What do you prefer to play: festival shows, something like this or like Firefly, or headlining shows like the "Excellent Adventure Tour?"
Chris: I think both have their merit. I mean, festivals are so much fun. It's crazy. There's huge crowds of people who haven't heard you before, and they're all loving it and everyone's in a different kind of party zone. But I mean, there's also something pretty cool about doing a club show for 500 people that all know every single lyric to every song. Both are really, really cool.
Lucky: I feel like you have to work harder at festivals, because it's not a setup you're comfortable with; you don't have all day to get yourself prepared. They're not people who know all your songs, so you really have to work hard to keep everyone's attention. I quite like it. I think I prefer that, because I like the challenge.
Danny: But I think you'd die if you did the festival circuit too much.
Lucky: Yeah, it's too much fun!
Tim: It's exhausting.
Danny: Yeah, it's exhausting and way too much fun. All your friends are there—every single festival, your friends are there and then you're making new friends while you're there.
How was Firefly?
Lucky: It was great! It was awesome.
Tim: It was by far the most amount of people that we've played to.
Danny: It was like the entire population of Australia was there.
Chris: I think you forget that you were there, and then you see photos later and you're like, "Wow. Was that our crowd?"
Lucky: Yeah, I didn't spend enough time during the set actually looking out. I saw a picture from afterwards and was like, "Oh wow! There's so many people. I didn't enjoy it!"
—At this point, Spencer Trent and Colin Dieden from The Mowgli's entered the room, and it was palpably obvious that the two bands are really and truly the best of friends. They are so incredibly comfortable with each other, and the energy was permeating. They apologized for interrupting, but I appreciated how completely chill the atmosphere felt.—
Would you ever tour together (with The Mowgli's)?
Chris: This guy (Colin Dieden) would be the fucking death of me.
Colin: We made out. We made out twice.
Chris: We did!
—They soon leave, but not before telling me to hurry up with the interview so that they can all party together.—
So then going more into your songs, what is your favorite lyric that you've ever written?
Chris: Oh Jesus.
Lucky: Jesus! That was one of my favorites.
Chris: I'd say it's in "Not Ready Anymore," there's a lyric in verse three—
Danny: —"Mirror says you can't replace?"
Chris: Nah, it's like, "We don't want your money / you'll break my heart / the fame won't make us any younger…"
Tim: We just need the fame.
Danny: And the money.
Tim: We just need the fame, and then we're all good.
Listen: "Not Ready Anymore" – The Griswolds
You've got a little bit of fame!
Chris: Eh…
Tim: Nah.
Chris: To our moms.
You played Firefly!
Tim: True. Our moms think we're famous. Our moms think we're superstars.
Danny: We're huge in India.
Are you really?
Danny: No. You're not meant to say "really?" you're meant to go, "oh, okay."
Okay, then what's your least favorite lyric? What do you just regret?
Lucky: The amount of "fuck" that we say in the songs, it's fun, and people think it's fine live. But then you hear it on the radio, and it's a different word, you're like, "Ohhh!" It breaks your heart. It breaks your heart a little bit. Anything that's a swear word, it's meant to be.
Chris: I think in "Beware the Dog," it's "acting crazy."
Tim: Yeah, they changed it! Every time I hear that, it doesn't feel the same.
Lucky: A little piece of me dies.
Chris: Very lame.
Well, I've only ever heard the "fuck" version.
Tim: Good!
Lucky: That's good. And what's wrong with the fuck word—the "f" word?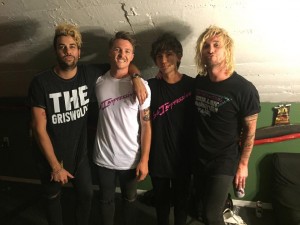 Yeah, nothing! So, okay, what's your favorite thing about each other?
Lucky: I think hair is a big thing.
Tim: We're big on hair.
Lucky: We love Chris' hair.
Yeah, you're rocking the braids right now.
Chris: I've got an interesting story about these braids. I don't know how the fuck they got there.
You just woke up and you had braids?
Chris: I don't know who did it.
Danny: Riff Raff!
Chris: I just woke up and was like, "The hell? Where did these come from?"
But you kept them in!
Chris: I'm into it!
Tim: Good for summer. Nice and breezy.
Chris: It's really light and breezy. It's easy, breezy, beautiful Covergirl.
Lucky: You look more like a Viking.
So you're touring in America right now; what's your must-have American food on tour?
Lucky: Shake Shack. I fucking love Shake Shack.
Danny: Slurpees.
Chris: We have a burger chart.
Tim: Yeah, we rate our burgers. We rate American burgers.
Chris: Shake Shack is the best, and then there's like, In-N-Out, and Five Guys Burgers and Fries…we make a good burger too. Like when we were making the album in LA, we would cook this burger every day for lunch.
Lucky: I think our burger made it to probably number three. Yeah, number three. It's fucking beautiful.
Chris: We kind of created it together.
Does it have a name?
Chris: It's called "The Hoffburger" because the producer's name is Tony Hoffer, so it became "The Hoffburger."
Alright, cool! So kind of a stereotypical question: do you guys eat Vegemite on the reg like every other Australian ever?
Tim: Yeah.
Chris: We have it gaff-taped, or duct-taped, to the front of our van. It represented us.
Danny: We have a couple of Americans in here (referring to their managers), and we made it for you—did you eat it?
Danny, the Tour Manager: Yeah, Tim made it for me, and I liked it. If it's made right, I like it a lot.
So it's not that bad?
Danny: Nah.
Chris: There's like, Vegemite chocolate now. Like, people have come out with Vegemite chocolate. It's really weird because Vegemite is basically yeast.
Oh wow, okay. So what was the first album you ever owned?
Danny: Purchased, or owned?
Doesn't matter; both.
Danny: Okay, with my own money, Jagged Little Pill.
Lucky: I had What's the Story, Morning Glory? by Oasis.
Tim: Queen's Greatest Hits.
Chris: I had Pearl Jam's Ten.
Lucky: They're all pretty good albums! I'd still listen to all four of those now.
Danny: I feel like the least cool guy on Earth right now.
Chris: Alanis? Alanis is the fucking bomb. I think she is amazing.
Tim: No! I think there's a stat, I think something like, every Australian home—like, the amount of albums it sold was like 23 million plus or something like that. So it's the equivalent of everyone in Australia having that album.
Chris: It's a great album.
Tim: Yeah, it's really good!
Danny: Really? But it's no Queen's Greatest Hits, though.
Tim: Yeah, that taught me about fat bottomed girls. I didn't know about that, until I got that album.
They make the world go 'round! But back to you guys, I know that 'Beware the Dog' and 'Aurora Borealis' and some others, some of your songs are about drugs, more or less; is there any other song that you have written that has some hidden meaning that nobody knows about?
Danny: Well if we told you…
Chris: "Down and Out." "Down and Out" has a very hidden meaning. It's not what you think. It's about a dog—it's about my dog […] "Down and Out" is not my two current dogs; it was about my old dog.
Listen: "Down and Out" – The Griswolds
Oh—I would have never, ever guessed that.
Chris: No one has ever heard that before. That is groundbreaking.
Tim: I can't figure that one out myself.
Chris: The ice is breaking right now.
We're becoming closer. So then what's your favorite song to play live?
Lucky: I like "If You Wanna Stay."
Tim: I wanna say that too.
Danny: I'm gonna say "Down and Out."
Lucky: "If You Wanna Stay" is good tempo for people jumping. It's just easy.
I was jumping!
Lucky: This really helps [makes arm gesture].
Tim: You look super hip-hop right now.
Lucky: Yes, with the loafers. So hip-hop.
Tim: And the tight black jeans. A$AP Lucky.
Listen: "If You Wanna Stay" – The Griswolds
I love it. So how would you describe your ideal day?
Chris: It would involve water, and good food, and probably a beautiful woman of some sort.
Lucky: Water sports, swimming.
Tim: Yeah, swimming. We miss the ocean, being Australian.
Lucky: Probably some music in there somewhere.
Chris: Acoustic guitar.
Lucky: Heavy drinking, heavy lifting…
Tim: We do a lot of lifting. We are all buff.
Danny: I'd build a porch.
Tim: Oh that's pretty cool.
Lucky: That would be pretty sweet.
Yeah, that's a good answer! So do you guys listen to your own music on your iPods?
Danny: Hahaha.
Chris: Unfortunately, I do because I need to sometimes remember the lyrics. I have to listen to it to get them back in my head, because I'm like, "Oh god. I ruined the entire song last night." So I listen back to get it back in.
Lucky: I do too now and then for a similar reason, just to listen to it and make sure that our live set and the way we play the songs isn't too different. Because I always know that like—
Tim: —You hate it when a band changes the way a song is recorded too much.
Lucky: Yeah, because if I've been listening to a song for like, a year, and I just want to hear that live, and they do it differently or they do it quieter or softer or slower, I hate it.
Tim: I hate that too. It's like Elton John doing "Rocket Man" like jazz or something.
Chris: Foo Fighters used to play "Everlong" absolutely differently live.
Lucky: Yeah, they used to do it stripped-down!
What's your favorite US city that's not NYC or LA?
Lucky: Scranton, Pennsylvania!
Danny: Allentown.
Chris: Toronto.
Danny: Miami. I've never been there.
Lucky: Yeah, none of us have ever been to Miami. So let's say Miami, just because it could be the best, and we wouldn't know.
Tim: We wouldn't know! And we may not ever know.
Lucky: I hope we never know. Because this way, it could continue to be the best.
Just keep that as the dream city. So who's your favorite act that you've ever toured with?
All, unanimously: Walk the Moon. Definitely Walk the Moon.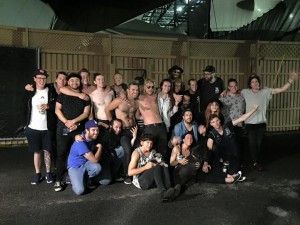 Nice! I was actually going to your show in April in Philly, and then—
Chris: Fake fan.
Hey, that hurts! I had to work—I had to do my job!
Tim: People get really hurt by that, "fake fan."
Chris: Oh, that sucks.
Tim: You get a pass.
Lucky: We'll be back…are you still in Philly? We'll be back in Philly [soon].
Awesome, I'll be there. So what was your weirdest or most memorable fan experience that you've ever had, either on the Internet or in person?
Chris: I got mauled by like, five fans? They like, pinned me to the ground and kissed me. Honestly, they were the five strongest dudes I've ever seen…
Lucky: The weird thing about the Internet is having like, family photos, with fans' heads cut into them.
Tim: Yeah, that's strange.
Lucky: Like, some person is stalking around your Facebook or an old Instagram picture of like a family thing, and cut their faces into it. That makes me feel really uncomfortable.
Tim: I don't even like when I'm on side stage, like, picking my nose or something, and someone's in the crowd—and it's me time, sometimes I just want to see what's happening up there—and they get a photo taken of me, and it gets posted on Twitter, and it's like, I can't do anything right now.
Lucky: Yeah or like, bending over and getting something out of the van, and you've got some crack-ass showing, and then someone takes a picture and puts it up.
Tim: And then a Twitter page gets made, "Lachlan's buttcrack."
Well I saw the one edit of you just doing your signature pose, just all on top of each other.
Lucky: Yeah, yeah! I mean, to be honest, that made me really happy.
Tim: Actually that was pretty cool.
That's so great. So when can we expect to hear new music? Are you working on a new album; are you doing anything?
Danny: We're breaking up.
Tim: One album out, done.
So it's 'An Excellent Adventure,' and that's it?
Lucky: "It's BEEN An Excellent Adventure."
Danny: We're actually splitting off into two bands with Walk the Moon. Half them, half us.
Chris: We're writing now. So I'd say maybe like early next year we'll probably have a single. Otherwise, we're breaking up. If we can't write a good song, then it's definitely over.
Tim: Do you have any? Any good songs, please?
Danny: Yeah, let's hear a song.
Hear a song? Oh god. Uh, happy birthday?!
Danny: That one's been written!
Lucky: Hey! I think you're on to something there!
I'll work on it.
Tim: You know what? That "Happy birthday" song is pretty old and stale.
Lucky: Let's update it. The Ramones did it.
Tim: I'm talking fresh.
Lucky: Oh, fresh-fresh? Alright.
Tim: A brand new "Happy birthday" song.
Definitely. Well, that's all the questions that I had!
Lucky: We'll stop going on our tangents.
Tim: This is going to be a long interview.
Chris: Every single question, the answer will be like, "All four members couldn't shut up. It was just a giant kerfuffle. I don't know who said what."
Lucky: Answer—"Six-minute tangent."
Tim: "Four-minute tangent."
Honestly, I didn't mind the tangents. As we concluded the interview, I felt like I had known these guys forever. The Griswolds are truly the type of dudes you just want to hang out with all the time, and they never once made things at all uncomfortable. Their energy is infectious. As an outsider, you can really feel the love that these four friends have for each other, and their casual banter and side conversations–which took up a large chunk of my interview, but that I have since struck from the record–prove that they really are just four guys fortunate enough to do what they love all the time.
You can follow The Griswolds on Facebook, Instagram, Twitter, and Tumblr.
Be Impressive – The Griswolds
Listen to the full album here:
The Wilderness Politics 2015 Tour
w/ Andrew McMahon in the Wilderness + New Politics
10/14 – Vancouver, BC @ Vogue
10/17 – Los Angeles, CA @ Club Nokia
10/18 – Ventura, CA @ Majestic Ventura Theater
10/20 – San Diego, CA @ House of Blues
10/21 – Tucson, AZ @ Rialto
10/23 – Salt Lake City, UT @ Complex 
10/26 – Minneapolis, MN @ First Ave
10/27 – Milwaukee WI @ The Rave
10/28 – St Louis MO @ The Pageant
10/30 – Kansas City MO @ The Midland
11/03 – Houston, TX @ House of Blues
11/04 – New Orleans, LA @ House of Blues
11/06 – Jacksonville, FL @ Freebird Live
11/07 – Orlando, FL @ House of Blues
11/08 – Raleigh NC @ The Ritz
11/09 – Charlotte NC @ The Fillmore
11/11 – Columbus oh @ Newport Music Hall
11/12 – Nashville TN @ Cannery
11/13 – Cincinnati OH @ Bogart's
11/14 – Cleveland OH @ House of Blues
11/15 – Toronto ON @ Danforth Music Hall
11/17 – Washington DC @ Echo Stage
11/18 – New York NY @ Terminal 5
11/19 – Providence RI @ Lupo's
11/20 – Boston MA @ House of Blues
11/21 – Albany NY @ Upstate Concert Hall
11/22 – Portland ME @ State Theatre
11/24 – Sayreville NJ @ Starland Ballroom
11/25 – Huntington NY @ The Paramount
11/27 – Buffalo NY @ Town Ballroom
11/28 – Philadelphia PA @ The Fillmore