Some of the best music from the past 20 years has come from artists coming off debut success, hungry for more. Guest writer Leo Culp's The Sophomore Series column looks at 21st century albums that prove the phrase "sophomore slump" is outdated.
---
Baby Keem and Alabama Shakes are similar to other acts, but none of those acts reach the essence of Keem and the Shakes. They've pushed the boundaries of their genres and debut albums on these sophomore projects, giving a glimpse into how people could adapt genres and their own sounds for years to come.
— —
No matter how many artists say they are going to break the mold the media made for them, the media doesn't believe them. Maybe artists have a level of idealism about their growth that is hard to sign on to. Maybe there's something to the age-old expression "they build you up to break you down". Maybe it's a bit of both. But either way, artists keep giving themselves giant narratives to live up to, and, like a Kanye release date, time passes and nothing comes to fruition.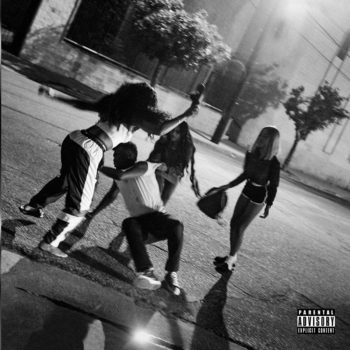 Sometimes, the things that elevate an artist's sophomore album over their debut are time passing and the access that comes with "making it" in music. For Baby Keem, Die For My Bitch (2019) was the culmination of his projects and production credits up to that point. For Alabama Shakes, the widespread success of their debut gave them a foot in the door to make Sound & Color (2015), a project no one could have predicted. It was like a switch flipped with these albums. Baby Keem made an expansive album filled with confidence, hard hitting beats, and flows only he could think of. Alabama Shakes brought the soul of their debut into a project that feels as elevated as their debut is grounded. In the documentary "Once We Were Brothers: Robbie Robertson and the Band", Bruce Springsteen talked about how the Band's sound was recognizable yet like nothing he'd heard in his life. Baby Keem and Alabama Shakes are similar to other acts, but none of those acts reach the essence of Keem and the Shakes. They've pushed the boundaries of their genres and debut albums on these sophomore projects, giving a glimpse into how people could adapt genres and their own sounds for years to come. These albums show what happens when artists take expectations with a grain of salt.
 Too many options, love me 'cause
I'm gettin' poppin', ayy
Take off the toppings,
look in the window, we shoppin', ayy
You be imposters, you playin'
outside with the monsters, ayy
I deal with demons, we get
on your taco at Neiman's, ayy
– from Baby Keem's "FRANCE FREESTYLE"
There are times on Die For My Bitch (2019) when you don't even know what Baby Keem is talking about. The man says "I am 50 Cent" nine times in the middle of "MOSHPIT". Do I know what it means? No. Do I care? No. Sometimes not knowing what a rapper is saying is a given in hip-hop. Young Thug once poetically said "I put that brack in my brack". Once again, I neither know nor care what that means. Since the rise of rappers like Thug, there seems to be a battle between style and substance in hip-hop. Or, at least, that's what people would like to say it is. In actuality, rappers like Thug and Keem show that style is substance, and that words that sound cool can be better than words that mean something. Sometimes, the how matters more than the what or why.
When asked by Complex what made him think he was ready to rap professionally, Keem said, "My flows. That was my whole thing. I didn't want to be like the best lyricist. I wanted to be the best: the king of flows." On his debut The Sound of a Bad Habit (2018), Keem showed he could sit in the pocket of simple, bright beats. But on DFMB, it's like the beats were made to the flows, rather than the other way around. Songs like "ORANGE SODA", "TOP RAMEN", and "FRANCE FREESTYLE" are high points on the album, and highlight what a special talent Keem is. He oozes confidence, and his flows reflect that.
---
So much of rap is either blind, unaltered conviction or bearing your soul. On his debut, Keem had the first part down, but DFMB shows he's more than that. The album is set up to alternate between relaxed, vibey songs and the fast-paced songs Keem is known for. In the same Complex interview, Keem said, "It's not just one type of song. It's not supposed to be like that. It's supposed to be everywhere." It seems like Keem wanted the album to sound haphazard, almost thrown together. The project bounces around and as you go through you have no idea what will happen next. "MY EX" and "BUSS HER UP" are back to back and completely opposite each other. This wild track listing makes it one of the more interesting rap albums of the last five years, and shows how versatile Keem is in his rapping and choice of production.
Moving off his debut album, Keem could have played it safe and stayed with his already unique sound. It's almost like he zagged in both ways. He indulged in the calmer aspect of his music, but also turned up the dial on his harder beats. The album starts with the song "STATS". It's about a minute of the old Baby Keem, the debut Baby Keem. But then there's a mean piano break that morphs into a beat that's something we hadn't heard in projects prior. It's like Keem was trying to trick us into thinking this was business as usual. Die For My Bitch is anything but that.
---
Somewhere over the dunes, love
I walked, I wept… Enough
I turned the desert into seabed
I swam from the terrible depths
– from Alabama Shakes' "Dunes"
Very few 21st century bands live up to the hype. Most try to coast to the top on nostalgia or generally aren't worth a damn. Alabama Shakes are one of the few bands that relied on nostalgia initially but were still worthy of a place at the top as time went on. Their first album Boys & Girls (2012) is one of the most soulful albums of the 21st century, and media members were quick to suggest this would be their M.O. But the band was hesitant to rest on the safety of that sound. Boys & Girls had a garage rock vibe to it, and was modeled after their charged concerts. Sound & Color took things a step forward. It's expansive and complex and developed, but stays true to the soul and emotion that drew people to their debut.
One of the most important aspects of Sound & Color is its production. Sound on Sound discussed this in their piece on producer Blake Mills and engineer Shawn Everett. While Boys & Girls was a project defined by soulful rock, Sound & Color grabs from anywhere and everywhere sonically. On this change, Everett said,
"Blake and I both like recordings that are very hi–fi, but that also have small lo–fi moments. He and I talked a lot about frequency range, and wanting a wide sonic range, with the lowest lows and the highest highs, making sure that all aspects of the rainbow were filled in. There definitely was a lot of crafting after the recordings of each instrument to get it to fill a particular aspect of the sonic range."
As soon as the drums start on the opening, titular track of the album, it's clear Alabama Shakes' sophomore outing is like a different band took their place. With each part of the "rainbow" filled, Alabama Shakes' true talent found its way on an album, rather than it being confined to their shows.
---
Another important quote from that piece came as Everett discussed the Shakes' debut album, labeling it a "photograph" of their live shows to that point. He went on to say, "…recording is much more like painting than taking a photograph. It requires technique in painting just to get it to feel real and emotive, as opposed to just set the microphone up in the room and get out of the way. It requires a bit more finesse to get something to connect." This quote connects beautifully to the contrast between hi-fi and lo-fi sounds on the album. While a photograph leaves no room for interpretation, paintings can look different when seen through a different perspective. Every time I return to Sound & Color, I hear something different, and that just isn't the case for Boys & Girls. With their sophomore project, Alabama Shakes made something textured and unique, something that went past the one-dimensional (yet still really x 15 good) nature of their debut.
In Alabama Shakes' interview with NPR, there are numerous references made to the amount of money needed to pull off an album like Sound & Color. This album was always in the band, but they didn't have the means to produce it. With their debut, they could create a sound that was recognizable but untapped in their era. Their sophomore album takes the emotional, sincere core of their debut and gives it a beautiful soundscape to match. It's the difference between a photograph and a painting. On Sound & Color, we saw the real Alabama Shakes, not the soul-rock band many predicted.
---
Breaking Your Own Mold
That Springsteen quote from the Robbie Robertson documentary really hit home for me. These artists appealed to my taste in music while also expanding it, and itched a scratch I didn't know was there. I loved the high-powered, almost poppy vibe of Baby Keem's music, but Die For My Bitch brought something different to the table. His ambition in beat choices and flows and lyrics was something I hadn't seen done right yet. And Alabama Shakes went from a band trying to capture their own concert experience to making an album that sounds like it could only be done in the studio. Sound & Color is a sonically diverse album that sounds far afield from the grounded approach of their debut. There are cookie cutter trajectories picked for artists nowadays. These albums show how artists can deviate from those paths. They can release themselves from the constraints of past projects, while still holding true to what made them great.
— —
Leo Culp is currently a junior at the University of North Carolina at Chapel Hill studying Media/Journalism. He hosts a local radio show in Chapel Hill, and loves watching Liverpool soccer and Carolina basketball. He is always trying to find something new to learn about music, and is a proud Atlantan.
— — — —