Jack Killen isn't quite the Brooklynite reincarnation of Bruce Springsteen, nor is he MIKA's rockier, edgy cousin – yet somehow, he manages to reflect the best of both artists and much more. With fearless bombast and effortless bravado, KILLEN's latest single "Tired of Being Broke" radiates with energy, emotion and an infectious enthusiasm that demands listeners' full, undivided attention.
I don't wanna wear my clothes
There's holes
Where the money goes
This can't be it
I'm in the road to nowhere
Not hitting it big
Where's my money?
Listen: "Tired of Being Broke" – KILLEN
---
Atwood Magazine is proud to be premiering "Tired of Being Broke," the lead single off KILLEN's upcoming EP Black Sneakers on Concrete (out February 9, 2018 via Axis Mundi Records). The power-pop project of Brooklyn artist Jack Killen (former frontman of now-defunct party band WORKOUT), KILLEN bursts out of the gates at a breakneck speed, flooding our ears with warm, colorful and dynamic pop/rock that literally fills the room.
KILLEN's music is the product of past and present, reflecting the storytelling rock quality of such greats as the aformentioned Bruce Springsteen and Tom Petty. At the same time, "Tired of Being Broke" and previous Killen releases contain a glam rock performative quality – that over-the-top dramaticism that spans everyone from Meatloaf and Poison, to Bowie and MIKA. KILLEN not only sings the part; he lives the part, embracing a full range of intense, exaggerated emotions that bring his words – and indeed, his music – to life.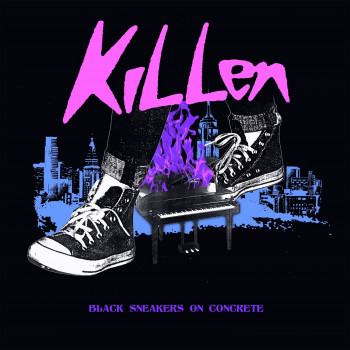 I wanna bathe myself
in expensive French wine
Do what it takes to hit
the big time, this time
Is this all just a fantasy?
It makes me wanna scream
I'm tired of being broke
In the land of plenty
I'm tired of being a fool
I wanna be somebody
Born out of anger, frustration and more, "Tired of Being Broke" creates a cinematic experience for real-world, everyday issues. "You can't live a bohemian lifestyle in New York City unless you're an heir to something," Jack Killen tells Atwood Magazine. "I work my ass off and spend all my money on making music. So sue me if I want to be rich. I didn't move to New York to look at the daffodils. Calvin Coolidge said the Business of America is Business. My Business is writing lyrics about bad dudes and making money."
He may be defending himself a little more than need be; 90% of Americans can relate to the everyday, everymonth struggle to stay afloat and in good financial standing. After all, the back-breaking burden of providing for yourself, and later on in life, your family, is levied tremendously more on those who don't have, rather than those who do. We're all tired of being broke, but it's KILLEN's charismatic delivery of both fantastic dreams and relatable struggles that makes us want him to keep cheerleading, and continue the fight:
How did I dig this hole for myself myself
What a bummer
Well baby I'm coming
And I'm better than this
Some guy I knows gotta job
That's gonna make me rich
And get me my money
I want 65 cars and mansion in Spain
A star on the hollywood walk of fame
It's all just a fantasy
It makes me wanna scream
He sings them, and we cling to them.
Guitar and piano-based rock may not be new – we hear the likeness of Cold War Kids at times, Bon Jovi in other spaces – but KILLEN's incredible passion alone makes him and his music a worthwhile listen. Out February 9, KILLEN's debut solo EP promises to be an indignant, enthusiastic, and altogether invogorating experience deserving of our ears. For now, we've got his unapologetic working class anthem "Tired of Being Broke," a song that speaks for all of us, to play on repeat.
— —
— — — —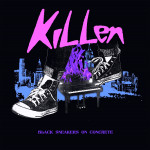 photo © Courtney Killen
:: Stream KILLEN ::