Anxious dreams pushing me out of sleep…
Anna Shoemaker has big dreams, and she'll keep chasing them if it takes her whole lifetime. The 23-year-old singer/songwriter bursts out of the gates today with her debut single "What Am I Doing to Me?," an intimate and anthemic cry full of pain, passion, and perseverance.
I try to go to bed early
just about every night
Wanna stop my head from
spinning but it's too big a fight
I give myself up for love
and I don't even try
Tell myself when it's dark,
just to run and hide
Count the stairs to my door
'til I am safe inside
I do everything I can
sometimes not to cry
I hate that I lose my shit
and I just don't know why
I hate that I can't even
read my own mind
It takes a lot to see your dreams through to fruition; more than anything else, pursuing your passions can mean torturing yourself beyond belief. This is especially true for music, where you're fighting an uphill battle every step of the way. It's telling when a brand new artist introduces herself with a song lamenting her journey – and this is only the starting line.
Atwood Magazine is proud to be premiering "What Am I Doing to Me?," the glowing debut single from Anna Shoemaker (out everywhere this Friday, June 22, 2018 via Steve Madden / 5Towns Records). Produced by the Grammy-nominated JT Daly, "What Am I Doing to Me?" is the lead single off Anna Shoemaker's upcoming debut EP and a promising introduction to an artist who, as she'll tell you herself, has already cut her teeth just making it this far:
I've been on fire
I can't help myself
Running on wires
Balancing over hell
Anxious dreams pushing me out of sleep
What am I doing to me? What am I doing to me?
What am I doing? What am I doing?
What am I doing to me?
Maybe our dreams really are our demons. "I've been on fire; I can't help myself," Shoemaker exclaims, showing off an extensive vocal range as she jumps from a creamy falsetto to a smoother, crisp chest voice. Success doesn't come without sacrifice, but that's often what it takes for an individual to find some form of happiness or satisfaction. Not everyone has it in them – to miss out on holidays, far away from the ones they love the most; watching friends get married as they tour city to city, show to show, sharing their music with the world and finding a home in a new audience every night. "Running on wires, balancing over hell, anxious dreams pushing me out of sleep."
The life of a full-time musician is not as glamorous as rock n' roll makes it out to be, and yet… there's something magnetic about that world. We feel the scale tip in both directions as Shoemaker cries in the chorus, "What am I doing, what am I doing… What am I doing to me?" Her production's electronic, alt-pop sheen betrays the deeper hardships involved in every day's decision to soldier on – yet we can feel that pain, and it's all too real.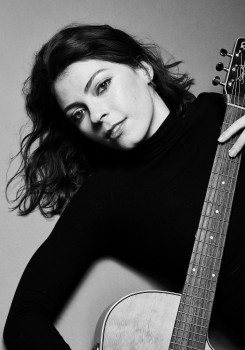 In essence, Anna Shoemaker's introduction to the world is a raw, stripped reflection on the scars she earned getting to this moment. It's not been easy for her: "Wake up shaking I'm panic sleeping all the time, cracked my phone and I spilled another glass of wine." At times, she's resigned – questioning her choices as well as her agency in the life she's committed herself to: "My friends keep telling me I should take my own advice, but I made my bed so that's where I gotta lie." We can all relate to Shoemaker's struggle, as we've all swam upstream and gone against all odds, to some degree.
try too hard
don't try enough
don't know why can't
get myself to give a fuck
I'm burning down
No I can't breathe
Can someone tell me
what am I doing to me?
"I wrote "What Am I Doing to Me" on the train from my parents' house in Philly to New York," Shoemaker tell Atwood Magazine. "I had been commuting frequently to work with my friend Dominic Florio in his Brooklyn studio, he helped me to put the finishing touches on it because I had really just scribbled it out in my notebook. I had just graduated college and was really having a hard time getting my shit together, I was writing a lot and constantly working on my music so I kind of put everything else in my life on hold (including sleep). When I look back on it now, I feel like it was such a period of growth for me as an artist and overall person because I was really laser focusing on songwriting and using it to discover things about myself, rather than just dissecting romantic relationships."
Every hero's journey features a period of tests, allies, and enemies, as well as an approach and an ordeal that the hero must undergo in order to accomplish their goals. Anna Shoemaker's massive undertaking might be hers alone, every one of us undergoes our own ordeals in life – that's what makes the hero's journey such a timeless story arc, and that's what keeps us coming back to "What Am I Doing to Me?" time after time: Shoemaker's heavy lament paints a familiar portrait of inner strain and tension that resonates through each of our lives.
I've been on fire, no I can't help myself
What am I doing, what am I doing
What am I doing to me?
She might not capture the allure of the musician this time around, but Shoemaker herself has gravity that pulls us closer. Her hypnotic voice stands out in a crowd, inflecting just enough emotion to stir something inside without giving it all away. Perhaps those who dream big are cursed, driven by demons they can't control. Angel or devil, our dreams are not always fantasies, and Anna Shoemaker is working tirelessly to bring her dream to life.
Stream "What Am I Doing to Me?" exclusively on Atwood Magazine ahead of its worldwide release on 6/22/2018!
"What Am I Doing to Me?" – Anna Shoemaker
— — — —
? © Thrice Cooked Media