dTime is a magical, funny thing. It plays games with us, pushing us forever forward whilst our memories and emotion pull us back and forth. Although specific moments are transient and often fleeting, feelings and sensations can repeat and reoccur, giving us the illusion that special memories might repeat themselves. Cardiff band LUNA TIDES latch onto this sentiment on their latest single "What Comes Around," an hypnotically majestic song about special moments and memories in time.
I saw a flicker of you in her eyes
You're like an ecstasy, born to thrive
in my heart
And I remember those bright hazel eyes
They tore me apart with a single lie
to my heart
Watch: "What Comes Around" – LUNA TIDES
---
"What Comes Around" is mystical and bittersweet in all the right ways. A somber guitar and kick drum open the song gently, followed soon after by spine-tingling background "oohs" and a beautifully conclusive guitar riff. Frontman Thomas Seddon has a hint of nostalgia in his voice as he sings quaintly of a memory. His words speak literally of a lost flame – an abandoned love that hurt him – but they could speak to anything that exists all but fully in the past. Support from that driving guitar pattern, those haunting vocal "oohs" and a pounding bass line immerse Seddon's voice in warm tones, enhancing already-vivid lyrics.
The song's chorus is a play off the popular idiom "What goes around, comes around," a basic understanding of karma. "What comes around goes around again," sing Seddon and the band as the verses' tensions find their release. According to Seddon, the song "by many things, however what stuck the most for me was was the idea that memories can be repeated more than once."
What comes around goes around again
"A particular memory comes to mind," he continues. "Whenever I would wait for the train, I would often think of a friend of mine before we went separate ways, the last time I saw them was at the train station around December time, I was shivering due to a lack of a coat and feeling a little nostalgic due to thinking of the past. It had roughly been two years since I'd seen them. It just so happened whilst I was pondering this they had spotted me, came up and tapped me on the shoulder. Our brief conversation ended as I had to jump on the train, once again time had repeated itself. That evening I wrote the song."
We are always vulnerable to our memories. We want to relive the past: We want to experience the best times of our lives, to be present and aware, appreciative and as in-the-moment as is humanely possible. Yet, we are too often engulfed in ourselves, consumed by too much 'stuff' to be there. The world spins so fast sometimes, and we live our lives by the ticking of clocks: Seconds turn to minutes, minutes turn to hours, hours turn to days… but we don't remember or look back on life as a series of seconds. Instead, we recall the moments: Some combination of physical and mental sensations that ignite our fires, long after the original flames have died.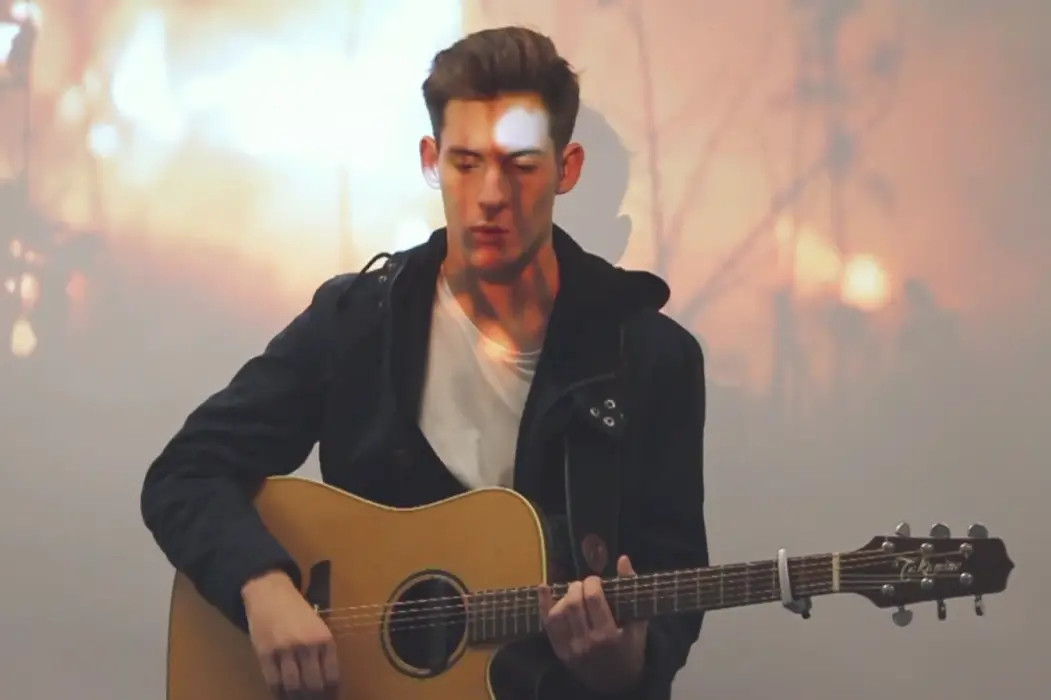 Atwood Magazine is proud to be premiering LUNA TIDES' music video for "What Comes Around," off the band's upcoming debut EP Open Woods (out 24th November – pre-order now). Featuring the band members in front of a projected forest fire, the video not only adds an extra layer of power and resonance to the song's depth, but also it introduces the band's four fresh faces: Thomas Seddon, Sion Walsh, Rhys Plaister, and Craig Prosser.
"The music video for "What Comes Around" was sort of winged!" comments Seddon. "It shouldn't have been, but time and the weather were against us. I'd spotted an old advert in a magazine, where they'd layered a very pretty girl's face with other images, but rather than using Photoshop, I think they had used a projector to create the image, or perhaps double exposure. We had tried something similar ourselves the year before, but… with the projector focused on just faces. When it came to filming, we were delighted by this beautiful concept! It'll be really interesting to see people's reactions." Some of the best work comes from on-the-fly ideas. It's no stroll on the beach, but the video's simplicity and DIY aura manage to capture and promote the band's emotions; what more can you ask for?
I spoke to you today, my heart takes me down memory lane
The innocence is gone, and you went along
I can't love you anymore
LUNA TIDES' clever wordplay turns karma into a yearned-for déjà vu on "What Comes Around." The more we live, the more experiences we have to remember. We can appreciate those special moments for what they were, but also for what they are – after all, a moment can last a lifetime in our memory. As fires burn outside and within, LUNA TIDES deliver a heartfelt and powerful single. With songs as catchy and charming as "What Comes Around," LUNA TIDES cannot be kept as Cardiff's little secret for long. Don't miss this 2016 Artist to Watch, and be on the lookout for LUNA TIDES' debut EP Open Woods, out later this month.
For now, enjoy the beauty of "What Comes Around" again, and again, and again.
— —
:: Watch: "What Comes Around" – LUNA TIDES ::