Melbourne's WILSN demands our attention on her irresistible debut album 'Those Days Are Over,' a beautifully radiant reckoning dripping with confidence, raw energy, and smoldering soul.
Stream: "Tell Me" – WILSN
---
The days of being uncertain or second guessing my sound are over.
Big, bold, and aching with raw heat and passion, WILSN's debut album is the record of a soul unleashed.
It's the album of an artist not just discovering her voice, but truly nurturing and embracing her identity; an uninhibited and unapologetic expression of self. This is what owning your truths and following your heart sounds like; this is what bucking industry pressures feels like. It's euphoric; it's brave; it's gut-wrenching; and it's utterly irresistible. WILSN demands our attention on Those Days Are Over, a beautifully radiant reckoning dripping confidence, visceral energy, and smoldering soul.
I'm not the kind of girl
To wear my heart right on my sleeve
And I know I might get hurt
So I'm hoping you will take the lead
We've known each other for a while
You and I get on so naturally
And I'm trying to tell ya
Listen carefully
You're the one for me
Please tell me baby
That you have no other
And I'm all you need
Baby please tell me…
– "Tell Me," WILSN
Released February 3, 2023 via Ivy League Records, Those Days Are Over is definitive and dynamic: A seductive, sonically and emotionally charged introduction establishing WILSN at the crossroads of classic and modern soul.
As its name suggests, it's also a clean break from the past – one that saw the Melbourne-based artist, nee Shannon Busch, making music with a more indie sound and pop-forward skew for several years.
"This record was originally made as a side project, a way to get some songs out that had been sitting on hard drives whilst I was focusing more on releasing a more mainstream pop project," WILSN tells Atwood Magazine. "The more I worked on the songs and the sound, which was more in line with music I'd grown up loving, the more I realised that this should be the sound I pursue as my primary focus and not the other way around. I used to be scared to release soul music because I thought there wasn't a big enough market for me, or it just wouldn't work. I was lucky enough to go on tour with the Teskey Brothers across the UK and Europe and this idea was definitely proved wrong, seeing how big their crowds were and how much they loved soul music! It was brilliant and spurred me on in my pursuit of this sound."
Shaking off the image she thought she needed, in favor of the one she wanted to have, proved the defining change WILSN needed to finally make the album of her dreams. "The vision for this recording stayed pretty much the same throughout – to try and capture a sound influenced heavily by the '60s soul music that I love, both in the arrangements and the recording/mixing of the band, vocals, etc. But at the same time we wanted it to have a modern edge, low end as well, especially in the drums. I'm proud of the songs and stories across the record. It's a cross-section of the last 3-4 years of my life and manages to showcase different feels, tempos, vibes. All of which allow me to put my best foot forward vocally. I'm really proud of the songwriting and the way I'm singing on the album."
WILSN calls the album big, soulful, and confident – and it is that last word that truly defines Those Days Are Over's ultimate takeaway.
"I finally believed enough in myself to pursue a sound that is dear to me," she says. "The days of being uncertain or second guessing my sound are over."
The album hits its stride right from the start with "If You Wanna Love Me," a searing rush of raw passion channeled through a timeless soul-soaked rock sound. She rushes out of the gate unapologetic and astoundingly self-assured, her fiery vocals enhancing a captivating call to action: "If you wanna love me baby, you gotta learn how to love," she demands. "If you wanna hold me baby, you gotta learn how to touch." It's a moment of both revelry and reckoning as she lays all her cards on the table – and it's as sonically strong as it is emotionally vulnerable.
"This song is my most rock leaning soul song – a mix of soul and rock n' roll," she explains. "I took inspiration from bands like Alabama Shakes and The Black Keys, but incorporated my love for soul vocals. Soul music never goes out of fashion because it's pure; people aren't trying to be cool or follow a trend. It's all about a great melody, a great beat and harmony that moves you and makes you feel something. In today's landscape of artists trying so hard to do something different often for the sake of being different, it's nice to just engage with the human voice in an unadulterated way. The ending of this song is that for me – unhinged, raw vocals with a blistering live band."
---
And to think, that's just the very beginning. The groovy "You Know Better" resonates with a stunningly heartfelt vocal performance, vibrant brass, and glowing keys; the intimate, up-close and personal "Tell Me" is an unconditional surrender to love, expressing what it really means to share that special, unfathomably deep connection with another person. The title track is WILSN's moment of truth: "It hasn't been easy, but I've discovered the real me," she sings, her golden voice a beacon of bold confidence as she rises high in an inspiring, cathartic, and life-affirming chorus.
Yeah, I know that there was a time
When I cared what people said
Just took me a minute
Now I'm listenin' to me instead
'Cause only I decide how much
It takes to make me fall
And I know if I do
I'll rise up stronger than before
It hasn't been easy
But I've discovered the real me
And I gotta believe that, oh
Those days are over
I'm not gonna live in fear
All these dark days will disappear
As the mountain keeps rising, mm
I'll keep on climbing, hey
Even if no one else believes
If the smoke makes it hard to breathe
I'll walk through the fire
I'll hold my head higher
---
Truly, Those Days Are Over is littered in great moments, and every listen uncovers something new to love – whether it's a line that cuts deep, a vocal flourish that takes your breath away, or a harmony that sends a shivers like a jolt of electricity down the spine.
"'Come On Over My Way' is probably my fave song," WILSN says of her own personal highlights. "It's kind of my homage to my favourite singer, Aretha Franklin. 'Hurts So Bad' featuring Josh Teskey is another favorite moment; I love Josh's voice so much and was blown away to be able to sing with him on this album!"
Hot, soaring, and soul-stirring, Those Days Are Over promises a world of endless delights for soul lovers old and new.
This album marks not only the end of one chapter, but also the beginning of a promising new era full of possibilities and potential for WILSN as she owns her truths, leans into her passions, and dives headfirst into a truly evergreen, timeless sound.
"I hope people that listen just enjoy someone singing with all their heart over a band of talented people doing what they were born to do," she shares. "I also hope they appreciate the textures and sounds that we ended up with, hopefully some kind of marriage between vintage and modern. Personally, I learnt to trust my instinct and go with my gut. When I finally did that, good things started happening!"
Experience the full record via our below stream, and peek inside WILSN's Those Days Are Over with Atwood Magazine as she goes track-by-track through the music and lyrics of her debut album!
— —
Stream: 'Those Days Are Over' – WILSN
:: Inside Those Days Are Over ::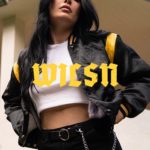 — —
If You Wanna Love Me
This song started with a really simple guitar riff and beat from my producer Stephen Mowat. The influences in this song are the soulful rock vibes of Alabama Shakes mixed with the driving Motown grooves similar to The Temptations song, "Reach Out." It's a really fun one to perform live!
You Know Better
I actually got asked to write this song over an instrumental for the purpose of pitching it to Kelly Clarkson for a soul album she was making. Suffice to say it didn't end up getting used by her but I loved it so much I reworked it with my band and put horns on it and it worked so well on the album. It's about knowing your partner is cheating on you and catching them in their lies.
Tell Me
This song was written about being too shy to tell someone you love them and wanting them to make the first move. I was really influenced by 60's girl groups for the backing vocals on this one, The Ronettes, Supremes etc.
Those Days Are Over
This is my own personal pump-up anthem about casting off uncertainty, trusting your gut and following your heart. It encapsulates what led me to ultimately deciding to release Soul music and make this album – so I used the name as the album name too!
Me or Her
On this tune I wanted to somehow blend in some of my modern influences like Alicia Keys but still keep it in the same vein stylistically as the rest of the album. I think the horn parts really helped with this.
Hurts So Bad
This one started as an instrumental demo from my good friend and collaborator Billy Aukstik, who also plays trumpet on the record. His beautiful horn lines set a melancholy scene for me to write a pretty classic heartbreak tune over the top.
Every Day and Every Night
I co-wrote this song with my good friend and band leader Steve Clifford. We actually made what we thought was the demo recording years back when it was first written and that demo session had such a great vibe it ended up being the foundation for the finished version. The drums, bass and guitar from that demo session made it onto the final version.
I Love You
This song was really influenced by Nina Simone, mainly in the arrangement, particularly the horn arrangement. I was lucky enough to have Billy Aukstik (Trumpet), Freddy DeBoe (Sax) and Ray Mason (Trombone) record the horns for this album in Brooklyn, NY. These guys are incredible and have played with everyone from Sharon Jones to Taylor Swift, Charles Bradley to Mark Ronson.
Too Sober for Words
This song is a little about missing a past love and using a night out as a way to forget, just for a while.
Come On Over My Way
I think of this song as kind of my ode to Aretha Franklin, my biggest Soul inspiration and favourite singer of all time. I didn't intentionally set out to write a song like that but it just kind of happened. I'm really inspired by her huge, soaring Soul vocals that have so much emotion!
When Those Bright Lights Come Down
Written when I lived in Nashville, TN in collaboration with Matthew Odmark. It was an incredible time but also a really hard, testing time in my life. It's written about feeling lost in a far away place but knowing you have someone you love right there by your side, going through everything with you, to be your safe place. We wrote it from the perspective of performing in front of an audience, feeling lost and only wanting to see one particular face in the crowd and everything being ok in the end because you're with the one you love.
Never Happen Again
I'm definitely influenced a lot by Amy Winehouse and I can hear it most on this song. We tried a few ways of recording this song and in the end just a simple nylon string acoustic guitar accompaniment suited the song best. It's about making the decision to not let a toxic person back into your life ever again.
Hurts So Bad
(alt version ft. Josh Teskey)
Josh's voice is one of my favourites of any living singer so when my record label told me he might be interested in jumping on a duet version of this song I was pretty damn excited! I'm really stoked with how it turned out and that I got to have at least one duet on the record!
— —
— — — —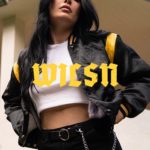 ? © She Is Aphrodite
:: Stream WILSN ::
---